Are you looking for legit work from home jobs? If so, you are in luck! Today, I've published a HUGE list of 111 opportunities to consider.
Many (but not all) of these companies are accepting applications currently, so you can start applying right away and hopefully get hired soon.
I also want to take a minute and remind you that this blog shares updated job leads several days per week, and these leads also go out in our weekly newsletters if you'd like the convenience of getting them in your inbox instead. It's free!
111 Legit Work From Home & Flexible Jobs
Deliveries/Errands
Chat Agent Jobs
See more chat jobs.
Moderation & Community Manager Jobs
See more work at home moderation jobs.
Mystery Shopping
See more mystery shopping companies.
Networks For Freelancers
Pet Sitting
See more pet sitting companies.
Phone Jobs – Customer Service
See a big list of work at home phone jobs and also customer service jobs from home that may be hiring now.
Phone Jobs – Sales & Telemarketing
Phone Jobs – Technical Support
Phone Jobs – Other
Search Engine Evaluation
See more search engine evaluation jobs.
Selling Your Stuff
See more ways to sell your stuff online.
Transcription Jobs
See more work at home transcription jobs.
Translation & Interpretation Jobs
See more work from home translator jobs.
Online Education Jobs
See more online tutoring jobs and work at home test scoring jobs.
Virtual Assistant Jobs
See more virtual assistant jobs.
Website Usability Testing – QA Testing
See more usability testing companies.
Writing Jobs
See more places that pay you to write.
ESL (English Second Language) Tutoring & Teaching
See more ways to teach English online.
Miscellaneous Legit Work From Home Jobs
Want More Options? 300 More Flexible, Non-Phone Work at Home Jobs: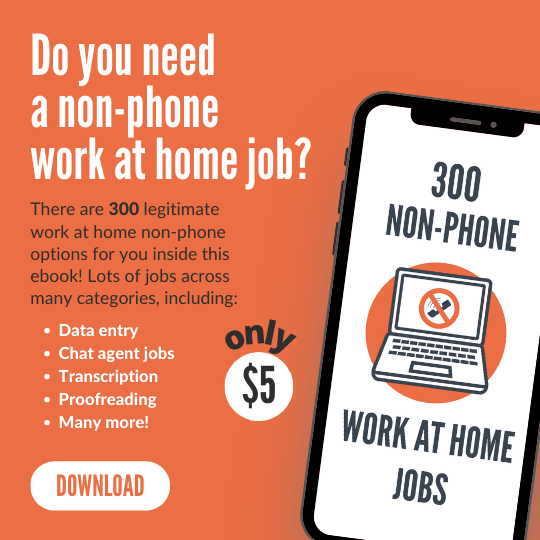 Do you want to work at home but you can't do so using a phone? If so, I have some great non-phone options for you in my latest e-book. It is only $5!
In this book, you'll find links to 300 companies offering different types of non-phone work at home jobs, including:
Data entry
Chat agent operators
Freelance writing
Transcription
Proofreading
Bookkeeping
Search evaluation
Many more!
Each job listing also has a short summary with any relevant information I can find (pay, what countries it may be open to, etc.).
Good luck to you, and I hope you find this ebook helpful if a non-phone job is what you are looking for.
After payment, you will receive the email containing your download.