Today's post focuses specifically on customer service jobs from home, most of which are open right now. There are always plenty of jobs in this niche that are hiring at any given time, and we have quite a few readers with at least some degree of past experience that could help them get hired for a customer-oriented position.
All the companies in the list below are often actively hiring customer service reps at the time of this writing, but don't be surprised if some of the positions get filled quickly.
There are a lot of remote customer support workers out there, and these jobs tend to attract a flood of applications. Even so, when this post eventually becomes dated, don't hesitate to give these jobs a look.
Many customer service companies have enough turnover that they need to hire new workers quite often, so some of these positions might stay open indefinitely.
Good luck if you apply for anything!
Customer Service Jobs From Home
1. Sitel – Call Center Associate
Sitel contracts out call center agents to quite a few different companies in various fields.
To get hired you'll need past experience in customer service and sales, along with a fast Windows-based PC and a good internet connection. The pay is in the neighborhood of $10 per hour.
Go here to apply at Sitel, or check out our full review of Sitel.
2. Gametime – Happiness Associate
This appears to be a fairly standard customer support job. The company sells tickets, mostly for music and sports events, all over the United States, and they have a popular dedicated mobile app.
Applicants with either past customer service experience or Spanish language skills will get special consideration. The pay is $15 per hour, and they have a benefits package that includes health insurance.
Go here to apply at Gametime.
3. Teleperformance – Customer Service Representative
Teleperformance is hiring customer service representatives to work at home in almost all US states except for Alaska, California, Hawaii, Oregon, South Carolina and Washington.
This company will provide all equipment to you if you are hired!
Pay is $15/hourly during training. Then after training, you will be bumped up to $16.50. Teleperformance offers a variety of benefits as well.
Go here to apply at Teleperformance.
4. U-Haul – Sales & Reservation Agents
Open to most US states. This position appears to be entry level, however you will need strong typing skills, basic knowledge of US geography and a quiet workspace with speedy internet.
According to Glassdoor, pay might range $24K – $29K / year.
Go here to apply at U-Haul.
5. Resident – Customer Retention Specialist
Resident currently has openings for work at home retention specialists to work in the United States. The job posting does not indicate that any states are restricted locations.
Resident's ideal candidate for this role: a self-starter with an ability to adapt quickly in a fast-paced remote environment who communicates effectively.
The Retention Specialist is responsible for assisting customers in real time via phone to help address any of their sleep or comfort needs, working to identify and overcome the customers concerns with their purchase, centered around pre and post delivery returns and cancellations.
Go here to apply at Resident.
We hope the above list was helpful in your current job search for work at home customer service jobs.
For 300 Flexible, Non-Phone Work at Home Jobs: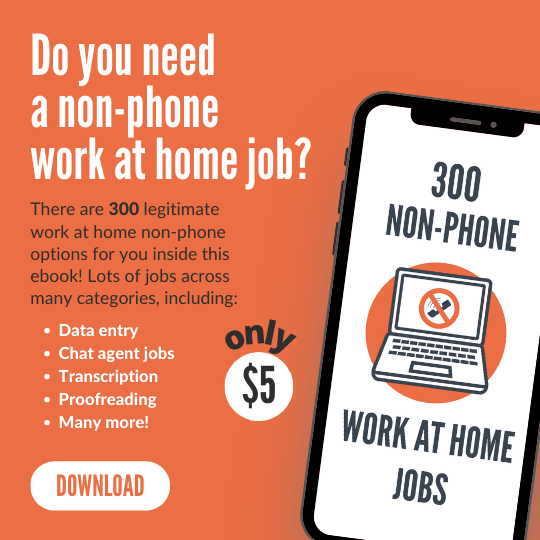 Do you want to work at home but you can't do so using a phone? If so, I have some great non-phone options for you in this ebook. It is only $5!
In this book, you'll find links to 300 companies offering different types of non-phone work at home jobs, including:
Data entry
Chat agent operators
Freelance writing
Transcription
Proofreading
Bookkeeping
Search evaluation
Many more!
Each job listing also has a short summary with any relevant information I can find (pay, what countries it may be open to, etc.).
Good luck to you, and I hope you find this ebook helpful if a non-phone job is what you are looking for.
After payment, you will receive the email containing your download.