Are you someone who enjoys working with pets? Have you thought about opening a pet sitting business? Do you hesitate because you don't know how or where to start? This post will introduce you to five pet sitting sites to help you promote and market your services.
What Are These Five Pet Sitting Sites?
Actually, there are more sites than just the five mentioned below; however, this post will only summarize five of them.
You should always do your own research before setting up on any site you consider and ensure you understand the general requirements, payment, etc.
This one might sound familiar, especially if you have been following this blog for any length of time. Here is the review.
Rover is a site which allows pet sitters to create profiles and collect feedback. In turn, Rover will provide the tools and marketing materials for pet sitters to thrive in their businesses.
The company additionally offers pet insurance at no charge. The reason there is no charge is because this insurance is underwritten by a third party. A 24/7 emergency service is also offered for pets by Rover.
This site may also sound familiar to you as it was also reviewed.
DogVacay pet sitters provide their profiles and pet owners may browse the profiles by zip codes. Pet insurance covers owners ($25,000 in medical coverage and $250 deductible), and 24/7 customer support is available.
If the pet sitter works in your home, then you are automatically home insured. Owners will additionally receive daily updates on their pets along with photos.
NAPPS or the National Association of Professional Pet Sitters operates this site.
NAPPS offers a certification program which teaches business management, animal care, and recognizing pet health issues. NAPPA maintains a Members Directory with contact information on every NAPPS member.
Members are encouraged to network as well as participate in the forum and chats. NAPPS also has a presence on Facebook, Twitter, LinkedIn, Pinterest, and YouTube.
This is a "members only" website where you're able to place their certifications on a website and then and network for potential referrals.
Fetch is another place for cat or dog lovers to sit and connect with those needing the service. However, Fetch basically takes on the role of a matchmaker matching the pet owner with the most qualified pet sitter in the owner's area.
Fetch does allow for the pet owner and sitter to meet prior to the pet sitting just to make certain that the pet will feel comfortable with the sitter. Pet sitters do go through a background check, and when pet sitters apply they are added to a database.
The pet will be insured based on the amount that the owner agrees upon. During the pet sitting process, the owner will receive frequent texts, emails, and photos via cell phone on how the pet is doing.
This site not only offers pet sitting, but also senior and/or child care sitting or a combination of both. An example would be seniors who need care, but also need their dogs walked. The company offers housekeeping services as well.
Care.com guarantees caregivers will make contact within three days of a request for services. This allows for time to review the profiles, request background checks, or schedule interviews.
In Conclusion
One of the biggest mistakes that individuals make when signing up at sites like these is failing to keep their profiles updated. Regularly check your profile to ensure your information is up to date.
This includes contact information, pricing, services, and any new photos you might have. In addition, be sure to check often for customer feedback just in case any events arise requiring help from the site moderators.
Other than that, you may find that by adding these sites along with possibly creating your own website can greatly increase the visibility of your business.
Good luck to all who sign up to one or several of these sites!
For 300 Flexible, Non-Phone Work at Home Jobs: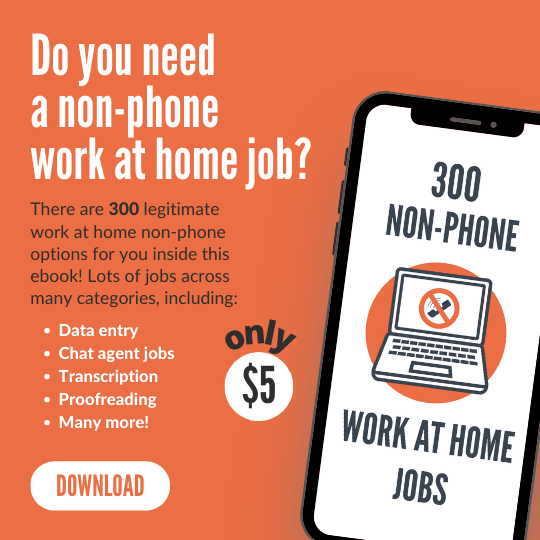 Do you want to work at home but you can't do so using a phone? If so, I have some great non-phone options for you in this ebook. It is only $5!
In this book, you'll find links to 300 companies offering different types of non-phone work at home jobs, including:
Data entry
Chat agent operators
Freelance writing
Transcription
Proofreading
Bookkeeping
Search evaluation
Many more!
Each job listing also has a short summary with any relevant information I can find (pay, what countries it may be open to, etc.).
Good luck to you, and I hope you find this ebook helpful if a non-phone job is what you are looking for.
After payment, you will receive the email containing your download.