Are you someone who enjoys forum participation? Do you enjoy experimenting with social media? Is protecting the clients brand something you would like to do? Then signing up for the ICUC Home Moderation Expert might be a good work-at-home (WAH) option for you.
ICUC may occasionally have openings for people living outside the United States.
What Exactly is ICUC?
Founded in 2002, ICUC Moderation Services Inc. is a Canadian firm that focuses on ensuring safe brand protection. Accomplished through a team of skilled moderators, many of whom work from home, the clients' information and copyrighted content is monitored and protected.
ICUC offers these services in over 10 major languages to clients around the world on a 24/7 basis.
How Does ICUC Help Their Clients?
ICUC provides:
the people and the technology necessary to execute online customer service
identification of customer complaints and issues in social media and fixing them
customer service tickets to track and promote the product or service
response to customers on behalf of the client's brand
ways to create greater customer satisfaction
What Does the ICUC Home Moderation Expert Do?
With clients that include Chevron, Starbucks, Virgin Mobile, and Pro-Bass Fishing, the Home Moderation Expert is responsible for helping promote the client's brand from a social networking standpoint.
The Home Moderation Expert is also responsible for securing online promotions, which many times are done through social media or social media ads.
What Does the ICUC Home Moderation Expert Job Entail?
The home moderation job includes moderating forums of all types around the clock including weekends and holidays. Client categories may include government, private industry, entertainment, media,and non-profit.
What Are the Hours at ICUC?
Employees work 8 hour shifts based in Central Time. These shifts typically run from 12am-8am, 8am-4pm, and 4pm-12am. They hire both part-time and full-time, depending on the needs of each team.
What is the Pay and When is Payday?
According to Glassdoor, Home Moderation Experts make between $11 and $12 hourly.
There is a lot of work as you moderate forums, delete and approve comments, and remind others of how to conduct themselves on a forum. Payday appears to be every two weeks.
Comment moderation is not just about mediation, conflict-resolution, and sensitivity. It is also about good, common sense and detachment.
Are You an Independent Contractor or an Employee at ICUC?
You are an employee at ICUC in the Home Moderation Expert position. They will send you the necessary paperwork to fill out.
While I was looking at the careers on their website, a very helpful chat agent came on and asked if I needed help. I was able to get my question answered right away, so that should give you an indication of the level of service offered.
What Skills/Special Training Do You Need to Work at ICUC?
You will be trained on the Home Moderation Expert job, but the skills must include:
a strong communication skill set.
multitasking in a fast paced environment.
good judgment and strong decision-making skills.
encouraging interactive content to achieve objectives.
following any behavioral and technical issues, patterns, and trends.
enforcement of the online community's safety and usage policies.
monitoring activities and responses to posts on the client's social media profiles.
ICUC prefers candidates with multi-language skills since they work in 22 different languages
What is My Overall Impression of This Company?
I think ICUC is a great at-home opportunity for those who enjoy forums and social media. Remember the chat agent? He/she even mentioned how much he/she enjoyed working at ICUC.
If you'd like to see for yourself what other workers say about this job, Glassdoor has a ton of employee reviews.
How Can an Interested Applicant Apply to the Home Moderation Expert Job?
You can view and apply for all open positions on this page. Also, ICUC focuses on hiring bi/multi-lingual candidates. Please be sure to list all of the languages you can read/write in your resume!
Note that even if the company doesn't have a position open at this time that is a fit for you, they may in the future, so keep tabs on their careers page. They add new jobs regularly.
Good luck to all who apply.
For 300 Flexible, Non-Phone Work at Home Jobs: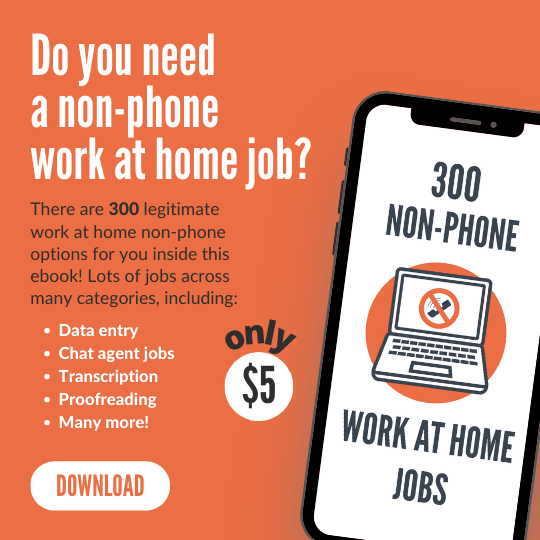 Do you want to work at home but you can't do so using a phone? If so, I have some great non-phone options for you in this ebook. It is only $5!
In this book, you'll find links to 300 companies offering different types of non-phone work at home jobs, including:
Data entry
Chat agent operators
Freelance writing
Transcription
Proofreading
Bookkeeping
Search evaluation
Many more!
Each job listing also has a short summary with any relevant information I can find (pay, what countries it may be open to, etc.).
Good luck to you, and I hope you find this ebook helpful if a non-phone job is what you are looking for.
After payment, you will receive the email containing your download.