Do friends and family tell you that you have a knack for writing resumes? Do you enjoy working with people to improve their current resumes? Do you have an overall good command of the English language? Then you may be interested in the work at home resume writing position at Talent, Inc.
What Exactly is Talent Inc.?
Talent Inc. is a company that hires resume writers to work from home. Not only will you be writing resumes, but also CVs (Curriculum Vitae), LinkedIn Profiles, phone consultations, and employment correspondence.
Talent Inc. operates on the importance of clients making a good, first impression with their resumes along with being prepared to optimize their career and job searches. Talent Inc. also stresses the importance of branding themselves in the process similar to the way a company would brand itself.
Talent Inc. has built partnerships with over 100 job boards across the globe. Some of the familiar names are TopResume, CV Now, CareerPerfect.com, Resume2Hire, LinkedIn Builder, and JobFox.
Upon checking their career page, you will see that there are openings for  such jobs as web designer, DevOps Engineer, and several others in addition to the resume writing position.
What is the Pay at Talent Inc.?
The pay is per project, and you will receive your earnings monthly, at the end of each month.
An old job posting for Talent, Inc. states that compensation starts at $20 per resume, and that writers can make additional income performing phone calls and rush service, additional edits, and cover letter writing.
On Glassdoor, the salary reports show that most are earning $21 hourly — which makes me think it must take around an hour to do one resume.
What Are Some of the Perks That Resume Writers Can Expect Working at Talent Inc.?
Remote resume writers can expect to:
enjoy a flexible schedule while working from home.
have a steady stream of resume clients.
have Talent Inc.'s support services helping and guiding you.
access important cutting-edge industries and resources in resume writing.
maximize growth opportunities in the writing fields such as social media writing.
What Are the Equipment/Computer Requirements to Work for Talent Inc.?
The job posting does not state any specific equipment you need to do the work, but it goes without saying a reliable computer and a solid internet connection will be must-haves.
What Are the Professional Requirements to Work for Talent Inc.?
The professional requirements are:
a background in Human Resources, recruiting or professional writing.
outstanding writing and editing skills with experience preferred.
a solid customer service background.
attention to detail even under pressure.
excellent time management skills with the ability to meet tight deadlines.
a desire to grow and improve your writing skills.
What is the Schedule Like at Talent Inc.?
While you are allowed to set your own schedule and work as much or as little as you like, the deadlines can be tight. Make sure that you are able to meet them for that week. You will be part of a writing network.
Are You an Employee or an Independent Contractor at Talent Inc.?
You are an independent contractor responsible for your own taxes. Should you make over $600 a year, you will be sent a 1099 Income Tax Form.
What Do Current Workers Think Of Talent, Inc.?
The company has a 3.3 rating on Glassdoor — based on 130ish reviews — as of December 2018.
Most of the happy campers love that they can work whenever they want, entirely from home.
However, there are some negative reviews as well stating that the QA team is hard to deal with and also that the time it takes to communicate with clients and deliver the work make it so you're only earning minimum wage or less (despite the salary reports showing most are earning $21 hourly).
For those of you who are blind or visually impaired — I got some feedback from a reader who is blind and applied to work here. This person made it through the hiring process, but reported being terminated after asking if someone on the company's
end could ensure her rewritten resumes were formatted properly.
Just something to keep in mind if you have a visual impairment or are blind and want to work here.
How Can an Interested Individual Apply to Talent Inc.?
Go to the website and begin the application process.
For 300 Flexible, Non-Phone Work at Home Jobs: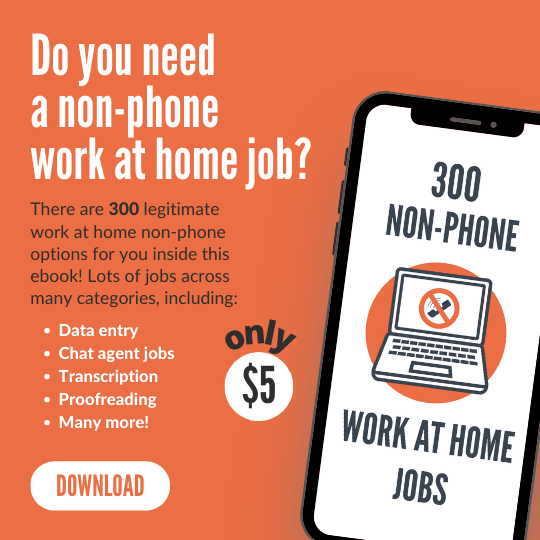 Do you want to work at home but you can't do so using a phone? If so, I have some great non-phone options for you in this ebook. It is only $5!
In this book, you'll find links to 300 companies offering different types of non-phone work at home jobs, including:
Data entry
Chat agent operators
Freelance writing
Transcription
Proofreading
Bookkeeping
Search evaluation
Many more!
Each job listing also has a short summary with any relevant information I can find (pay, what countries it may be open to, etc.).
Good luck to you, and I hope you find this ebook helpful if a non-phone job is what you are looking for.
After payment, you will receive the email containing your download.