Do you consider yourself a natural born sales person? Do you like working with parents and children? Do you believe in the power of knowledge and reading? Then maybe a sales position at the Institute of Reading Development is what you are looking for.
What Is Institute of Reading Development?
The Institute of Reading Development has long held the mission of helping to make children strong readers with a lifelong love of reading.
While the position is considered a sales position, you will be considered an "enrollment coordinator".
This entails being knowledgeable about all the reading programs that the school offers. Then you need to be able to match the parent's concerns to the right program for their child. In short summary, this is a work-at-home phone sales job.
What Are the Requirements to Work the Sales Position at Institute of Reading Development?
Outside of a quiet work environment, you will need:
a computer with Microsoft Windows or a Mac with OS 10.9 or higher.
2 GB of RAM+ installed on the computer.
a dual core processor with a speed at least 1.8GHZ.
an up-to-date virus protection and malware protection installed.
a broadband connection with cable or DSL, no wireless.
an upload and download speed of 1.3 Mbps.
a USB headset with microphone.
What Are the Training and Hours Like for the Sales Position?
Training is paid and takes between 7 to 10 days for the full application process.
Inbound calls are taken from 5:00 a.m. to 7:00 p.m. on Monday through Friday, 5:00 a.m. to 4:00 p.m. on Saturday, and 7:00 a.m. to 3:00 p.m. on Sunday PDS. So, you basically can set and work anything within those time periods.
What is the Pay for this Position?
The Institute of Reading Development claims that you can make $500 to $1,000 a week working almost full-time. This is an independent contractor position.
What Do Others Say About Working For the Institute of Reading Development?
There are a few videos and testimonials on their website of enrollment coordinators talking about their working experience. The latest Glassdoor reviews showed them at 3.5 out of 5 stars, which is considered a good rating.
How Do Interested Individuals Apply to the Sales Position/Enrollment Coordinator Position at the Institute of Reading Development?
Go here to get started, answer a few questions and take a speed test for your computer. The whole process should take about 20 minutes. If someone there is interested in you, you will be contacted for a telephone interview.
300 More Flexible, Non-Phone Work at Home Jobs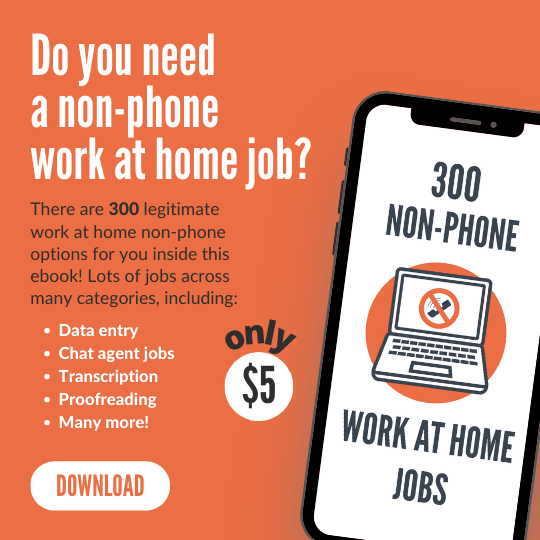 Do you want to work at home but you can't do so using a phone? If so, I have some great non-phone options for you in my latest e-book. It is only $5!
In this book, you'll find links to 300 companies offering different types of non-phone work at home jobs, including:
Data entry
Chat agent operators
Freelance writing
Transcription
Proofreading
Bookkeeping
Search evaluation
Many more!
Each job listing also has a short summary with any relevant information I can find (pay, what countries it may be open to, etc.).
Good luck to you, and I hope you find this ebook helpful if a non-phone job is what you are looking for.
After payment, you will receive the email containing your download.