Are you an experienced cruise industry professional? Are you someone who really enjoys and excels at customer service jobs? Are you ready to work from home as an employee with benefits instead of an independent contractor? Then becoming a cruise customer service agent at Cruise.com might be of interest to you.
What Exactly is Cruise.com?
As its name so obviously implies, Cruise.com is a travel-based website where potential travelers come to get the best prices on cruises and cruise packages. It is similar to Priceline.com or Travelocity, but with only cruises offered instead of other means of travel or vacationing.
Cruise's packages also include specialty cruises such as wedding cruises or wine cruises. Travelers are able to choose their ports and their cruises to get a price or put their information into the search engines to receive a quote.
What Does the Cruise Customer Service Agent Do at Cruise.com?
The cruise customer service agent is responsible for:
making an effort to build rapport with customers.
looking up and confirming customer's cruise information.
answering any cruise-related questions.
troubleshooting any travel-related problems.
helping customers decide upon their cruise package.
multitasking and managing time and scheduled meetings.
What Are the Skills Required to Be a Customer Service Agent at Cruise.com?
The customer service agent should be:
skilled and proficient in Microsoft Office Suite.
able to resolve basic computer problems at home.
someone with a high school diploma or equivalent.
experienced with at least one year of cruise industry experience.
What is Training Like at Cruise.com?
Training is paid, web-based, and lasts for three weeks. The training times are 10 a.m. to 7 p.m. EST.
What Are Some of the Computer Requirements to Work This Position at Cruise.com?
The computer requirements are not fully spelled out, but what I have been able to gather is:
to have a PC or laptop and telephone located in a quiet part of the house.
to have a noise-canceling headset for your dedicated landline phone.
to have high-speed Internet connection.
Both the phone and computer should be hardwired. And of course, you would want anti-virus and malware protection updated and operating on your computer.
What Are the Hours at Cruise.com Lines For This Position?
The hours appear to be Monday through Friday during regular business hours. This would be in Eastern Standard Time (EST).
Are You an Independent Contractor or an Employee at Cruise.com?
For this position, you are an employee with a benefits package. The benefits are, but are not limited to:
healthcare and dental plan.
a 401(k) plan.
paid time off with sick time and holiday pay.
discounted rates on travel.
What is the Pay Like at Cruise.com?
While they really don't discuss salary anywhere on their website, it is hourly plus commission. From what I have gathered it seems that it is $10 to $11 an hour. Hours will fluctuate with the industry as well as busier travel times during the year.
One online review did complain that hours were severely cut.
How Can an Interested Individual Apply for the Cruise Customer Service Position at Cruise.com?
All interested individuals with at least one year's worth of experience of cruise industry experience should check this page for openings.
Also check out the other home-based jobs that are available.
For 300 Flexible, Non-Phone Work at Home Jobs: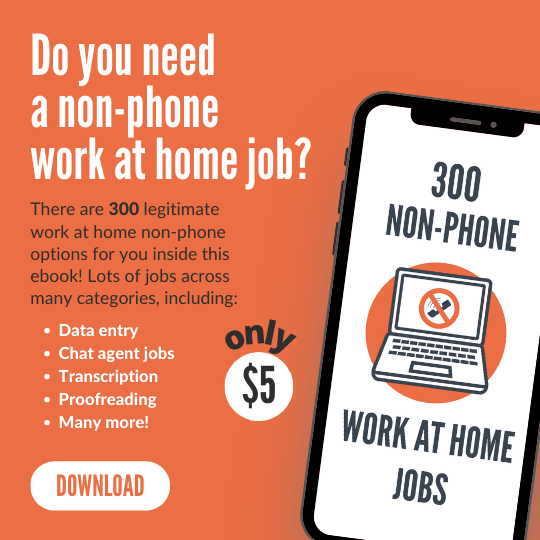 Do you want to work at home but you can't do so using a phone? If so, I have some great non-phone options for you in this ebook. It is only $5!
In this book, you'll find links to 300 companies offering different types of non-phone work at home jobs, including:
Data entry
Chat agent operators
Freelance writing
Transcription
Proofreading
Bookkeeping
Search evaluation
Many more!
Each job listing also has a short summary with any relevant information I can find (pay, what countries it may be open to, etc.).
Good luck to you, and I hope you find this ebook helpful if a non-phone job is what you are looking for.
After payment, you will receive the email containing your download.