I know many people are interested in what a search engine evaluator does (also known as "Google rating"), so I'm going to try to explain it to you. I hope this helps some!
What is a search engine evaluator?
Basically, this is a person who evaluates search engine results to determine if they are relevant or not to the term typed in. This is just one way that major search engines ensure search queries lead to accurate results.
For example, if you were doing a search on "the Atlanta Braves," hopefully their official website would show up either at the top or near the top of the results.
That's because that's probably the most relevant result out there. Other sites, like personal blogs about the Braves or new stories involving them, would also be relevant, but not quite so much as the official site. A result that was about soccer would of course not be relevant at all.
As a search evaluator, it's your job to determine the relevancy of these pages based on specific search terms. There are also other little jobs and tasks you might do as well depending on the company you're working for, but this was the main thing I did when I worked as a search evaluator.
How much does search evaluation pay?
The pay is pretty good, generally more than $13 per hour. However, most search evaluation companies ask their workers to sign NDA's regarding pay rates. This makes it difficult to find the info.
How hard is it to get hired?
You have to take a lengthy test, but you'll get a lot of material to study before you take it. If you really pay attention to the study material and refer back to it while you test, you shouldn't have a lot of trouble getting hired.
How many search evaluation companies are there to work for?
There are about three I know of that are sometimes needing workers. The links below will take you to the hiring pages of these companies.
The Pros
Here are the great things about doing search engine evaluation from home:
Good pay depending on your speed and how much you can work
Very flexible work (although some companies do require you put in a certain number of hours per week)
Non-phone (this is a plus if you need non-phone work)
Some people find they really enjoy the nature of the work
Some tasks require you to use only your smartphone for working.
The Cons
And here are the not-so-good things about it:
Keeping up with your time. The company I worked for required me to track my time and send them an invoice. Not sure if they all work this way.
Monthly pay
Paypal not an option. I know you may not think this is bad if you don't like getting paid with Paypal, but I prefer it. When I did search evaluation, the options were check or direct deposit.
Not so easy to do around the kids. While this is non-phone and would seem ideal to do around kids, it's not. The fact that you must track your time makes it rather tedious where interruptions are common. And if you have kids at home with you, you probably get interrupted often. I would advise trying to do the work while they're at school or in the bed.
Not always consistent. Sometimes the work comes and goes.
Contract-based employment. If your contract doesn't renew, you don't have a job. And you can never be sure that your contract will get renewed.
So I hope this answers some questions about it and makes it a little more clear.
Good luck!
For 300 Flexible, Non-Phone Work at Home Jobs: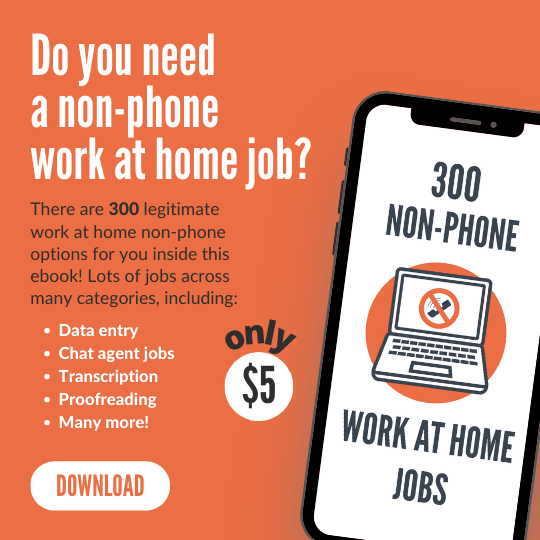 Do you want to work at home but you can't do so using a phone? If so, I have some great non-phone options for you in this ebook. It is only $5!
In this book, you'll find links to 300 companies offering different types of non-phone work at home jobs, including:
Data entry
Chat agent operators
Freelance writing
Transcription
Proofreading
Bookkeeping
Search evaluation
Many more!
Each job listing also has a short summary with any relevant information I can find (pay, what countries it may be open to, etc.).
Good luck to you, and I hope you find this ebook helpful if a non-phone job is what you are looking for.
After payment, you will receive the email containing your download.