Do you want to work from home as a writer? If so, you've definitely landed on the right page. Below is a huge listing of companies that hire freelance writers to work from home either on an ongoing or semi-regular basis. Some require past experience, and some don't.
The full list is below. And if you like this kind of info, please consider becoming a newsletter subscriber to see more of it. I send out new work at home job leads and work at home updates weekly.
Your list is below!
Get Paid to Write For …
Revenue Share
To really set yourself up for success, I recommend Freelance Writer's Den. Since 2011, the Den has helped over 14,000 writers grow their income. They offer a junk-free writer's job board, 25 writer bootcamps, 300+ hours of trainings in all, 24/7 forums, live events, and more.
300 More Flexible, Non-Phone Work at Home Jobs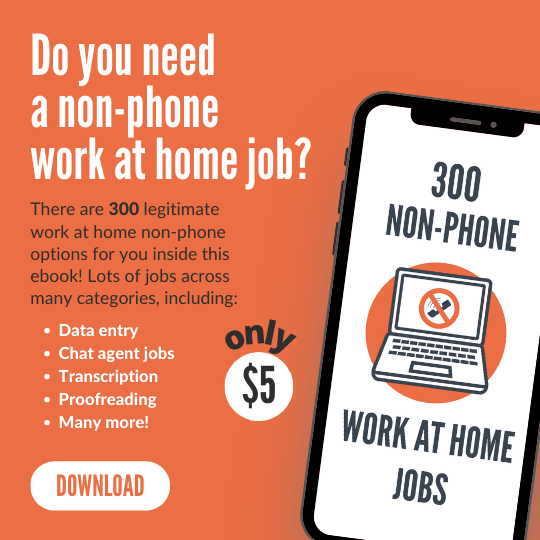 Do you want to work at home but you can't do so using a phone? If so, I have some great non-phone options for you in my latest e-book. It is only $5!
In this book, you'll find links to 300 companies offering different types of non-phone work at home jobs, including:
Data entry
Chat agent operators
Freelance writing
Transcription
Proofreading
Bookkeeping
Search evaluation
Many more!
Each job listing also has a short summary with any relevant information I can find (pay, what countries it may be open to, etc.).
Good luck to you, and I hope you find this ebook helpful if a non-phone job is what you are looking for.
After payment, you will receive the email containing your download.