Does making up to $18 an hour working from home sound good? Would you like to work regular office hours from 8 a.m. to 5 p.m. EST? Are you a natural-born telemarketer with the gift of persuasion? Then Brighten Communications might be the place for you.
Note – It appears that Brighten only hires workers in the US.
What Exactly is Brighten Communications?
Headquartered in Phoenix, Arizona Brighten Communications is a business-to-business telemarketing company with clients in high-tech, finance, and brokerage among other industries.
As an agent, you will be able to work out of the comfort of your home while dialing from the comfort of your home. Brighten Communications has been around since 1999 and was founded by a group of marketing experts, who were determined to offer small to mid-size businesses a full-size marketing approach.
Their marketing approach includes:
lead generation.
appointment setting.
database generation.
market research.
What Do Remote Agents Do at Brighten Communications?
Remote agents will be spending most of their time telemarketing and cold calling. You will be calling on behalf of companies that are looking for leads, which will eventually translate into sales. Clients will have ongoing projects and campaigns for you to work.
What Are the Equipment/Computer Requirements to Work for Brighten Communications?
You will need:
an updated PC or laptop with high-speed Internet via cable or DSL.
anti-virus and anti-malware software installed.
a physical phone (no cell phones) with unlimited long distance.
a printer.
a fax machine or scanner.
Brighten Communications prefers to only hire experienced telemarketers, so make sure that you do have the experience. I'd say go ahead and apply anyway if you have what you believe to be transferable experience.
What Are the Workday and Schedule Like at Brighten Communications?
You will be required to work a minimum of 20 hours and may work up to 32 hours per week. This will also be based on your stats and Brighten's workload.
The hours fall between 8 a.m. and 5 p.m. Monday through Friday if you are on the East Coast.
If you are on West Coast time, you will be working Monday through Thursday with the time adjusted from EST. Brighten Communications usually likes to see a strong hour of dialing before a 5 to 10-minute break.
Are You an Independent Contractor or an Employee at Brighten Communications?
You are an independent contractor and responsible for your own taxes. Should you make over $600 a year, you will be sent a 1099 Income Tax Form from Brighten Communications.
What is the Pay Like and When is Pay Day at Brighten Communications?
The pay itself begins at $12 an hour while you are learning what is expected. From there with performance raises and longevity, you may work your way up to $22 an hour.
Pay is once a week and available through either check or direct deposit.
If you're interested, we have a list of more home-based jobs that pay every week.
What is My Overall Impression of Brighten Communications?
If you like telemarketing, it might be a good opportunity. The reviews are mixed. It seems that you either really like it or you really don't. There are testimonials on their website of happy agents.
There was one positive review and one negative review with the two people I talked with both divided in their opinions.
How Can Someone Interested Apply to Brighten Communications?
Interested individuals may go to the website and click on the Caller Application tab at the top navigation bar. Once you decide to apply to the job, you must check the box agreeing that you do meet the equipment requirements.
Telemarketing Not For You?
If that's the case, check out this house list of over 100 more work at home phone jobs. These are divided up by category, making it easy for you to avoid anything sales related.
Good luck to all who apply.
300 More Flexible, Non-Phone Work at Home Jobs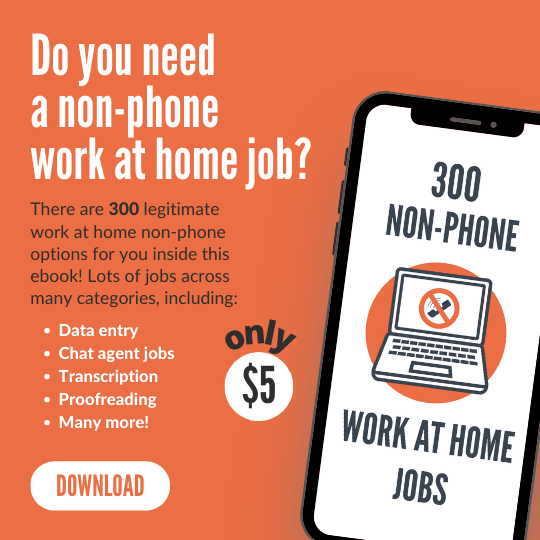 Do you want to work at home but you can't do so using a phone? If so, I have some great non-phone options for you in my latest e-book. It is only $5!
In this book, you'll find links to 300 companies offering different types of non-phone work at home jobs, including:
Data entry
Chat agent operators
Freelance writing
Transcription
Proofreading
Bookkeeping
Search evaluation
Many more!
Each job listing also has a short summary with any relevant information I can find (pay, what countries it may be open to, etc.).
Good luck to you, and I hope you find this ebook helpful if a non-phone job is what you are looking for.
After payment, you will receive the email containing your download.