You don't need any special skills or expertise to sell things you want to get rid of! This is an at-home money opportunity that pretty much anyone can do.
There are all sorts of products that are particularly valuable as resale items, including everything from makeup to old textbooks and clothes. Some of the sites listed below are also perfect for crafters, artists, and recyclers who take old products and make them into new ones.
Selling your old junk is a great way to declutter your life while avoiding waste. Why throw things in the trash when there are thousands of people who'd love to buy them at a discounted price and reuse them?
We frequently share content and resources for selling your stuff online as well as other work at home opportunities within our newsletter, so be sure to subscribe here if you haven't yet to get in on anything new. It's free!
What do you want to sell?
General Sites To Use For Selling Your Stuff
Sell Your Designs
Sell CDs, DVDs, and Video Games
 Sell Used Books & Textbooks
Sell Electronics
Sell Your Unwanted Makeup
Glambot – They will accept high-end makeup (not drugstore) to sell in their marketplace. It can be new or gently used.
MUABS – Another online marketplace for makeup and skincare items that will accept new, or gently used, items you no longer want or need. You can set your own prices. Also, MUABS is open to either high-end or drugstore items.
Makeup Exchange – This is a sub-reddit on the popular site Reddit. You can create posts here advertising your used cosmetic items for sale.
Sell Your Clothes
Selling Educational Items
Teachers Pay Teachers – Upload your lesson plans, worksheets, tests, and activities for other educators to buy. Receive 60 percent royalties on the items you sell with a free membership.
Classful – This is a marketplace for teachers to shop, sell, and fundraise. If you choose to sell, their fee is only five percent.
Selling Arts & Crafts – Handmade Items
Sell Your Unwanted Gift Cards
Auction Sites
Ebay – Read eBay Review – Sell anything. You can set up auctions or you can give your items the "Buy It Now" option so your buyers don't have to bother with bidding.
Listia – This site works fairly similar to Ebay. The big difference is that your sales give you store credits that you can use to bid on other items. You can also have the credits converted to cash if you prefer.
eBid – This is an online auction site as well as a fixed price marketplace. There are over 2 million items for sale, so it is a pretty popular site overall.
Using the above list, you should be able to begin clearing out all the old stuff you're no longer interested in owning, and make a decent profit in the process.
For 300 Flexible, Non-Phone Work at Home Jobs: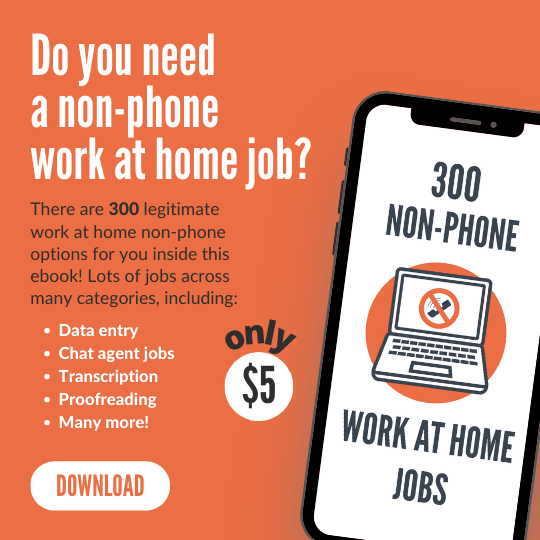 Do you want to work at home but you can't do so using a phone? If so, I have some great non-phone options for you in this ebook. It is only $5!
In this book, you'll find links to 300 companies offering different types of non-phone work at home jobs, including:
Data entry
Chat agent operators
Freelance writing
Transcription
Proofreading
Bookkeeping
Search evaluation
Many more!
Each job listing also has a short summary with any relevant information I can find (pay, what countries it may be open to, etc.).
Good luck to you, and I hope you find this ebook helpful if a non-phone job is what you are looking for.
After payment, you will receive the email containing your download.