XACT Telesolutions is a company that regularly hires work at home call center reps. This post is an overview of what the company does, what you do working there, how much you can expect to make, and a little about the experiences of others so you can decide for yourself if you should apply to work from home for them.
About the Company
XACT Telesolutions is a company that provides services to their clients who need agents to handle the calls, emails, and chats that come in about their products and services. They are based in the United States with physical locations in Maine and Florida.
Are they open worldwide?
Unfortunately not. XACT Telesolutions hires home-based call center workers within the United States, and their openings are normally limited to certain states.
At the time of this writing, they are only looking for people in FL, GA, MD, ME, NC, TX. Even if you don't live in an area where they are hiring, you're free to apply anyway and may be contacted if XACT has openings in your state.
What do call center reps for XACT do?
As an inbound customer care rep, you'll be handling incoming calls, internet chats, and emails for XACT's clients. Right now the inbound position is the only one listed on the website, but sometimes XACT also has openings for outbound callers.
The outbound positions will require making business to business calls via a dialer, trying to generate leads for the company. It goes without saying that for outbound, it helps if you've had past experience doing telemarketing or some other type of sales, but XACT may still consider you even if you don't have that experience.
How much does XACT pay?
For the inbound positions, pay starts at $9 hourly with potential to work your way up to $15 hourly over time.
I found an older job posting for outbound sales reps stating that pay for outbound reps is $8 an hour with a max pay of $13 hourly along with potential for bonuses and sales incentives.
How does scheduling work?
The job posting for inbound states, "This position is full time and part time, up to 40 hours per week to start. Evenings and weekends required. Flexibility necessary." So this is a lot of hours and it sounds like they want you to be flexible and work around them if you can.
I have read some reviews on XACT where people state that they do let you schedule your availability and they will attempt to work with you on getting the hours you want. But if working on your own schedule is an absolute MUST for you, you may not want to work for XACT because it doesn't sound like that's always a possibility.
What equipment do you need?
You need high-speed internet, a Windows-based computer running Vista or higher, a wired internet connection, a USB headset, and a flat-panel computer monitor that is at least 17″. You can't work for them using a laptop, a wireless connection, or an Apple computer.
Are there benefits?
You may be able to get medical insurance, dental insurance, 401K, and paid time off/vacation time if you work for XACT. Although it does state on their website that benefits may not be available to all employees in all categories.
Do you need to be bilingual?
It's preferred if you speak Spanish in addition to English, but it doesn't look like it's required.
What do people say about working at home for XACT?
Glassdoor has a good mix of reviews, but overall they are positive. I do see some complaints about the pay not being high enough considering that the job is a bit stressful, but then there are also good reviews stating that it's a well-run company that actually cares about the employees.
Do you want to apply to work for XACT?
Go here to view their current list of job openings. Good luck and as always I welcome your comments below if you have any details to share about working from home for this company.
300 More Flexible, Non-Phone Work at Home Jobs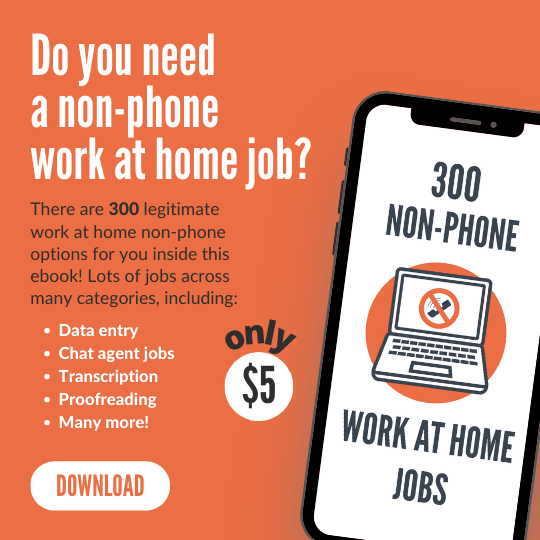 Do you want to work at home but you can't do so using a phone? If so, I have some great non-phone options for you in my latest e-book. It is only $5!
In this book, you'll find links to 300 companies offering different types of non-phone work at home jobs, including:
Data entry
Chat agent operators
Freelance writing
Transcription
Proofreading
Bookkeeping
Search evaluation
Many more!
Each job listing also has a short summary with any relevant information I can find (pay, what countries it may be open to, etc.).
Good luck to you, and I hope you find this ebook helpful if a non-phone job is what you are looking for.
After payment, you will receive the email containing your download.