This is a massive list of work at home jobs in education. You'll find options for online tutoring, online teaching, test scoring jobs, and more.
Education has now become one of the most popular work from home niches, and there are a wide variety of different online jobs available for people with the right qualifications.
The list below includes all the major categories of remote education work, including part-time and full-time positions. Please note, many of the jobs require a degree and some also have mandatory experience requirements.
Big List of Work at Home Education Jobs
Academic Tutoring
Brainfuse – Read Brainfuse Review – Must have at least a 4 yr college degree.
Prep Now – Read Prep Now Review – US only. Bachelor's degree, two yrs experience teaching or tutoring, and good scores on the SAT & ACT required to get a job here. Flexible, part-time work.
Studypool – Read Studypool Review – An online marketplace for tutors with an expertise on specific subjects. Get money right after answering a question.
TutaPoint – Read Tutapoint Review – Must have two years past tutoring experience to be considered. TutaPoint tutors earn $14 an hour plus bonuses & incentives. This is an independent contractor position.
Tutor.com – Read Tutor.com Review – US & Canada. Must be either enrolled in or graduated from an accredited university.
Course Hero – Read Course Hero Review – This company claims you can earn up to $1500 a month tutoring for them and working whenever you want.
Yup – This company offers online tutoring jobs in math, chemistry, and physics. This is one of the few that does not require past experience and also does not require a college degree. However, you are tested on these subjects to ensure your knowledge is up to their standards to begin tutoring.
TutorMe – Possibly open worldwide. All applicants must have previous tutoring or teaching experience, mastery of subjects tutored and be enrolled in or graduated from an accredited university.
Aim4A – Often hiring eTutors. You have to use Skype to do the tutoring (Skype is available free).
Brainmass – Get paid to be an online teaching assistant at Brainmass.
eNotes – Sign up as an educator and help students and teachers in the homework help area.
Instructional Connections – Regularly hiring online academic coaches in all disciplines.
Magoosh – Get paid to answer student's questions via email regarding tests like the SAT, GRE, and GMAT.
Revolution Prep – Hires online tutors and instructors. Some is onsite tutoring/teaching and some are online. Very hard to get in.
WyzAnt – Has occasional openings for online tutors. Usually the positions are not 100 percent home-based and some travel  might be required, so your location will matter with this company.
Varsity Tutors – Work from home as a tutor, as much or as little as you want. Rate of pay is not mentioned.
TutorUp – US. All TutorUp tutors are required to be certified teachers in the U.S. On a case-by-case basis they also accept experienced teachers whose certification may have lapsed, or who have retired. Experienced college professors (not teaching assistants) are exempted from the certification requirement and are welcome to apply.
GoPeer – GoPeer pairs vetted college students who attend top-tier universities with students for 1-to-1 tutoring lessons. As a tutor, you keep 100% of your earnings. Students pay $20/hour for tutoring services, and you earn $20/hour.
Superprof – This is a site with millions of tutors across many subjects. You create your own teaching ad and set your own rates. With this company, there is the opportunity to tutor millions of students across the world.
Ruru Tutor – This company claims you could earn up to $60 an hour tutoring for them. It's in-app and on-demand tutoring for students. There are different tiers. You need to be at least a high school student for RuruOne, but the higher tiers do require you to have a degree.
At-Home Tutoring Services – This one may require that you live in or near Dallas, TX. The pay is listed at being between $14 and $20 hourly. They prefer if you have at least an Associate's degree and a year of tutoring or teaching experience.
HeyTutor – Set your own rates and get paid weekly. It does say on the job description that you'll have to pass an in-person background check, so it could be location specific. They claim you can earn $13 to $15 hourly.
IvyMath – This is a fully remote, online math tutoring position. Pay is $22/hour and scheduling is flexible. One year of K-12 tutoring or teaching experience is required.
TutorCarter – Set your own rates and create your own tutor profile. Students will reach out to you if they want to be tutored by you. You can work as much or little as you like.
Virtual Teaching
The companies below offer legitimate work from home jobs for teachers. Note that with most of this, this will also require past experience in teaching. Just having your teaching degree may not be enough.
Stride Learning (Formerly K12) – Read Stride Learning Review – Regularly hiring teachers to work from home. Location-based.
Connections Academy – Read Connections Academy Review – Often looking for teachers to teach from home in a variety of different subjects.
Edmentum – Hires virtual teachers throughout the US in a variety of subjects. Independent contractor position. Must have teaching certificate to teach grades 7-12.
California Virtual Academies – Must live in California. Hires certified teachers to work from home.
Kaplan – Occasionally hires virtual workers for online tutoring. You still may need to be in or near a specific city to get hired and some travel might still be required.
Universal Class – Must have teaching certification and four year degree to teach online for Universal Class. You have to bid on projects you are interested in completing.
Bansho – Must have past teaching experience as well as experience teaching in a virtual setting and be able to pass a background check. Pay rate not mentioned, but it says you will earn a reliable monthly income with opportunities for incentives.
Ramana Coaching Center – Teachers can expect flexible scheduling and a predictable bi-weekly pay. We pay between $30 to $35 per hour. A Master's degree and higher education teaching experience is required.
Test Scoring
Educational Writing
Selling Educational Materials
Etsy – Read Etsy Review – Most people have heard of Etsy. It's one of the largest marketplaces for handmade and unique items on the web. But what you may not know is that you can sell digital files here, too. And that includes your teaching materials — lesson plans, activities, and more.
Teachers Pay Teachers – Upload your lesson plans, worksheets, tests, and activities for other educators to buy. Receive 60 percent royalties on the items you sell with a free membership.
Classful – This is a marketplace for teachers to shop, sell, and fundraise. If you choose to sell, their fee is only five percent.
Hoot of Loot – This is a newer marketplace for teaching supplies. You can sell everything from crayons to posters you hung up in your classroom. The site is free to use.
Consulting/Virtual Courses
JustAnswer – Read JustAnswer Review – Get paid to work from home as a virtual consultant. Many experts needed across a variety of categories.
Udemy – Free platform for creating a course in something. Udemy keeps 15 to 30 percent of your earnings.
Skill Success – This platform works off a profit sharing model, and you do not have to pay a fee to host your course through them. However, there is a $100 minimum threshold that must be reached in order to be paid via Paypal.
Skillshare – This site is harder to get going with because they are only accepting applications to teach courses in a small number of fields.
Maven – List yourself as an expert in just about anything and charge people for your knowledge. Consulting sessions are done via either telephone or email.
Outschool – Teach online remotely working whenever you want. It is free to list classes. Outschool does take a 30% service fee from enrollments in your classes.
TakeLessons – This company will deliver fully paid students directly to you. Choose from many different subjects to teach. Set your own price and schedule.
300 More Flexible, Non-Phone Work at Home Jobs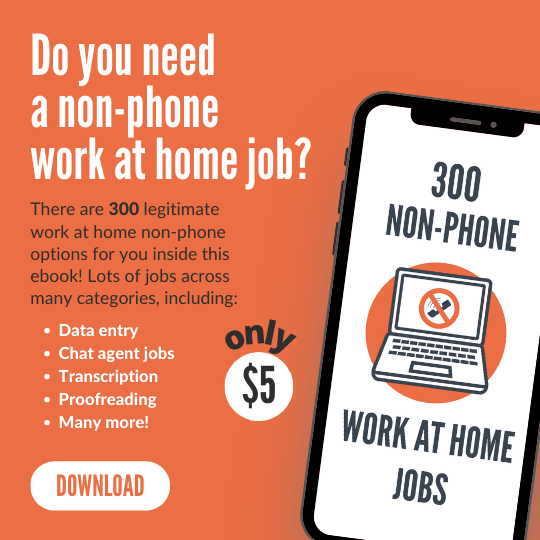 Do you want to work at home but you can't do so using a phone? If so, I have some great non-phone options for you in my latest e-book. It is only $5!
In this book, you'll find links to 300 companies offering different types of non-phone work at home jobs, including:
Data entry
Chat agent operators
Freelance writing
Transcription
Proofreading
Bookkeeping
Search evaluation
Many more!
Each job listing also has a short summary with any relevant information I can find (pay, what countries it may be open to, etc.).
Good luck to you, and I hope you find this ebook helpful if a non-phone job is what you are looking for.
After payment, you will receive the email containing your download.