Community moderators are typically in charge of overseeing online communities. This could be on forums, Facebook, Twitter or any place where a group of people communicate together online.
In today's post, we've listed many legitimate companies with regular openings for community or social media moderation work from home.
Note that the requirements to apply will vary — some of these companies will require extensive experience while others will be more lax. Pay will vary as well.
However, according to Glassdoor, most social media moderators make around $27,000 per year.
Below is your list of several reputable companies that hire moderators. Please keep in mind that not all of these companies are hiring right now.
If you have interest in one of the companies below but do not see jobs in the moderation field posted, just check back periodically. The companies on this list are here because they either are hiring for moderation or have hired for moderation in the past.
Good luck! Your list of jobs is below.
9 Work at Home Moderation Jobs
99 Dollar Social – This company has frequent openings for social media content specialists. Position is not always listed.
BazaarVoice – This company is occasionally hiring within the US for "content analysts" to work remotely. These content analysts help moderate user-generated content across BazaarVoice's client websites.
The Social Element – Read The Social Element Review – Always interested in hearing from moderators and community managers. Apply via email. Open worldwide.
ICUC – Read ICUC Review – They hire people in the US & Canada to work from home doing community moderation. Prior experience is not required as they do provide training. They are not always hiring.
Ignite Social Media – I have noticed this company sometimes has work from home community manager positions open. US only.
Live World – Read Live World Review – No prior experience is required to do moderation for Live World. They are almost always hiring. The role is listed as "social media agent."
Crisp Thinking – Read Crisp Thinking Review – Hires work at home social media moderators in different countries worldwide. May pay between $10 and $15 hourly.
Metaverse Mod Squad  – Read Metaverse Review – Mods provide digital content, child safety, message board, and chat room moderating services to enterprises with online communities and content.
Zynga – Occasionally hiring community moderators to moderate forums for their vast array of online games. Prior experience is preferred.
Good luck in whatever you choose to do!
For 300 Flexible, Non-Phone Work at Home Jobs: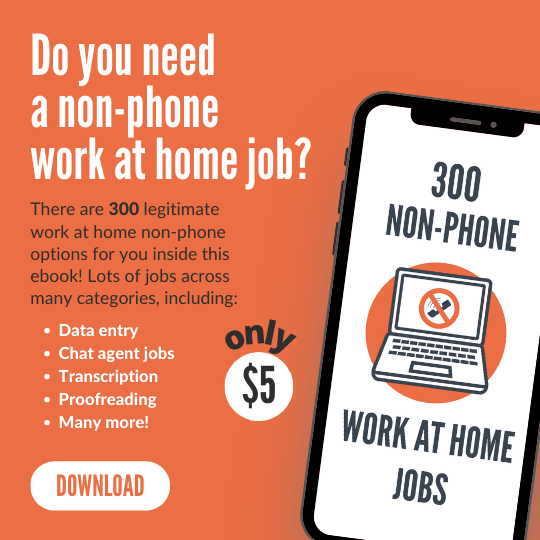 Do you want to work at home but you can't do so using a phone? If so, I have some great non-phone options for you in this ebook. It is only $5!
In this book, you'll find links to 300 companies offering different types of non-phone work at home jobs, including:
Data entry
Chat agent operators
Freelance writing
Transcription
Proofreading
Bookkeeping
Search evaluation
Many more!
Each job listing also has a short summary with any relevant information I can find (pay, what countries it may be open to, etc.).
Good luck to you, and I hope you find this ebook helpful if a non-phone job is what you are looking for.
After payment, you will receive the email containing your download.