HSN (Home Shopping Network) is a company I see advertising work at home positions quite frequently.
As you probably know, HSN is a very well-known company that has been around for a long time. Additionally, Home Shopping Network jobs allow you to work from home doing sales and work from home customer service.
This is location-based work and the locations vary. However, I frequently see the positions open in areas of Florida, Ohio, Tennessee, and Virginia.
How much do Home Shopping Network jobs pay?
In the past, the customer service positions have generally started at $11 an hour and the sales positions started at $10 an hour. Your training time is also paid.
Anonymous Glassdoor reviews suggest there might've been a slight pay bump (to about $12 per hour ) on their phone jobs, but take that with a grain of salt.
Are there any other benefits?
In addition to paid HSN work from home training, you also get paid time off, 401K, and employee discounts.
People who work full-time can also receive medical insurance. You can begin receiving these benefits on the first day of the month following your hire date.
What does the job involve?
You are going to be completing sales transactions, addressing customer concerns, and also some upselling which you will receive incentives for. All calls for both sales and customer service positions are inbound.
What are the requirements to apply?
Most importantly, as stated above, you must live in or around one of the three areas they are hiring. They also prefer if you have had some customer service or sales experience in the past.
In addition, it's necessary that you're comfortable navigating a personal computer with Windows, Outlook, etc.
What are the technical requirements?
Home Shopping Network has a long list of requirements:
Windows 7, Windows XP (Service Pack 3) or Windows Vista (Service Pack 2) Operating System or greater – No Macintosh computers
Minimum Processor Type: Intel, AMD Athlon, AMD Duron, Celeron or Pentium III or better with a minimum processor speed of 1 GHZ (1000 MHz) and a minimum RAM of 1 GB for Windows 7, Windows XP and Windows Vista or greater
500 MB minimum free disk space
Sound Card with Speakers
17″ or larger color monitor capable of displaying a resolution of 1024 X 768
Mouse and Keyboard (wireless is allowed). If using a laptop computer, you must have a wired desktop mouse connected to the laptop for proper navigation
Headset compatible with your phone and connected to the phone (wireless headset/phone is not permitted)
Internet Explorer Version 7.0 or higher
The latest updates can be obtained from Microsoft's web site
Anti-Virus protection installed
What do most people say about working from home for Home Shopping Network?
The best place to check for this type of info is Glassdoor, where you can find reviews of various companies from former and current workers. Just do a search there for HSN or Home Shopping Network and you'll find a lot of reviews.
The company has a 3.5 out of 5 rating there, which is not bad at all.
Would you like to apply for Home Shopping Network jobs?
You can browse the open positions here. Good luck!
300 More Flexible, Non-Phone Work at Home Jobs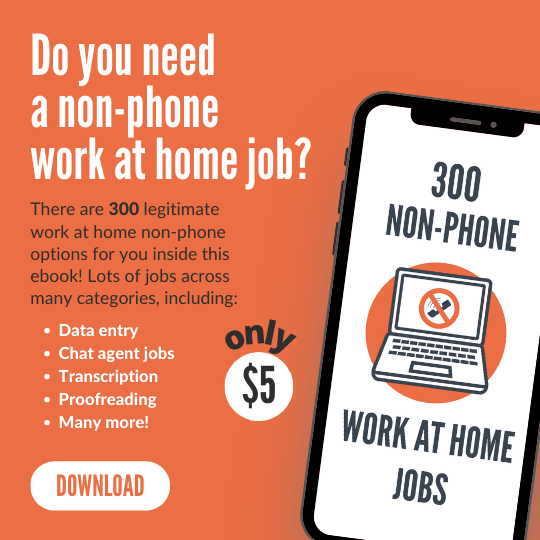 Do you want to work at home but you can't do so using a phone? If so, I have some great non-phone options for you in my latest e-book. It is only $5!
In this book, you'll find links to 300 companies offering different types of non-phone work at home jobs, including:
Data entry
Chat agent operators
Freelance writing
Transcription
Proofreading
Bookkeeping
Search evaluation
Many more!
Each job listing also has a short summary with any relevant information I can find (pay, what countries it may be open to, etc.).
Good luck to you, and I hope you find this ebook helpful if a non-phone job is what you are looking for.
After payment, you will receive the email containing your download.