Contract World is a company you can go through to work from home for some major companies like Pizza Hut, KFC, The Shopping Channel, and several others.
It's important to note that going through Contract World does not mean you're actually working for them — you're working for the clients that go through Contract World to get their workers. They have clients that use workers in the US, Canada, and the UK.
Their presence seems to be largest in Canada, and as far as US work is concerned, their clients do not hire in all US states. Also, many of their clients want bilingual (French/English) agents to handle calls coming from the French-speaking provinces of Canada.
This company is similar to Arise where there are some fees, and that's one reason why I've held off writing about them.
Contract World is not a scam at all, but I never encourage anyone to pay a fee to get started working when there are so many companies out there where you don't have to do that. But, I have had a handful of people ask me to review Contract World so I figured I would put the info out here for those who are curious.
How much can you earn?
The Contract World website states that the amount will vary depending on what client you're working for, but it's usually anywhere between $11 to $16 hourly. Glassdoor reviews seem to contradict this estimate, and it looks like some people make less than minimum wage.
Pay is usually per call, and you can work for more than one client. You are paid directly by the client(s) you work for, not Contract World.
You get paid bi-monthly via direct deposit to your bank account. You are considered an independent contractor so any taxes are your responsibility. However, the fees you have to pay to get going here are all tax deductible.
What are the fees?
The website lists several different fees, including what you would pay to purchase a computer, high speed internet, etc. But I know the majority of people probably already have those things, so I'm just listing the other fees I found.
Keep in mind it's free to create an account with Contract World, but you will have to pay and go through the first level of certification before you can actually start applying for work with the many clients they have listed.
My Business Access Online Training – $75 – this is the first level of certification.
Client Access Online Training – $75 – $300
Background Check – $45
Agent Access Software – $29/monthly plus an additional $10 for each extra client you take on.
PaySource Direct Service fee – $4.95+ per month. An extra $2.50 is added for each additional client you take on.
If you're wondering what all that stuff is actually for, this page has a full breakdown of everything as well as the description explaining what exactly you're paying for.
Related: No fee work from home jobs
Do you have to incorporate yourself?
No. Unlike Arise, you do not have to incorporate yourself as a business. You are working as an independent contractor.
How long does the training last?
This will depend entirely upon the client(s) you're working for. Sometimes it's just a few days and sometimes it could drag on for a few weeks.
What equipment do you need?
You need a dedicated phone line (digital VOIP connection), high speed internet, a headset, desktop PC, and a webcam.
Some of these things you probably already have, but you'll have to pay for whatever you don't. Contract World does not cover any equipment costs for you. You will of course also have to provide a quiet background free from distractions while you work.
How flexible is this?
The Contract World website claims that working for their clients can be very flexible and that you are allowed to schedule yourself for times when it's convenient for you provided you are still meeting their client's needs. You can also schedule yourself for very small blocks — as short as 30 minutes at a time.
What states are open?
As mentioned above, Contract World isn't open to all US states due to tax laws. Below are some of the states they've hired people from in the past:
California
Montana
North Dakota
Arizona
Hawaii
Iowa
Maryland
Oklahoma
Texas
Michigan
Kansas
Rhode island
Feedback on Contract World
Feedback is, understandably, mixed. Anytime you have to pay a hefty fee for something and then it just doesn't work out, you're going to feel a little burned, so I did find a lot of mixed reports.
On the positive side, I found several posts from people who said they've had a good experience, make a decent amount per hour, and love the flexibility the work offers them. I haven't seen anyone claiming that they weren't paid as promised.
Also, their clients are reputable, mostly well-known companies so knowing that could make you feel a little more secure than working for an unknown company. This opportunity does work out for some people.
I did read some negative comments regarding the pay per call and how being paid per call means you cannot make as much per hour as the Contract World website claims that you can.
That makes perfect sense because you never know how busy you're going to be or how long each call will take, so I would imagine the pay could be a little unpredictable.
More Information
To learn more, I'd suggest visiting the Contract World website directly here. Please keep in mind this post is NOT a recommendation or an endorsement for this company, just a basic overview.
I am simply providing some general details and some online feedback I came across because I've had readers ask me to write about the company.
Consider this a jumping off point for you to decide for yourself, after hopefully doing extensive research, if this is something to consider.
300 More Flexible, Non-Phone Work at Home Jobs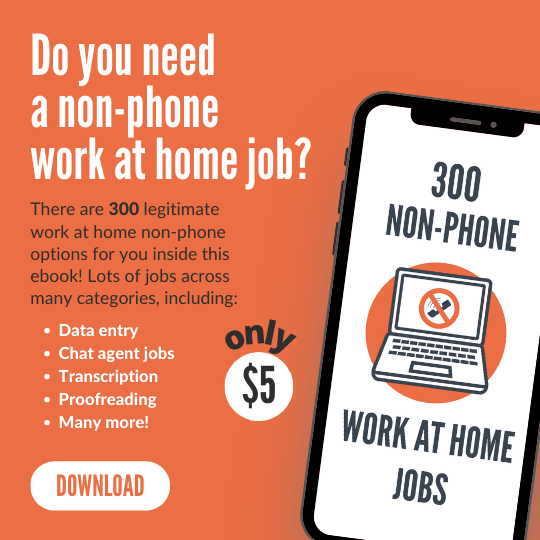 Do you want to work at home but you can't do so using a phone? If so, I have some great non-phone options for you in my latest e-book. It is only $5!
In this book, you'll find links to 300 companies offering different types of non-phone work at home jobs, including:
Data entry
Chat agent operators
Freelance writing
Transcription
Proofreading
Bookkeeping
Search evaluation
Many more!
Each job listing also has a short summary with any relevant information I can find (pay, what countries it may be open to, etc.).
Good luck to you, and I hope you find this ebook helpful if a non-phone job is what you are looking for.
After payment, you will receive the email containing your download.