2U is a company with an online, cloud-based platform that allows leading colleges and universities to deliver their online degree programs to students everywhere.
The company has been in existence since 2008, and they have regular remote job openings. I usually list their leads when I find them on my job leads page, but I've never taken the time to dig deeper and really research these jobs.
Unfortunately, it looks like the remote positions I'm seeing at this time are for people in the US only.
Work at Home Positions at 2U
The company usually has tons of openings, but only a handful that are listed as "remote." Today, the remote jobs posted are for part-time student support coordinator, tech support specialist, and live classroom technical producer.
Today's review is going to focus on the student support coordinator position because it's the one that I see available most often, and the one that the majority of people might qualify for, but I'd encourage you to apply for either of the other two remote positions if they seem like a fit and you would qualify. They might pay a little more.
What does a student support coordinator do?
Here is the list of responsibilities, quoted from the job posting:
Providing exceptional service and support to students with technical issues in the Learning Management System (LMS), Adobe Connect and other technology platforms.
Providing exceptional service and support to faculty with technical issues and service issues.
Assisting in student on-boarding with live training during orientation.
Monitor live sessions to ensure they run smoothly.
Provide feedback after each session so Manager and Advisors can follow up to address any issues.
Troubleshooting technical issues and coordinating solutions with 2U"s technical team.
Handle incoming communications from students in an expedient and professional manner.
Assist students and faculty in troubleshooting basic technical issues in the Learning Management System including explaining new enhancements, etc.
Identify and refer students to Manager and Student Support Advisors for additional support
Student Support Coordinator Pay
2U doesn't share salary info on their job listings, but I did find on Glassdoor where the Student Support Specialist position (not sure if that's the same thing) might pay a little over $40K per year. Going by Glassdoor, most of their positions pays over $40K yearly.
Qualifications
To apply as a student support coordinator at 2U, you need to have at least one year of customer support or tech support experience along with some college coursework in your background.
You also need great computer skills with knowledge of Microsoft Word, Excel, and Powerpoint, and it's a big plus if you have experience providing service in a collegiate, university, or other type of online environment.
Is this an employee or independent contractor position?
You work for 2U as an employee, not an independent contractor. There are benefits, and you work in shifts.
What benefits does 2U offer?
The benefits package looks really good. 2U offers medical, dental, vision, life insurance, disability, 401K, paid time off, plus 100 percent tuition benefits for you, your spouse, and legal dependents.
How flexible is this?
Their needs probably change regularly, but it appears you have to work in shifts and you must be available to work evening and weekend hours on occasion. The job I see posted today is for part-time work, 10 to 18 hours per week.
What do 2U employees say about the company?
This is overall a very highly-rated company on Glassdoor. Out of 115 reviews, their overall rating is 3.9 out of 5.
But these reviews are almost all from the in-house employees. I may not have dug deep enough since there are so many reviews, but it doesn't look like the remote workers are leaving reviews.
How can you apply?
Go here to check for openings. The home-based ones are listed as "US – Remote." Good luck! Overall, this sounds like a great company.
For 300 Flexible, Non-Phone Work at Home Jobs: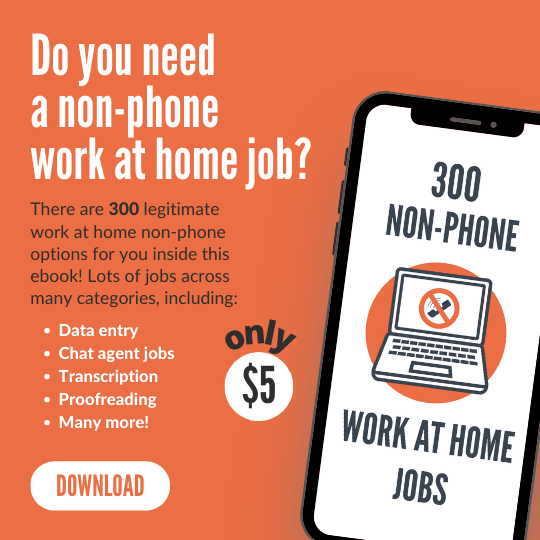 Do you want to work at home but you can't do so using a phone? If so, I have some great non-phone options for you in this ebook. It is only $5!
In this book, you'll find links to 300 companies offering different types of non-phone work at home jobs, including:
Data entry
Chat agent operators
Freelance writing
Transcription
Proofreading
Bookkeeping
Search evaluation
Many more!
Each job listing also has a short summary with any relevant information I can find (pay, what countries it may be open to, etc.).
Good luck to you, and I hope you find this ebook helpful if a non-phone job is what you are looking for.
After payment, you will receive the email containing your download.