Are you looking for a job where you feel that you make a difference? Are you passionate about certain causes? Are you someone who generally enjoys phone work? Then working as a telefundraiser at Causeworx might be something for you to explore further.
What Exactly is Causeworx?
Causeworx is a Canadian company that hires workers worldwide to make fundraising calls from home to some of Canada's most prestigious non-profit companies, hence the title "telefundraiser".
However, this is not considered telemarketing, since it is NOT cold calling, but calling from already present databases of people who have made similar donations in the past.
Some of the Canadian non-profits that you would be calling on behalf of would be SickKids®, Covenant House, Ottawa Humane Society, Toronto Humane Society, The Fellowship, Sunnybrook Health Sciences Centre, and Union Gospel Mission. You may work full-time or part-time in this position.
What Are the Requirements to Work for Causeworx?
The requirements to work for Causework are:
a quiet work space free from distractions
an updated PC or laptop running Windows XP/Windows Vista/Windows 7/Windows 8
a computer speed of 15 mbps
hardwired Internet
high-speed Internet
minimum of 2GB RAM
a USB headset with a mic
anti-virus software installed
anti-malware software installed
Internet Explorer 7 or later (no Firefox or Google Chrome)
Are You an Independent Contractor or an Employee at Causeworx?
At Causeworx you are an independent contractor and responsible for your own taxes. Because it is a Canadian company, you may not receive your 1099 Tax Forms, but you can request an email of earnings.
Does Causeworx Hire Workers From Other Countries?
Yes, again Causeworx hires worldwide for workers who basically want to work. The company is located in Canada, and you will be calling on behalf of Canadian non-profits.
What Are the Hours at Causeworx?
The hours will vary depending upon whether you are part-time or full-time.
Their full time fundraising reps work the following hours:
Monday, Tuesday, and Thursday from 9 a.m. to 6 p.m. Pacific Time
Friday from 8 a.m. to 5 p.m. Pacific Time
Saturday from 7 a.m. to 1 p.m. Pacific Time
Their part time fundraising reps work the following hours:
Monday, Tuesday, Thursday from 1 p.m. to 6 p.m. Pacific Time
Friday from 12 p.m. to 5 p.m. Pacific Time
Saturday from 7 a.m. to 1 p.m. Pacific Time
What is the Pay Like at Causeworx?
The pay is $11 to $14 per hour plus incentives. This is in Canadian dollars.
What is My Overall Impression of Causeworx?
There seem to be several happy workers working there at different forums, so I would say overall everyone is happy! I wasn't able to find any Glassdoor reviews at this time.
How Can an Interested Applicant Apply to Causeworx?
Call their employment hotline at 844 701 2226 and explain verbally why you would be a good candidate for this position as well as indicate whether you want full-time or part-time. Obviously you will want to leave your name and number too. Then send your resume to hiring@causeworx.ca.
Good luck to all who apply.
300 More Flexible, Non-Phone Work at Home Jobs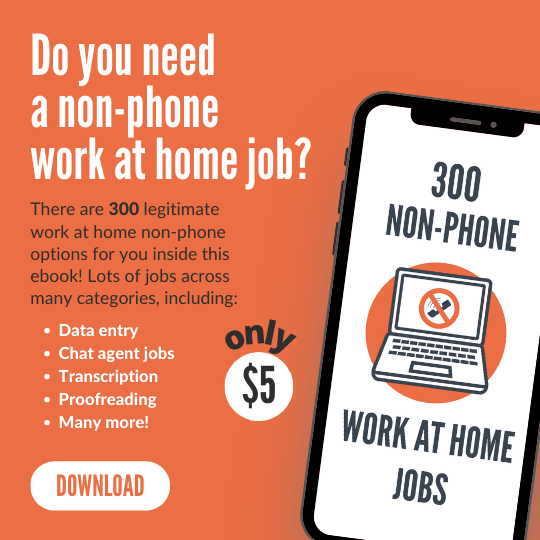 Do you want to work at home but you can't do so using a phone? If so, I have some great non-phone options for you in my latest e-book. It is only $5!
In this book, you'll find links to 300 companies offering different types of non-phone work at home jobs, including:
Data entry
Chat agent operators
Freelance writing
Transcription
Proofreading
Bookkeeping
Search evaluation
Many more!
Each job listing also has a short summary with any relevant information I can find (pay, what countries it may be open to, etc.).
Good luck to you, and I hope you find this ebook helpful if a non-phone job is what you are looking for.
After payment, you will receive the email containing your download.