Here is one more company that might hire you over the Valentine's Day holiday to take flower orders and help customers — Teleflora. Two other companies you might also want to check out are Blooms Today and 1-800-Flowers.
I believe there are people who work from home for Teleflora year round, but this review focuses on the seasonal positions. The busy, flower-ordering seasons for Teleflora are Valentine's Day, Easter, Mother's Day, and Christmas.
How much does Teleflora pay?
They no longer list pay rates in their hiring materials, but in the past you could earn between $8 and $11 an hour plus commission. Based on a quick inspection of their Glassdoor reviews, those numbers still appear to be roughly accurate.
The training (paid) lasts approximately 16 hours. The rate for training is the equivalent of your state's minimum wage.
What are the requirements to apply?
You must be legally eligible to work in the US and have a high school diploma or equivalent.
They prefer if you've done customer service work over the phone before, but it's not a requirement. You also need to be computer literate, a good multi-tasker, and be able to work well with no supervision.
A pleasant phone demeanor with the ability to handle customer conflict and troubleshoot issues is also a must.
In addition, you must submit to a background check before you are hired, and of course being able to provide a quiet background while you work is an absolute necessity. This is typical of most work at home jobs requiring a phone.
What are the technical requirements at Teleflora?
Before you start training:
Computer must be 'hard-wired' to modem or router, no wireless connections.
Corded Telephone headset with noise-canceling microphone that plugs into a corded landline telephone for production calls. Mute button and volume control required either on headset or phone (here's a list of good headsets to consider).
Before actually beginning work:
High Speed Internet: DSL or Cable (no wireless or satellite ISPs allowed)
Analog landline phone line (No cell phones, digital or VoIP, some cable companies ok)
Computer Requirements:
Teleflora supports Windows XP, Windows Vista Basic, Windows Vista Premium/Business/Ultimate, and Windows 7.
In addition 2 GB RAM is required.
What is scheduling like with Teleflora?
Your schedule may not always be the same week to week. You most definitely will have to work holidays if one falls on a regular scheduled work day seeing as how that is when Teleflora is busiest.
What is the feedback on Teleflora?
I have not found anything negative so far about the work from home customer service rep positions with Teleflora. People do seem to like the work and there are also many who seem very excited about the prospect of being hired for the seasonal positions.
I think that there are some people who are hired to work on a temporary basis that end up working for Teleflora for longer than originally scheduled.
How do you apply?
To go ahead and start your application process for Teleflora, you'll need to go here and submit your resume.
You may get to take an assessment test and if you pass that, they will probably contact you to submit to the background check. Good luck if you decide to go for this! Note they may or may not be hiring at this time.
Here is a big list of more work at home seasonal jobs if you'd like more seasonal work!
300 More Flexible, Non-Phone Work at Home Jobs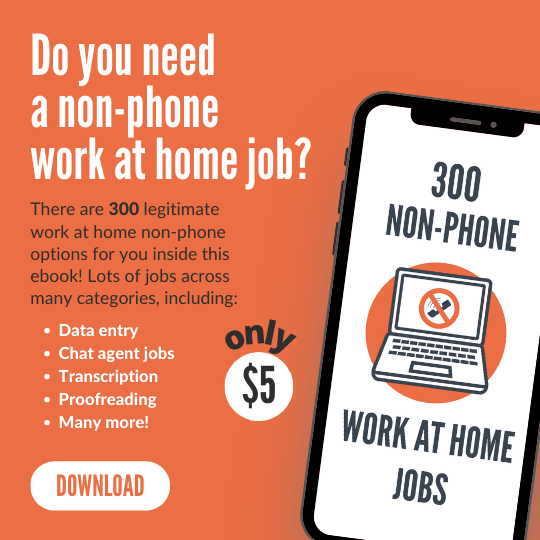 Do you want to work at home but you can't do so using a phone? If so, I have some great non-phone options for you in my latest e-book. It is only $5!
In this book, you'll find links to 300 companies offering different types of non-phone work at home jobs, including:
Data entry
Chat agent operators
Freelance writing
Transcription
Proofreading
Bookkeeping
Search evaluation
Many more!
Each job listing also has a short summary with any relevant information I can find (pay, what countries it may be open to, etc.).
Good luck to you, and I hope you find this ebook helpful if a non-phone job is what you are looking for.
After payment, you will receive the email containing your download.