Many people looking to work from home that are OK with phone work tend to shy away from commission-based sales positions.
And this is very understandable because it's pretty scary to know your entire paycheck is dependent on you successfully getting sales or leads. Some people are born with a natural ability to sell and love a challenge, but most of us feel commission-based pay is just too much of a risk.
In other ways, commission-based pay is very exciting because your earning potential is not exactly limited.
With other types of phone jobs, you have a rough idea of how much you're going to earn each week because you know your set hourly pay and your scheduled hours. But with commission, the amount you earn depends on you and your performance.
Today, I wanted to make a list of companies that offer a base pay in addition to commission. This is a lot "safer" and provides the best of both worlds because you'll earn a certain amount of money hourly whether you makes sales/get leads or not. And there are quite a few legitimate companies with this type of setup.
So with that in mind, here is your list. I cannot guarantee all these companies have openings right now, and keep in mind that each company listed below will have their own requirements regarding experience and equipment needed.
A Better Call – They provide business to business telemarketing and lead generation services for companies in many different industries. They promise a base pay plus bonus.
Cruise.com – Read Review – This company hires home-based sales agents to sell cruise vacations, insurance, and other product options to potential customers through inbound/outbound telephone calls/e-mail leads. They pay base plus commission with most workers claiming to average around $10 to $15 hourly.
Intelliverse – This company regularly hires outbound phone sales associates to work at home. It's an independent contractor position with compensation based on a weekly rate (Part-Time $200.00/wk, Full-Time $350.00 – $400.00/wk), commission plus bonuses.
MarketLinc – This company regularly hires remote sales agents to handle chats which turn into phone calls for clients like Kaspersky, Nuance, and others to help them make buying decisions. They have two models for pay, one is base pay plus commission (employee) and the other is commission-only (independent contractor).
MarketLink – A totally different company than MarketLinc (above). They have regular openings throughout the US for remote sales reps. Pay is base plus commission, although from what I've read you will probably only earn around minimum wage for your base.
NexRep – Read Review – This company usually has several different phone-based positions open, some sales-based and some customer service. The majority of the sales-based positions appear to be a base plus commission structure.
Pathable – This company has two sales-based positions they occasionally hire for — account executive and lead qualifying rep. Both offer a base plus commission structure.
Sales Fish – This company is regularly hiring virtual sales agents with at least 7 years of inside sales experience calling B2B customers. They promise a competitive hourly pay with bonuses for achieving set objectives.
Sales Roads – They have occasional work from home appointment setting, lead generation, and sales positions that pay hourly plus commission.
I hope this list opens up some doors for you if you want to do sales work, but are too afraid to commit to a commission-only position.
For 300 Flexible, Non-Phone Work at Home Jobs: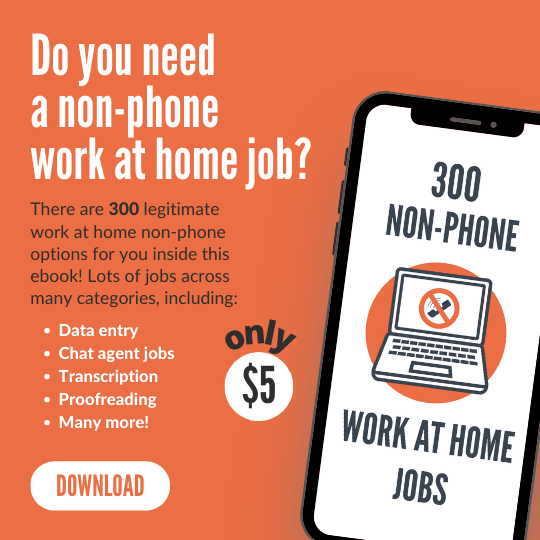 Do you want to work at home but you can't do so using a phone? If so, I have some great non-phone options for you in this ebook. It is only $5!
In this book, you'll find links to 300 companies offering different types of non-phone work at home jobs, including:
Data entry
Chat agent operators
Freelance writing
Transcription
Proofreading
Bookkeeping
Search evaluation
Many more!
Each job listing also has a short summary with any relevant information I can find (pay, what countries it may be open to, etc.).
Good luck to you, and I hope you find this ebook helpful if a non-phone job is what you are looking for.
After payment, you will receive the email containing your download.