Teleperformance is a major company that often hires for work from home tech support. The company has been in business since 1978 and currently has over 149,000 employees worldwide.
Note that the vast majority of the jobs they hire for don't appear to be home-based, but I do see the tech support one open very frequently in the United States.
Also, this position may be location-based even though the job descriptions usually don't specify that you have to train in-house.
I've read on the forums that your training is often done on-location prior to working from home. I can't verify if this is always the case or not, so please comment below if you know one way or the other whether or not training is done online or in-house.
About the Job
As a tech support agent for Teleperformance, you are taking inbound calls for their clients to help them with computer issues and answer questions about products. It seems that many of their clients are internet, phone, and cable companies.
This is an employee job, so you will get paid training time and possibly other benefits like vacation time, overtime, 401K, and insurance.
Your Pay at Teleperformance
They don't list the rate of pay on their website, but a pretty old forum thread at WAHM has it listed as being between $9 and $11 hourly. That thread is dated 2010, so I can't be sure that's still the accurate rate. Based on Glassdoor reviews, which are probably more recent, the pay ranges (roughly) from $10 to $16 per hour.
Teleperformance pays via direct deposit and may possibly offer a paper check option as well.
Work Schedule
The tech support positions listed now are full-time.
I'm not sure if they ever offer part-time, but it's probably worth keeping tabs on their jobs page to see if part-time ever opens up if that's something you need. New employees are required to schedule themselves for at least one eight-hour shift on the weekend.
When you apply, you are asked to fill in the times you would be available through the week. However, Teleperformance doesn't guarantee these hours for you and it says on the application that your actual scheduled times might vary although they do try to base it around your availability.
Position Requirements
You need to be at least 18 years old with a high school diploma or GED to apply. They prefer if you've also had at least six months of call center experience and also at least a year of tech support experience.
This company also conducts a background check/drug test.
Technical Equipment Needed
You will need a quiet office space for working, high speed internet, a Windows-based PC, and a land line phone with no features.
Worker Feedback on Teleperformance
Feedback is definitely mixed at WAHM.
You will also find a lot of feedback at Glassdoor that's mixed, about half good and half bad. Note when you're browsing Glassdoor reviews that not all of those are from work at home employees of Teleperformance. Many of those people are working at a brick and mortar location.
Where to Apply
If you're interested in doing work at home tech support for Telepeformance, view their jobs page here. They usually have a lot of positions opens, so you may need to filter your search by typing in "work from home" in the search box.
300 More Flexible, Non-Phone Work at Home Jobs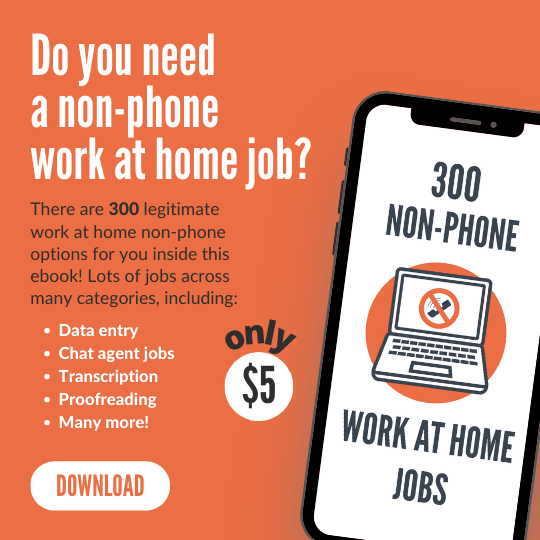 Do you want to work at home but you can't do so using a phone? If so, I have some great non-phone options for you in my latest e-book. It is only $5!
In this book, you'll find links to 300 companies offering different types of non-phone work at home jobs, including:
Data entry
Chat agent operators
Freelance writing
Transcription
Proofreading
Bookkeeping
Search evaluation
Many more!
Each job listing also has a short summary with any relevant information I can find (pay, what countries it may be open to, etc.).
Good luck to you, and I hope you find this ebook helpful if a non-phone job is what you are looking for.
After payment, you will receive the email containing your download.