TeleTech is a company that is hires people to do work from home customer support for a variety of different major corporations.
Please note that TeleTech is only currently hiring in 41 states. In this TeleTech review, I'll do my best to explain how it works based on the info I've gathered so far.
Working For TeleTech
As I'm sure you've guessed, you're doing phone support work for this company.
This means you'll be doing either customer support and/or sales. The work is done from your home and the company claims that they are flexible with scheduling, so hopefully if you are hired you can get shifts that work for your schedule.
There is a training period to go through before you start working to ensure you know how to do the job. They also assign you a team leader you can access via IM to help you out if you run into problems during your shift.
Pay at TeleTech
The pay rate you will receive at TeleTech is not listed on the website because it will vary depending on what project you're on. Many of their more recent tech-support job listings offer pay as high as $12.50 hourly, but in the past they often paid less than $10 per hour.
Employee Status
TeleTech hires you as an employee of their company, not an independent contractor. This means you will be paid for your time spent in training and that they will take taxes out of your pay.
Tech Requirements
TeleTech is one of those jobs where you don't have to have a land line phone as long as you do have a Voip system that does not connect to the internet.
But of course a land line is acceptable to use. You also need a PC, high speed internet, and a quiet work space.
Be warned that if you are using anything older than Windows 8.1, they will not accept you.
Application Process
To apply, you'll have to fill out the online application, check your computer for their system requirements, and answer some assessment questions.
If you do not pass the assessment tests, you'll have to wait 60 days to apply again. If you do pass, you can schedule an interview that will take place over the computer and/or phone.
You will find out the results of your interview within a few days and from what I understand they will give you an offer with how much they are offering you in regard to pay, and then you decide whether or not to accept.
If you do accept, you'll have to undergo a drug test and criminal background check. TeleTech pays for these things although they will not reimburse you for your gas mileage for driving to a facility to get a drug test, etc.
Scheduling
A minimum of 20 hours a week is expected, broken up into shifts consisting of four to six hours.
Weekend and/or holiday work might also be required. This can be flexible to a point because during the offer process, you can let the recruiter know when you are available to work and then they will try to get you set into a schedule around that time period.
Want to Apply?
If you would like to go ahead and get your app in, you can begin the process here.
300 More Flexible, Non-Phone Work at Home Jobs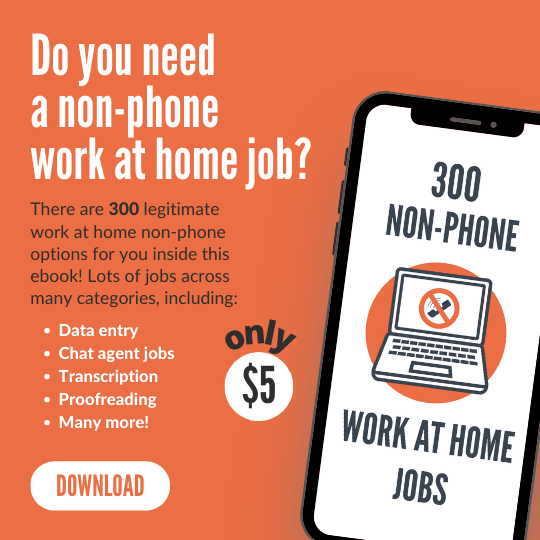 Do you want to work at home but you can't do so using a phone? If so, I have some great non-phone options for you in my latest e-book. It is only $5!
In this book, you'll find links to 300 companies offering different types of non-phone work at home jobs, including:
Data entry
Chat agent operators
Freelance writing
Transcription
Proofreading
Bookkeeping
Search evaluation
Many more!
Each job listing also has a short summary with any relevant information I can find (pay, what countries it may be open to, etc.).
Good luck to you, and I hope you find this ebook helpful if a non-phone job is what you are looking for.
After payment, you will receive the email containing your download.