Today, we're talking about Sykes work from home jobs. Sykes is a well-known company that hires people as employees to work remotely taking inbound calls for their clients.
The Sykes jobs are almost always available to apply for, and they currently hire people living in forty US states and eight Canadian provinces.
If you are hired by Skyes, you'll be answering incoming calls from home.
The nature of the calls will vary depending on the client (Sykes handles calls for many different companies), but most of the time people will be trying to order items, inquire about past orders, or ask questions about products/services.
Sykes Work From Home Pay
Your exact rate of pay will vary depending on the client, Glassdoor shows that most people doing the work from home customer service jobs for Sykes earn $9 to $15 hourly. You may also be eligible for sales incentives on sales calls.
Pay is made every two weeks via direct deposit to your bank account or bank card.
Tech Requirements
The Sykes job postings on the site now do not show the exact equipment you'll need, but past postings indicated that a Windows-based computer, high-speed internet, a corded land line phone, and both a USB and telephone headset are necessary.
The USB headset is for training and the telephone headset is for you to use once you start actually working and taking live calls. Sykes does not provide any of this equipment for you.
I have a list of quality work from home headsets if you'd like some ideas on what type to get.
Like most work at home phone jobs, Sykes does not permit any background noise when you're working. So make sure you're able to work in a quiet environment if you do get the job.
Sykes Schedule
If you're looking for a flexible work at home job, this isn't really going to be it. You agree to a fixed schedule upon being offered a job, although there may occasionally be some clients that can offer more flexible hours.
Sykes requires you work a minimum of 20-25 hours per week. They do occasionally have full-time positions where 40 hours is possible.
Employee Status
You are working for Sykes as an employee, not as an independent contractor. This also means you get benefits.
Sykes work from home jobs offer benefits to both full and part-time workers who have been with the company for at least 30 days including medical, dental, vision, and after one year you can get 401K.
Apparently the benefits for full-time workers are a lot better than the ones for part-time workers.
The fact you get benefits here may help to slightly offset the low $9 to $10 an hour pay rate Sykes offers.
The Application Process
First off, you should know that Sykes does a credit check on all applicants, but some black marks on your report are still OK. Many people on the work from home forums I browsed claim they were hired with less than perfect credit.
The other important thing you should know is that Sykes also conducts a background check on you, and you are required to pay $45 so they can run it.
However, you will NOT be asked to pay this money until after you've already been hired. It takes about one week for the background check.
The first step in the application process is applying online. Sometime after you've done this, you may be invited to participate in a group interview. If that goes well, you might just get a job offer.
Before you can start working, you'll have to go through training. The length of the training will depend on the client you're handling calls for.
It could run for just a few days or last for several weeks. Fortunately, you do get paid for 100 percent of your training time with Sykes work from home jobs.
Sykes Work From Home Reviews
Unfortunately, Sykes has a low score of 1.9 on Glassdoor when you filter by reviews that mention "work from home." If you take out "work from home" from the filters, they score at 2.8.
Some of the complaints we looked over included rushed training time, low call volume, and low pay (and at $9 to $10 an hour that certainly seems to be the case in our opinions, too). We also saw several people upset about being laid off when call volume was very low.
People who praised the company appreciated getting to work from home, the benefits, and some thought management was great to work with.
Where to Get Started
If you'd like to apply for a Sykes work from home job, you can go here to get started. Good luck! As always, I would appreciate any additional information you can share in the comments if you have it.
300 More Flexible, Non-Phone Work at Home Jobs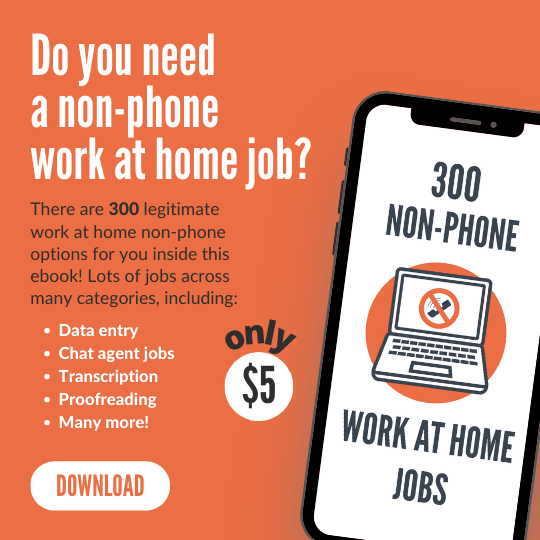 Do you want to work at home but you can't do so using a phone? If so, I have some great non-phone options for you in my latest e-book. It is only $5!
In this book, you'll find links to 300 companies offering different types of non-phone work at home jobs, including:
Data entry
Chat agent operators
Freelance writing
Transcription
Proofreading
Bookkeeping
Search evaluation
Many more!
Each job listing also has a short summary with any relevant information I can find (pay, what countries it may be open to, etc.).
Good luck to you, and I hope you find this ebook helpful if a non-phone job is what you are looking for.
After payment, you will receive the email containing your download.