I get lots of Facebook messages and emails from people who are looking for work from home jobs that don't come with strict, set schedules. This is probably the second most common request I get next to people looking for non-phone work from home jobs.
In the last six years, I've actually written about a lot of jobs where you can work whenever you want, but I've never made a list of companies although I do have a list of part time work from home jobs. So this post is a big list of those jobs I've reviewed that allow you to work more or less when it's convenient for you.
Also, please keep in mind that not every company listed below is hiring at this time. If you see something that interests you that isn't open, keep tabs on the company page and check back!
Big List Of 45 Work-Whenever-You-Want Flexible Jobs From Home
1 – Cambly – Read Cambly Review – ESL (English Second Language) tutoring. You are allowed to log on and work when you want provided there are tutoring sessions available. Also, no experience is needed to work for this company.
2 – Shipt – Read Shipt Review – Are you OK with a job outside the home as long as it's flexible? Then you might enjoy being a personal shopper for Shipt. According to Shipt, up to $22 hourly is possible with weekly paychecks delivering groceries and other items for people signed up for their service.
3 – Instacart – Read Instacart Review – Personal grocery shoppers. Not remote, but flexible work you can do whenever you want. Pay is weekly via Paypal or direct deposit. According to Glassdoor, you'll earn between $10 and $15 hourly doing this.
4 – Rover – Read Rover Review – Earn up to $1,000 extra dollars a month pet-sitting for Rover. This could be a great side-gig if you love pets! You can set your own rates with Rover, but they do take a cut of your earnings in exchange for you having your pet-sitting services listed through them.
5 – Write Score – Read WriteScore Review – Work from home scoring student essays. Note this company offers only seasonal work and they hire for a short period of time each year (hiring may be up for this year).
6 – Metaverse – Read Metaverse Review – Work from home community/social media moderation work where you can schedule your own hours. This company is also listed under phone jobs because they regularly hire for customer support positions which may involve the use of a phone.
7 – 3 Play Media – Read 3 Play Media Review – Work from home editing transcripts. You can log on and off and do the work at your leisure provided there is work available to do and you will commit to at least 15 hours a week.
8 – TELUS – Read TELUS Review – Work from home search engine evaluation and other non-phone task work. Work whenever you want up to 20 hours per week.
9 – Literably – Read Literably Review – Work from home transcription/scoring. You listen to students read aloud and then type out their errors. This company usually only has work during the school year. Unfortunately, they cannot accept people from the following states: CA, CT, MA, MT, NE, or NJ.
10 – Elevate K12 – Read Elevate K12 Review – Work from home tutoring. You can work any hours you want as long as it's between 8 a.m. and 6 p.m.
11 – Fancy Hands – Read Fancy Hands Review – Work from home task-based virtual assisting. Log on anytime and if there are tasks you can do, you can claim them. There are almost always lots of tasks available. It's ideal if you want to just work a few hours a week from home because they don't have any requirements around that.
12 – Measurement, Inc. – Read Measurement, Inc. Review – Work from home scoring tests. Must have a four-year degree. Flexible, but you will have to work Monday through Friday. Pays around $11 hourly.
13 – Humanatic – Read Humanatic Review – Work from home listening to recorded phone conversations and label them according to specific criteria. You can work as much or little as you want. Note this is extra money, if that. Most people aren't able to make much money at all doing this.
14 – Dictate Express – Transcriptionists. Anywhere in the US. You'll have to pass their assessment test before applying – this is to make sure your grammar / spelling are up to par. Once hired, you're expected to complete at least 45 minutes of work a day. Salary is unknown.
15 – Panda Tree – Read PandaTree Review – Work at home tutoring kids in Mandarin or Spanish. Work whenever you want, between 5 and 15 hours weekly.
16 – Pearson – Read Pearson Review – Work at home scoring tests. You can work anytime you want provided you commit to at least 20 hours a week.
17 – Brainfuse – Read Brainfuse Review – Work from home tutoring. It may be possible to work on your own schedule if there are any tutoring sessions you can grab.
18 – Studypool – Read Studypool Review – This is a site you can use to sign up as an online academic tutor and then provide homework help. Work whenever you want. You must have a degree or currently be in college/university, trying to get one.
19 – The Content Panel – Content Writers. Worldwide! Must be a native English speaker. Strong grammar skills and research skills required, as well as some knowledge of content marketing and SEO. Pay is weekly and sent via Paypal, so you'll need a Paypal account.
20 – Clickworker – Read Clickworker Review – Short task work. Log in and work whenever you want if the work is there to do.
21 – Amazon Mechanical Turk – Read Amazon Mechanical Turk Review – Another short task site, powered by Amazon. It's one of the more popular make your own schedule jobs. Log in and work anytime. There is always work to do, but you wont' always be able to find work that is worth the pay.
22 – Stitch Fix – Read Stitch Fix Stylist Review – Work at home curating boxes for Stitch Fix, picking out clothes. There's a 15 hour a week minimum, but you can work them around your own schedule. They only hire in certain US locations, which vary.
23 – Tutor.com – Read Tutor.com Review – Online tutoring. You can set your own schedule and tutor when you're available.
24 – Ask Wonder – Read AskWonder Review – This is work at home research, open worldwide, although it is not available in a few certain US states. You can work as much or as little as you want, anytime you want.
25 – Ginger.io – Read Ginger.io Review – Because this is a 24 hour service, it's possible to work at home for Ginger.io and schedule yourself for hours around the clock. However, you need to be a licensed/certified and trained psychiatrist or therapist to get accepted here.
26 – Aira – Read Aira Review – This company hires independent contractors in the US to participate in voice chats with the blind and visually impaired for the purpose of helping them complete everyday tasks. Pay may be around $15 hourly, and you can benefit from a flexible schedule.
27 – Hilton Worldwide – Read Hilton Review – A reader on my Facebook page mentioned that Hilton lets you build your own schedule. They hire reservation sales specialists, customer care coordinators, and guest experience specialists to work from home. However, you have to train on-site for many weeks at either their Tampa, FL or Dallas, TX headquarters prior to working from home, so it's pretty location-based.
28 – Learnlight – Read Learnlight Review – For Learnlight, you do ESL (English Second Language) teaching from home. The work is done via Voip connection. You can set your own schedule as long as you work Monday – Friday and can commit to at least 24 hours per week. Shifts are usually done in 2-4 hour blocks.
29 – ARC Consulting – Read ARC Review – Telephone mystery shopping. Like most other phone mystery shopping companies, you can do the calls anytime as long as you're calling during normal business hours. This should also be considered just extra money since you can't depend on the work to be steady.
30 – Parameds – Read Parameds Review – Outbound calling for medical records retrieval. The work is done Monday through Friday and you can work anytime during business hours. However, lots of workers say they stay pretty busy the entire time because sometimes they have lots of calls to make.
31 – NextWave Advocacy – Read NextWave Review – Conducting outbound political calls. You have to commit to 20 hours a week but you can work the hours at anytime during the day or evening. This is project-based work, so the work will come and go.
32 – Rev – Read Rev Review – This regularly looks for work at home transcribers and captioners. You can work at any time provided they have work available to do. Payments are weekly via Paypal. You can work from many different countries.
33 – OnPoint Advocacy – Read OnPoint Review – Similar to the work you do for NextWave (above). You are free to make your calls anytime between 9 a.m. and 9 p.m. Monday through Friday. You have to commit to at least 25 hours per week. This is also project-based work and the company may not always have projects available for you to work on.
34 – Pleio-Goodstart – Read Pleio Goodstart Review – Work from home calling people for medication reminders. You can make the calls on your own schedule provided they are done between 8 a.m. and 9 p.m. in the patient's time zone Monday through Friday or 9 a.m. to 9 p.m. on Saturdays.
35 – Yardi-Matrix – Read Yardi Matrix Review – This is a phone job from home where background noise doesn't matter. You are calling apartment complexes pretending to be a renter in order to gather information. You can do your calling on your own schedule provided it's between the hours of 9 a.m. and 6 p.m.
36 – Perception Strategies – Read Perception Strategies Review – Phone mystery shopping. Like the other phone mystery shopping opps I have listed, you can do the work anytime provided the business you are calling is open.
37 – LiveOps – Read LiveOps Review – Work from home customer service. It is possible to set your own schedule here in blocks of time as small as 30 minutes.
38 – Time Etc. – Read Time Etc. Review – Work from home as a virtual assistant for Time Etc. This is flexible work provided you can work Monday-Friday, at least five hours a week.
39 – Telelanguage – Read Telelanguage Review – This company lets you set your own schedule as an over-the-phone interpreter. You must be fluent in English and another language with some interpretation experience to qualify.
40 – Textbroker – Read Textbroker Review – US and some other countries. This company accepts freelance writers (both experienced and non-experienced) to submit articles for their clients. You can log in and work whenever you choose, claiming any articles that interest you. You can cash out your earnings via Paypal once you have $10 accumulated.
41 – Smartling – Read Verbalizeit Review – Translators. Worldwide! You'll need to pass an assessment test, as well as undergo a training period. Jobs are first come first serve and payment is twice per month through Paypal. Salary is unknown.
42 – HotGhostwriter, LTD – Read HotGhostWriter Review – Need ghostwriters for romance and non-fiction books. Must have at least 6 months experience and be based in the US or Canada. Rate is not disclosed on company site.
43 – Stepes – This seems to be a fairly new translation marketplace for freelancers. There are quite a few jobs available for a wide variety of different languages. You will be assigned clients based on your talent and ratings as you receive them. Stepes will also allow you to withdraw your earnings and get paid anytime you like. In addition, you can work from your smartphone! Payment options currently include Paypal and Stripe.
44 – Translate.com – This company has a pretty easy sign-up process. You just create an account and then take a translation test. You can work as much as you want to and cash out your earnings any time. Translate.com pays by the word.
45 – Ruru Tutor – This company claims you could earn up to $60 an hour tutoring for them. It's in-app and on-demand tutoring for students. There are different tiers. You need to be at least a high school student for RuruOne, but the higher tiers do require you to have a degree.
We hope this list has helped you if you need work at home with a flexible schedule! Good luck!
300 More Flexible Work at Home Jobs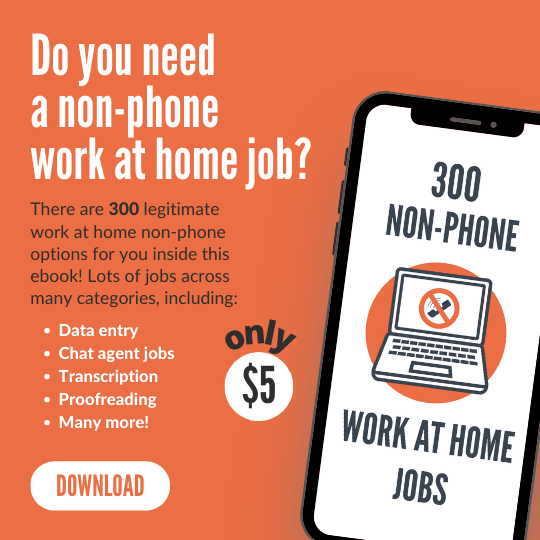 Do you want to work at home but you can't do so using a phone? If so, I have some great non-phone options for you in my latest e-book. It is only $5!
In this book, you'll find links to 300 companies offering different types of non-phone work at home jobs, including:
Data entry
Chat agent operators
Freelance writing
Transcription
Proofreading
Bookkeeping
Search evaluation
Many more!
Each job listing also has a short summary with any relevant information I can find (pay, what countries it may be open to, etc.).
Good luck to you, and I hope you find this ebook helpful if a non-phone job is what you are looking for.
After payment, you will receive the email containing your download.