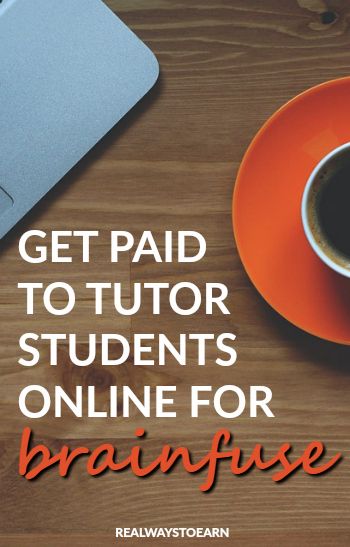 Brainfuse is another tutoring company that hires people to tutor students online. They offer tutoring for third grade up through twelfth grade. Tutoring sessions are available seven days a week.
To learn more about the company and what they do, you can visit their website here.
How much does Brainfuse pay their tutors?
Tutors are paid $10 per tutoring session. Sessions usually last for roughly one hour. If the student doesn't show up for the scheduled session, Brainfuse tutors still get $7 for their waiting time.
How is payment made with Brainfuse?
Payments are made through direct deposit to a bank account or mailed check, and tutors are paid every two weeks.
What are the requirements to become a Brainfuse tutor?
To become a Brainfuse tutor, you must have at least a 4-year college degree. Teaching certification is preferable, but not required. You must also submit to a background check as well as reference checks before you can be hired. You must also have computer with Internet access, preferably high-speed.
What is the application process like?
To work for Brainfuse, you have to send them your resume. If they are interested, they'll email you back with instructions to get started on training. You'll also be asked to send in some paperwork. If you get through their training and are hired, you can begin work.
What is involved in tutoring for Brainfuse?
From what I can tell, you schedule yourself for preferred shifts to work one on one with students. There's also something called Instant Access (IA), which is homework help. I think with this you can log on whenever and take students as they log on, looking for tutors, but I may be wrong about this. Info on this job is not very straightforward, unfortunately, so I'm just having to piece things together through the research I've done. If you've worked for Brainfuse, please feel free to set me straight here! Anyway, I've read that the instant access can be a pain because you have to be fast and connect with students before other tutors do to get the work as the students log on.
Is this flexible work?
Yes, it's very flexible. You are more or less able to create your own schedule, although it times it may be hard to get the hours you want.
Does Brainfuse hire tutors outside the United States?
No info on this, either. A similar question was asked on the Work at Home Mom forum by someone from Canada, and a lady who trains tutors for Brainfuse wasn't even sure about the answer to this. She advised the person in question to apply anyway and see what happened.
Final Thoughts on Brainfuse
If you meet the requirements and are looking for something to do from home with flexibility regarding hours, you might like tutoring for Brainfuse. I have not read too many complaints from people who work here. Most seem to have had an enjoyable experience, and payment is timely. In my opinion, $10 an hour is not terrible, although I believe I have a few other tutoring jobs listed that pay more.
Signing Up
If you want to apply to Brainfuse, you can send your resume to jobs@brainfuse.com. And if you strike out with Brainfuse, you can see even more tutoring jobs online I have listed.
Looking for more work at home jobs in education? If so, FlexJobs is a fantastic resource. I have been a paying member for more than one year and have been pretty impressed with the quality of the home-based they list.