Pearson is a company that hires people to work from home scoring student assessment tests. They have been in existence for 50 years and are considered one of the leading companies to use for scoring by most academic institutions and educational professionals.
When it comes to educational work at home jobs, Pearson is one of the top companies in the test scoring category.
How much can you earn as a Pearson scorer?
According to anonymous postings on their Glassdoor profile, Pearson scorers earn from $13 to $16 hourly. However, there are opportunities to make more.
Pearson also has many projects available for people who are bilingual, and these typically pay more. It's additionally possible to earn slightly more money by working after 7 p.m. They pay with direct deposit.
One thing to keep in mind about Pearson is that the work is project-based. This means that whether or not you make any money will depend on if they have a project available for you to do. Also, projects may last anywhere from two to as long as twelve weeks. It just varies.
While it's not the case with all education work at home jobs, I would recommend looking at Pearson as a way to earn side income — not to pay your bills full-time. This is because you cannot depend on work to always be there.
What are the requirements to be Pearson scorer?
To qualify for Pearson employment, applicants must have at least a Bachelor's degree from a university or college located in the United States. They may also require a degree in the subject you are scoring.
It's also necessary to have a stable phone and Internet connection as well as a quiet environment to work. Pearson does hire people to work onsite in their scoring centers as well as online.
Does Pearson hire people outside the United States?
Pearson hires only U.S. citizens, resident aliens, and people who can work in the U.S. legally.
How does the application process work to become a Pearson scorer?
There's an application to fill out online as well as a survey to take so they can determine whether or not a person is a good candidate for the job.
A trial scoring session must also be passed. After a person has been accepted, the training process begins. Everyone is paid for training, fortunately.
Once hired, it's necessary to commit to at least 20 hours per week, but the times a person works are very flexible. There's no set time just as long as the 20 hour minimum is met.
Does Pearson scoring at home offer benefits?
Yes! They offer health insurance through America's HealthPlan Consultants that will cover not only the person working but also that person's entire family. This is unusual because most work from home jobs do not offer insurance.
What do people say about working for Pearson scoring?
It's a gig most people are happy with. Unfortunately, not everyone can do this because of the requirements for a college degree. This is typical of most work at home test scoring jobs.
If you have at least a Bachelor's degree and need to find something to do from home, this might be ideal!
For a little insight into what current Pearson workers are thinking about the job, check Glassdoor.
How do you apply to become a Pearson scorer?
You can go here to apply for jobs at Pearson. Good luck!
300 More Flexible, Non-Phone Work at Home Jobs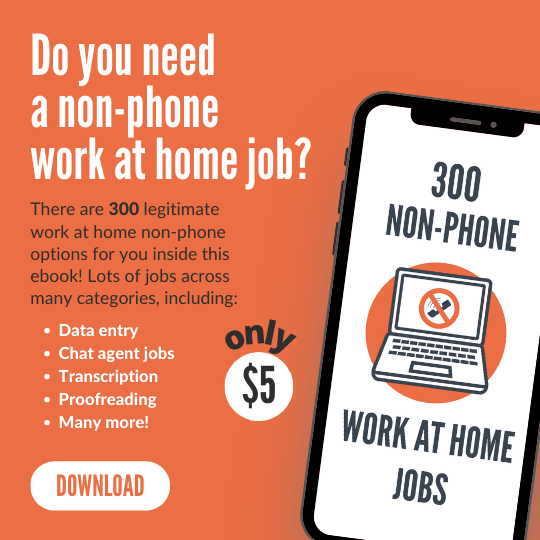 Do you want to work at home but you can't do so using a phone? If so, I have some great non-phone options for you in my latest e-book. It is only $5!
In this book, you'll find links to 300 companies offering different types of non-phone work at home jobs, including:
Data entry
Chat agent operators
Freelance writing
Transcription
Proofreading
Bookkeeping
Search evaluation
Many more!
Each job listing also has a short summary with any relevant information I can find (pay, what countries it may be open to, etc.).
Good luck to you, and I hope you find this ebook helpful if a non-phone job is what you are looking for.
After payment, you will receive the email containing your download.