Today, we are talking about Stepes, a site you may want to apply with if you are looking for work at home translation jobs.
Stepes is a crowd-sourced translation service that strives to provide the speed and convenience of computer AI-based translation, but with a level of accuracy and finesse that only real people can achieve. They have a huge team of work-from-home translators who speak nearly every language imaginable, which means they're able to minimize turnover time without sacrificing quality.
If you're a translator looking for a job, the main appeal with this company is their combination of convenience and flexibility. Stepes has a very easy-to-use translation app for cell phones, which means you can work pretty much anywhere and anytime you want.
Also, compared to many other translation companies, their requirements for new hires seem to be fairly lenient, so this might be a good option for those who are interested in the field, but lack extensive specialist certifications or prior professional experience.
Working For Stepes
The Stepes translation app has a very high quality interface that makes it easy to find jobs and get right to work.
When you log in, you'll be presented with a list of assignments that match your abilities and experience level. You can easily see all the most important details of each listing, including the pay rate and the due date.
When you find an assignment that appeals to you and select it, you'll be taken to another page which shows the document broken down into individual sentences. You process the text one sentence at a time, saving a sentence when you feel like you've got it right and moving onto the next.
Upon completion of the entire document, you can open it in a form window to review for mistakes, and then submit your work for approval.
Following each assignment, clients will rate your performance, and those ratings contribute to your overall translator score. Higher scores will (over time) give you access to more work and better earning opportunities.
Pay Rate
Stepes doesn't specify wages in their hiring materials, but during my research I found a few unconfirmed reports that the pay is generally between $0.05 and $0.14 per word.
Clients apparently have a 30-day window during which they can request a refund. After that, if things go off without a hitch, you can extract approved earnings anytime you like.
Pay is delivered using PayPal and Stripe.
Scheduling
From what I can tell, Stepes translators are able to set their own work schedules and put in as many hours as they want. Each assignment has an attached deadline, so make sure you can handle a job in a timely manner before you accept it.
Requirements To Apply
Stepes doesn't list any specific requirements for their translators, so this could be a very good entry level opportunity.
When you sign up, you will be required to provide information on your native and secondary languages. Please note that you can only select two languages even if you speak several, so choose carefully.
The trickiest part of the sign-up process is the creation of a detailed profile, including a photograph, which will be reviewed by staff before your account is approved. The level of professionalism in your profile seems to be a major factor in determining the success of your application, so take care that you get everything right.
Tech Requirements
Their mobile app is available for both Android and Apple devices. If you don't have a smart phone, or would prefer to work from your home computer, they have a fully functional web interface.
Application Process
According to their hiring pages, it can take up to seven days to find out whether or not your application has been approved.
Some of the information on the site seems to reference a translation test for new hires, but there's no specific mention of the test anywhere in the FAQ, and some of the things I've read make it seem as if there actually isn't a test. It's confusing and contradictory, but unfortunately Stepes has elected to keep some aspects of their hiring process pretty vague.
One possibility is that virtually everyone gets approved for an initial account, and the skill assessment happens afterward, during your first few days on the job.
Feedback
I initially used Glassdoor to find reviews of Stepes from current and former translators.
Everything I saw there was fairly positive. There are times, apparently, when assignments can be hard to come by, especially if the languages you speak aren't in high demand, but everyone seems to enjoy the work, and there were no complaints about abusive management or shady practices.
Unfortunately, there were only a couple of reviews on Glassdoor, and further research around the web didn't turn up much additional information. From what I can determine, it appears that Stepes is a relatively new startup, and consequently, there hasn't been enough time for worker feedback to fully spread around the internet yet.
Startups can be shaky, and I wouldn't recommend relying on such a new unproven company as a main source of income. But if you're just looking for a way to make a little extra money, and you have the right skills for the job, Stepes seems to have very few obvious downsides.
How To Get Started
If you're bilingual and interested in getting a translation job with Stepes, go here to create a profile and put in your application.
And if you're looking for other companies like Stepes to apply with, there are step-by-step instructions in my e-book on how to find remote jobs in any category as well as a list of 150 companies that hire people to work from home! You can check it out here.
300 More Flexible, Non-Phone Work at Home Jobs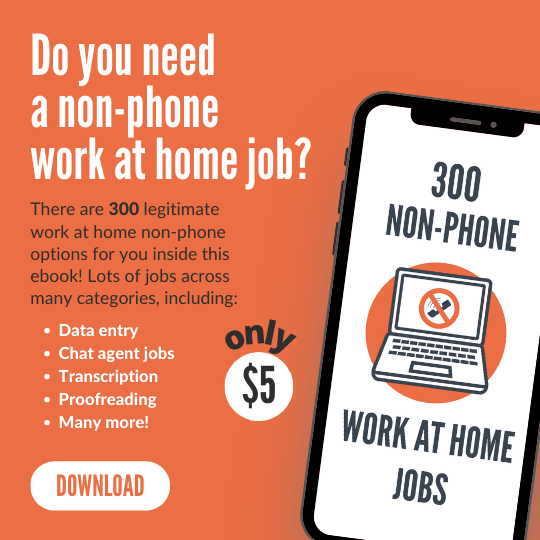 Do you want to work at home but you can't do so using a phone? If so, I have some great non-phone options for you in my latest e-book. It is only $5!
In this book, you'll find links to 300 companies offering different types of non-phone work at home jobs, including:
Data entry
Chat agent operators
Freelance writing
Transcription
Proofreading
Bookkeeping
Search evaluation
Many more!
Each job listing also has a short summary with any relevant information I can find (pay, what countries it may be open to, etc.).
Good luck to you, and I hope you find this ebook helpful if a non-phone job is what you are looking for.
After payment, you will receive the email containing your download.