Sitel work at home jobs are almost always open. The company offers a work at home call center position with some nice benefits that are made available to you once you have worked for them for 90 days.
Additionally, the calling is all inbound, so this is a plus if you're not a fan of outbound calling. Sitel has been in business for 26 years and they provide customer service for many well-known brands.
What is the Sitel pay rate?
Sitel does not list the pay rate on their website. The only thing the website says about the rate of pay is that it varies depending on the skill set needed for each client.
However, I have searched the work at home forums and some say it starts at around $9 to $10 hourly. Anonomous Glassdoor reviews seem to confirm this number. The company does offer raises at various intervals during your employment and you are paid by the hour instead of per call.
When does Sitel pay?
Sitel will pay you bi-weekly either through direct deposit or with a pay card.
Where does Sitel hire?
Sitel does not hire in every US state, but fortunately it isn't too limited.
Sitel hires in the US only for work at home positions in the following states: Alabama, Arizona, Colorado, Connecticut, Delaware, Florida, Georgia, Idaho, Illinois, Iowa, Kansas, Kentucky, Louisiana, Maine, Minnesota, Mississippi, Missouri, Nebraska, Nevada, New Jersey, New Mexico, New York, North Carolina, Oklahoma, Pennsylvania, South Carolina, South Dakota, Tennessee, Texas, Utah, Virginia, Washington and Wisconsin.
Who is qualified?
It is preferred that you have previous customer service experience or sales experience, but those things are not requirements. Your chances of getting hired are probably better if you have past experience in customer service/sales.
I should mention here that one of my readers went through most of the application process — about two hours worth of time spent — only to get a "we're not interested" email afterward.
So just be mindful that the application is fairly time consuming and even if you make it as far as the voice audition, that's no guarantee you'll make it in.
What are the tech requirements?
A computer (configuration requirements listed on website) – No Macintosh
High speed internet (DSL or Cable)
Home office free from noise, distractions and interruptions during your shift
Telephone – analog or digital land line (strictly for work use during your shift)
You can see a lot more info on tech requirements on Sitel's job information page.
What are the benefits?
After you have worked for Sitel for 90 days, you may qualify for medical, dental, 401K, vacation/holiday pay, employee discounts with some of Sitel's clients.
How is scheduling?
This isn't a super flexible job. Your schedule will depend on the client you are working for. According to Sitel, there are part-time and full-time opportunities available.
Training Info
Sitel work at home jobs require three to six weeks of training before you officially start working, but you will be paid hourly for your time spent in training.
Sitel does not bend very much when it comes to training. You will have to show up for every session. Not doing so could result in your being dropped from the project.
More Information
You will find a ton of info here in Sitel's FAQ. This should answer most of your other questions.
Sitel Reviews
Many people who have gone through training, interviews, etc. and are actually working for Sitel from home seem happy with the position.
I've read some good things on the forums. However, I have also seen complaints from people who are in the midst of the training/interview process. This can apparently be sort of sluggish sometimes.
I would recommend doing a search on Sitel at Glassdoor and Indeed. On those sites, you'll find lots of user reviews.
Want to apply?
Go here to start the application process with Sitel.
300 More Flexible, Non-Phone Work at Home Jobs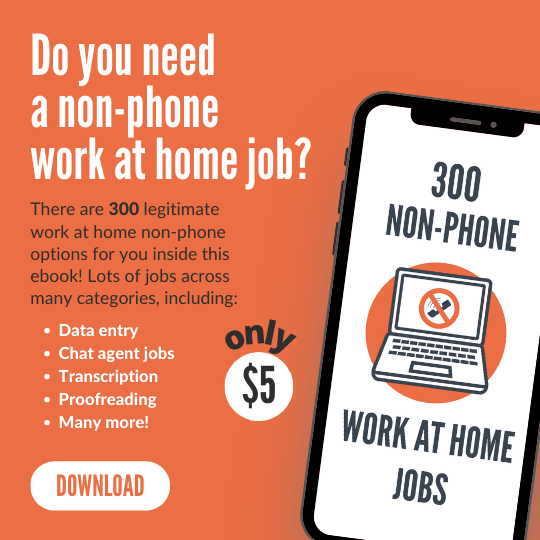 Do you want to work at home but you can't do so using a phone? If so, I have some great non-phone options for you in my latest e-book. It is only $5!
In this book, you'll find links to 300 companies offering different types of non-phone work at home jobs, including:
Data entry
Chat agent operators
Freelance writing
Transcription
Proofreading
Bookkeeping
Search evaluation
Many more!
Each job listing also has a short summary with any relevant information I can find (pay, what countries it may be open to, etc.).
Good luck to you, and I hope you find this ebook helpful if a non-phone job is what you are looking for.
After payment, you will receive the email containing your download.