Content Divas is a site that hires freelance writers to create unique content for their clients. This one actually works a bit differently than most of the standard sites do.
They have been around since 2007 and from the digging around I've done, the reviews are a little mixed.
While it's almost always more lucrative to start up your own freelance writing business and find high-paying clients, Content Divas and companies like it can be good for supplemental writing income.
How much does Content Divas pay?
This is actually where it gets confusing. You are given work in packages and the pay rate for these packages can fluctuate. They don't reveal the pay rate on their site, but I did find on another site where someone copy/pasted this info they received from the company:
Articles/Blog posts: 18.00 per 1000 words.

Ebooks/Reports: 20.00 per 400 words.

Press Releases: 50.00 each.
It seems that new writers have to start out doing basic articles/blog posts. If you consistently submit good quality work, they might let you try some of the higher-paying assignments.
The 1,000 word blog posts may actually be divided up into a few different articles. So for example you might end up getting two articles at 500 words or four articles at 250 words, which would be $9 for 500 words and $4.50 for 250 words.
There will also occasionally be assignments that pay a little more if they require more research.
What is the method of payment for Content Divas?
Payments are made with Paypal and the day you get paid will vary depending on a few things. You get a 50 percent deposit on your pay before you submit an assignment on projects that involve seven days worth of submission.
Projects that require less than seven days of submission pay out within a week after you complete them.
What does the application process for Content Divas involve?
This is the part that a lot of people don't like.
To apply, Content Divas asks that you write two articles for them, one longer article around 500 words and one shorter article around 300 words.
They let you know what type of article it should be and also give you some topics to pick from. The content has to be 100 percent original, never before published that you write specifically for them.
They do NOT pay you for these articles, even if you are hired. It used to be that Content Divas also retained the rights to this content, but apparently now that has changed and they no longer claim rights to it.
A lot of people think this is a lot of writing to do for free, assuming there is a chance you might not get hired.
How does writing for Content Divas work?
You are basically ghost writing for Content Divas, so you don't get credit for the work you submit. Their clients get the rights to the content and can publish it as they see fit.
Apparently Content Divas releases work to their pool of writers and you can request the projects you are interested in.
The company makes it clear that this isn't a site where you can just log in and work when it suits you. Their writers have to be fairly committed to submitting work to Content Divas because the work goes out in large packages.
So if you get a package that involves writing 22,000 words (divided up into small articles) over a certain number of days, they want the content to be submitted regularly up until the deadline.
Does Content Divas hire writers outside the United States?
No, they only accept US writers who have English as their first language.
Are you hired as an employee or an independent contractor?
Content Divas hires all writers as independent contractors.
What do people say about Content Divas?
The reviews are a little mixed, honestly.
They are a legitimate company and do pay on time from what I've been reading, but some people don't feel that the pay is worth it.
I guess it would ultimately depend on how fast you write and whether or not you found the topics easy to write about. Also, you'd need to decide if you'd want to commit to writing for their company on as regular a basis as they require.
Other Content Diva Reviews
Other people around the web have had some interesting things to say about this company. Here's a list of other reviews/forum posts I've found with info on Content Divas.
How do you apply to write for their company?
Visit this page. It has an email address you can use for employment inquiries.
For 300 Flexible, Non-Phone Work at Home Jobs: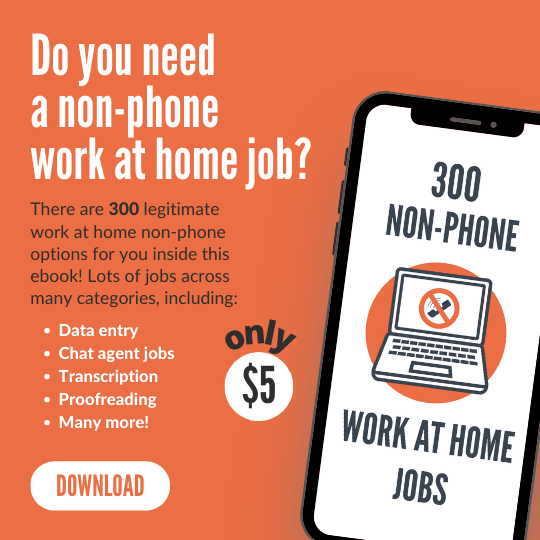 Do you want to work at home but you can't do so using a phone? If so, I have some great non-phone options for you in this ebook. It is only $5!
In this book, you'll find links to 300 companies offering different types of non-phone work at home jobs, including:
Data entry
Chat agent operators
Freelance writing
Transcription
Proofreading
Bookkeeping
Search evaluation
Many more!
Each job listing also has a short summary with any relevant information I can find (pay, what countries it may be open to, etc.).
Good luck to you, and I hope you find this ebook helpful if a non-phone job is what you are looking for.
After payment, you will receive the email containing your download.