Hire Writers is a site I stumbled across that will pay you to write SEO-focused content. While I have not accepted any assignments yet, I did sign up myself so I can share some details with you on how their process works. Hire Writers will pay you for article writing, article re-writing, and apparently there are also proofreading and research jobs available at times.
This site is open to writers in the United States of America, Australia, Canada, United Kingdom, Singapore and New Zealand.
How much does Hire Writers pay?
The exact amount varies depending on your level on the site and the specific assignment. Right now I am just at "Beginner" level and the rate appears to be very low with some jobs only paying around $2 for 150 or so words.
From the FAQ, it looks like the most you can make is a little over $10 an article once you reach "Expert" level, although on the sign-up page it says you can earn up to $20.
The levels you advance through are Beginner, Average, Skilled, and Expert. Clients can also offer bonuses if you pick up their work and give you tips if they like your completed articles.
Even though the pay is low, there are some people who can write these kinds of articles pretty fast. So depending on your speed, you may be making more than minimum wage. Still, I do understand that not everyone will work for such a low rate of pay.
When does Hire Writers pay?
Hire Writers will pay you on Friday with Paypal as long as you have at least $10 in your account.
How does the application process work?
There isn't really one. All you do to sign up is make an account. They don't require that you take a test or anything like that. Just create your account, fill out some details on your profile, and you are ready to start picking up assignments.
What does the open order board look like?
The open order board is very well-organized. Each assignment listed gives full details on the pay, the number of words needed, and the keywords to include.
Information about the client is also listed, such as their acceptance/reject rate and the number of assignments they've posted on Hire Writers to date.
If you've ever written for Textbroker, you'll notice that Hire Writers does not have nearly as many assignments listed on their board, but this is the second day I've logged in to check and there does appear to be over 60. So hopefully work is pretty consistent.
Is there a direct order system?
Hire Writers does not have a direct order system set up in the same way Textbroker does, but they do allow clients to request certain writers for assignments. So if someone likes your writing and wants to keep using you, there is a way that they can request you specifically.
But what about the low pay?
I completely understand there are some people who simply will not accept writing assignments that pay so little.
I used to enjoy keeping sites like this on the back burner — especially since they are one of many work at home jobs that pay weekly — because I always found it pretty easy to write SEO articles.
If you can't write this kind of content quickly, or if you frown on writing sites like this in general, then Hire Writers is probably not for you.
Do you want to sign up?
You can go here to create your account. If you want to use Hire Writers to get articles written for your blog or website, you can sign up using this link.
300 More Flexible, Non-Phone Work at Home Jobs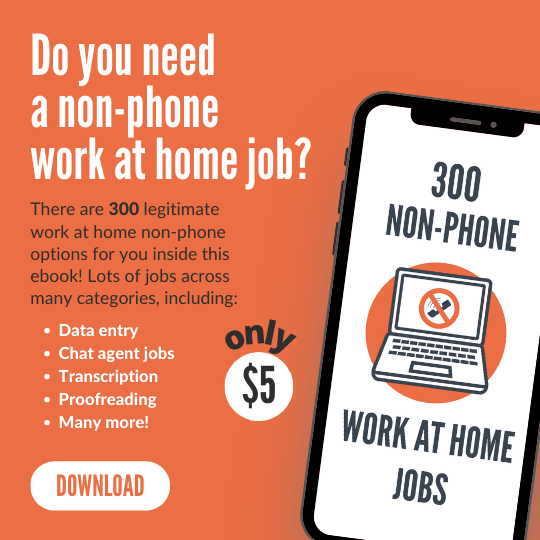 Do you want to work at home but you can't do so using a phone? If so, I have some great non-phone options for you in my latest e-book. It is only $5!
In this book, you'll find links to 300 companies offering different types of non-phone work at home jobs, including:
Data entry
Chat agent operators
Freelance writing
Transcription
Proofreading
Bookkeeping
Search evaluation
Many more!
Each job listing also has a short summary with any relevant information I can find (pay, what countries it may be open to, etc.).
Good luck to you, and I hope you find this ebook helpful if a non-phone job is what you are looking for.
After payment, you will receive the email containing your download.