Writer's Domain is a website a lot of freelancers are using that I've been hearing about lately. I have not signed up for this one myself, but I did a lot of digging around online about it so I could provide some useful details for you if it interests you.
How much does Writer's Domain pay?
The rates vary depending on the type of content and other factors. The range is between $0.02 to $0.05 per word, which for a 500 word article would amount to $10 on the low end and $25 on the high end.
When does Writer's Domain pay?
Payments are made via Paypal once a month on the fifth. Once you have earned $100 with the company, you can request your earnings at any time without having to wait to receive it monthly.
What kind of writing do you do for Writer's Domain?
This appears to be mostly SEO centered stuff. There are topics/keywords available to choose from when you log in. You just need to create a short piece along with a title around the keyword/topic you choose.
After you submit your content, you'll have to wait for it be reviewed. This could happen fast or it could take several weeks.
What are the requirements to sign up?
From their website:
You must be proficient in English and the language you're writing in, if it's not English. If you aren't writing in your native language, you should be fluent enough to write quality content. Writers must be able to work in the United States, have an Internet connection, and accept and abide by the Terms of Service. Basic spelling and grammar skills are also expected.
How does the application process work?
Applying involves registering yourself and then sending them a writing sample. They will give you keywords to choose from for the sample.
You will also have to take a timed grammar test. It could take them a while to review your app after you send everything in, so just be patient.
Is Writer's Domain open to countries outside the U.S.?
This I am not clear on. Their requirements state that you must be eligible to work in the U.S. yet their FAQ says they have writers working remotely in other countries, including Canada and France.
I have sent them an email to get some clarification on this, and I'll try to let you know when I hear back.
What is the feedback?
It seems that this was a really popular place to write for for a long time, but they've recently informed their writers they will be cracking down on "fluff" submissions and keeping a closer watch on quality, etc.
How do you sign up?
Writer's Domain is not accepting new writers at this time, but keep your eye on this page to see when that changes so you can get your app in.
There is also a Facebook Group for Writer's Domain you can browse through (it doesn't appear to be a private group) where annoncements, etc. are posted.
300 More Flexible, Non-Phone Work at Home Jobs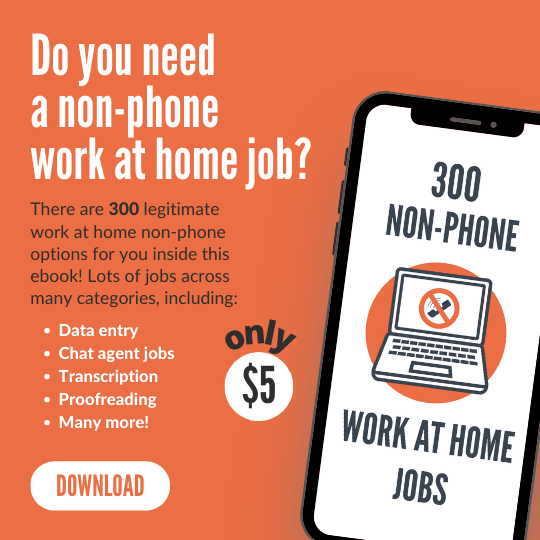 Do you want to work at home but you can't do so using a phone? If so, I have some great non-phone options for you in my latest e-book. It is only $5!
In this book, you'll find links to 300 companies offering different types of non-phone work at home jobs, including:
Data entry
Chat agent operators
Freelance writing
Transcription
Proofreading
Bookkeeping
Search evaluation
Many more!
Each job listing also has a short summary with any relevant information I can find (pay, what countries it may be open to, etc.).
Good luck to you, and I hope you find this ebook helpful if a non-phone job is what you are looking for.
After payment, you will receive the email containing your download.