K12 is a company that I often see has openings for virtual teachers. Please note that this is a very different sort of position than most of the online tutoring jobs I post about. You do have to be an actual teacher with a degree.
Also, these jobs are location-based and while you work virtually, attending in-person meetings is mandatory. K12 courses help pretty much all students, including the homeschooled, homebound, military families, kids in summer school, etc.
How much does K12 pay?
Their website does not give the rate of pay, but  according to anonymous Glassdoor reviews, the average for virtual teachers is around $40,000 per year.
Do they have any benefits?
Yes, their careers page has lots of info on their benefits. They offer health, dental, vision, 401K, short and long term disability, life insurance, and much more. You also get lots of paid time off if you need it.
Related: 55 Work at Home Companies That Hire You As An Employee
What are the requirements to work for K12?
It depends on the position you are applying for, but most of what I am seeing requires that you have three or more years of teaching experience as well as a Bachelor's degree as well as have teaching certification in the state the job is available in.
Keep in mind …
While this is a virtual position, it's very very involved and hands-on. This might be ideal for you if you have the required skills, certifications, etc. and you do need to work at home for whatever reason, but you will need to keep distractions at home to a minimum while you are working because it's a very interactive position.
It is very, very similar to actually teaching in a classroom outside the home. You speak to the students and they can hear you and speak back. You use a whiteboard on the computer to do your lessons, etc.
To get a good idea of exactly what a virtual K12 teacher does, you should watch this video I found on their site about the role of an online teacher. It will allow you to see existing K12 virtual teachers in action, which should give you a good idea of how the job works.
Want to apply?
If you'd like to apply, you can visit their careers page here to see what states they are hiring in currently. I won't list the current open positions here because I'm guessing that they change all the time.
Good luck if you decide to apply, and if you already have experience with this company, please comment below and share it!
300 More Flexible, Non-Phone Work at Home Jobs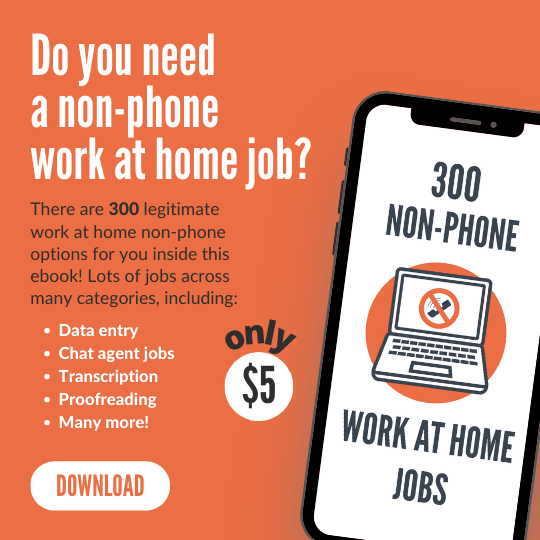 Do you want to work at home but you can't do so using a phone? If so, I have some great non-phone options for you in my latest e-book. It is only $5!
In this book, you'll find links to 300 companies offering different types of non-phone work at home jobs, including:
Data entry
Chat agent operators
Freelance writing
Transcription
Proofreading
Bookkeeping
Search evaluation
Many more!
Each job listing also has a short summary with any relevant information I can find (pay, what countries it may be open to, etc.).
Good luck to you, and I hope you find this ebook helpful if a non-phone job is what you are looking for.
After payment, you will receive the email containing your download.