I don't know about you, but I love to shop at Etsy! You can find some of the most unique vintage and handmade items there. If you're creative and are looking for a good online outlet to showcase and sell your stuff, you might want to consider becoming an Etsy seller.
What can you sell at Etsy?
I have seen all kinds of things for sale, but their rule is that it has to be either handmade, vintage (20 years old or older), or fall under the category of commercial and handmade supplies.
How much does it cost to list an item on Etsy?
You'll pay 20 cents to list one item for four months. Etsy will also charge a 5 percent transaction fee when you sell each item you list.
You can read more about Etsy's fees here.
How does shipping and payment work?
If someone buys one of your items, they pay you through Etsy (the money goes straight to you). Then, you ship the item to the customer.
Can you set up your own Etsy store?
You can. And if you have lots of Etsy shop idea, you'll be happy to know the sky is the limit there and it's all very customizable.
As an Etsy seller, you get the option to design your store with banners and also add your own store policies, which would be useful to have in place when people want to return things, etc.
You are also welcome to accept other forms of payment from your customers instead of Paypal (check, money order, etc.) if you are comfortable doing that.
More questions about becoming an Etsy seller?
If you have more questions about becoming an Etsy seller, I would recommend reading through their FAQ at the bottom of this page. I didn't see much there that they didn't cover already.
I also have a helpful round-up post with successful Etsy selling tips.
Setting Up Your Account on Etsy
To go ahead and set up your Etsy seller account, go here. They have the option available to sign up using your Facebook account, but this is not required. You're free to just sign up with your email address if you'd prefer.
If you are looking for alternatives to Etsy or simply want to spread your items around, you might also check out this list of places to sell your crafts online.
300 More Flexible, Non-Phone Work at Home Jobs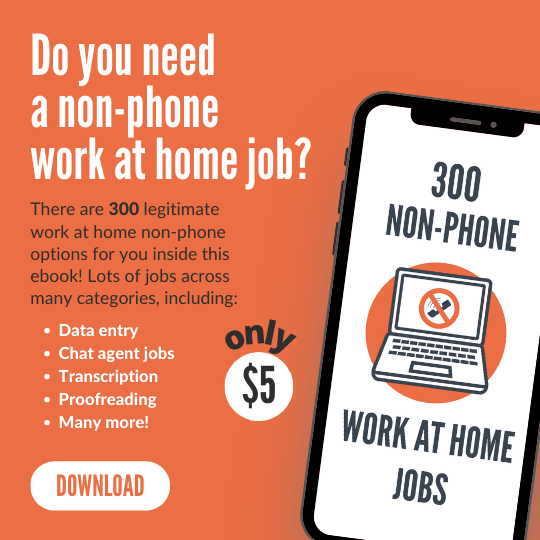 Do you want to work at home but you can't do so using a phone? If so, I have some great non-phone options for you in my latest e-book. It is only $5!
In this book, you'll find links to 300 companies offering different types of non-phone work at home jobs, including:
Data entry
Chat agent operators
Freelance writing
Transcription
Proofreading
Bookkeeping
Search evaluation
Many more!
Each job listing also has a short summary with any relevant information I can find (pay, what countries it may be open to, etc.).
Good luck to you, and I hope you find this ebook helpful if a non-phone job is what you are looking for.
After payment, you will receive the email containing your download.