In today's post, I've made a list of companies that pay $12 an hour or more. It's safe to say that for many people, $12 an hour isn't quite enough money. But, it does put you over minimum wage for most US states.
Many work at home jobs don't pay much at all, so I'm hopeful that this list will give you some ideas of companies to look at if $12 is the bare minimum for what you can accept.
I'd recommend checking out this list of higher-paying work at home jobs if what's listed in this post doesn't give you enough ideas. And then FlexJobs is a great resource for finding quality, high-pay work at home job leads on a daily basis that are guaranteed to be legitimate if you want to do more digging outside what I have posted here.
You'll see some companies that may be familiar from the other post, but I've also made an effort to include some companies that are not on the list so it won't be an identical list.
And although I've done research here using Glassdoor and various work at home forums to find out for sure what these companies pay, I can't guarantee the rates since this is something that changes periodically from company to company.
List Of Work at Home Jobs Paying $12 an Hour or More
VIPKid – Read VIPKid Review – Open worldwide (except for California). Work at home tutoring elementary school age Chinese children in English. Pays $7 to $9 a lesson with each lesson lasting 25 minutes. You must have a bachelor's degree to qualify.
Magic Ears – Read Magic Ears Review – Open to US (except for California), Canada, Australia, New Zealand, and South Africa. You must be a native English speaker to qualify. For this company, you work at home tutoring school age children in the English language, similar to VIPKid (listed above). Magic Ears claims it's possible to earn up to $26 hourly working with them. You must have a bachelor's degree to qualify.
Apple – Read Apple Review – US. Work at home chat and phone agent jobs are often available at Apple. The pay rate varies per employee, but is typically over $12 an hour.
Appen – Read Appen Review – US and sometimes other countries. Appen occasionally hires work at home web search evaluators. These positions pay a little over $13 an hour.
Blooms Today – Read Blooms Today Review – US only. This popular floral company hires seasonal customer service agents during the busy flower-ordering seasons. Pay is usually listed at around $15 an hour. They aren't hiring all the time, but their application page seems to always be in place.
Aira – Read Aira Review – US only. This is a company that hires people to do voice chats with the blind and visually impaired. The purpose of this is to help them with everyday tasks. Pay is rumored to be around $15 hourly. Not always hiring.
The Social Element – Read The Social Element Review – This company regular hires work at home community/social media moderators. They don't list the pay on their website, but someone submitted a moderator salary for this company on Glassdoor that shows it's between $15 and $16 an hour. This could vary however.
Elevate K12 – Read Elevate K12 Review – Regularly has openings for virtual instructors. They pay their online instructors about $12 an hour.
Ginger.io – Read Ginger.io Review – US only. This company hires people with counseling and/or therapy experience to be "listeners/therapists" for people calling needing to talk. Note it is not a crisis or suicide hotline. Pay is $17 (possibly more) an hour.
Hilton Worldwide – Read Hilton Worldwide Review – US only, usually specific states. Work at home doing phone work for this popular hotel chain. Your pay should average between $12 and $15 hourly after training.
Intermedia – US, Canada, UK, and Russia. This company has regular openings for remote tech support. They pay around $18 to their work at home tech support agents.
iSoftStone – Read iSoftStone Review – Often open to multiple countries. This is work at home search engine evaluation, and the company also other types of work at home positions on occasion as well. Pay is around $12 an hour.
Panda Tree – Read PandaTree Review – US and occasionally Canada. Work at home tutoring students in Spanish or Mandarin. Earn $12+ hourly.
Nextwave Advocacy – Read Nextwave Advocacy Review – US only. Political outreach calling, project-based work. Pays $12 an hour.
OnPoint Advocacy – Read OnPoint Advocacy Review – US only. This is also political outreach calling. While they do not make their rate of pay public, I have seen some old job postings advertising it to be around $12 an hour.
Paragon Planners – Read Paragon Planners Review – They look for people in the following US states – AZ, CA, CO, FL, ID, IL, KS, KY, MI, MO, NC, OH, OR, PA, SC, TX, UT & WA. This is phone work from home where you schedule appointments for financial wholesalers. Earn between $12 and $14 hourly.
PrepNow – Read PrepNow Review – US only. This is a company that hires people to work at home tutoring students on the SAT, ACT, and Math. Must have experience tutoring plus a 4-year college degree. Pays about $15 an hour.
QKids – Read QKids Review – Open to US and Canada. You are eligible to apply as long as you either have a degree or are actively enrolled in a university. Earn up to $20 hourly.
Rosetta Stone – Read Rosetta Stone Review – US and occasionally other countries. Work at home as a language coach, earning about $17 hourly. This is usually location-based work with a flexible schedule.
SayABC – Read SayABC Review – Open worldwide. Must be a native English speaker with a bachelor's degree or above. Earn up to $21 hourly.
StitchFix – Read StitchFix Stylist Review – US only. They tend to hire in various regions, and this changes periodically. You can work at home as a remote fashion stylist for StitchFix in certain areas. They pay $15 an hour.
Support.com – Read Support.com Review – US only, specific states. Support has several work at home tech support positions available. The personal technology expert remote job pays on average $13.96 per hour, according to Glassdoor.
The ACT – Read The ACT Review – US only. Work at home scoring ACT essays. While the pay is performance-based, you can earn $12 an hour or more.
Boldly – Read Boldly Review – Open to UK and specific US states, including CA, CO, CT, DE, FL, GA, IL, KY, MD, MA, MI, MN, MT, NH, NJ, NY, NC, OH, PA, TN, TX, VA, WA. This company hires work at home virtual assistants worldwide. Pay ranges from $15 and $20 hourly.
Concentrix – Read Concentrix Review – US, multiple states. There are always multiple work at home customer support jobs posted, and some of these do pay upwards of $12 hourly.
Zirtual – Read Zirtual Review – US only. This is work at home virtual assisting. The job postings indicate the assistants who work for this company will earn between $14 and $20 hourly.
300 More Flexible, Non-Phone Work at Home Jobs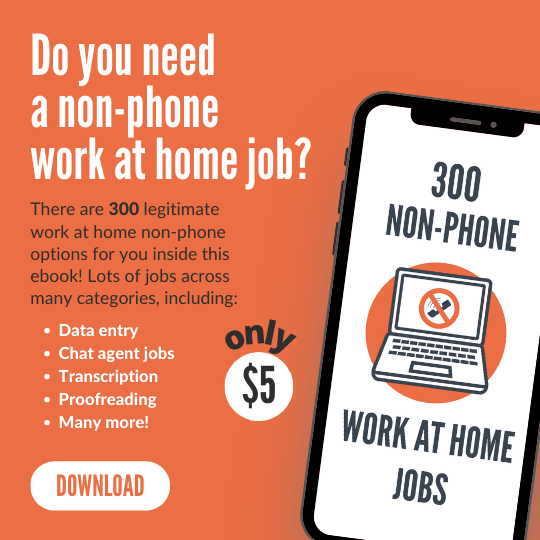 Do you want to work at home but you can't do so using a phone? If so, I have some great non-phone options for you in my latest e-book. It is only $5!
In this book, you'll find links to 300 companies offering different types of non-phone work at home jobs, including:
Data entry
Chat agent operators
Freelance writing
Transcription
Proofreading
Bookkeeping
Search evaluation
Many more!
Each job listing also has a short summary with any relevant information I can find (pay, what countries it may be open to, etc.).
Good luck to you, and I hope you find this ebook helpful if a non-phone job is what you are looking for.
After payment, you will receive the email containing your download.
Post originally published October 27, 2015. Updated and republished on August 17, 2020.