Do you want to work at home making a great deal more than minimum wage? If so, this post should get your wheels turning. I have created a list of several companies that pay their workers $20 an hour or more to work at home.
It goes without saying, but when you're talking about this kind of pay, you are almost always talking about companies that are more likely to require a very specific skill set or a college degree. It's very rare to find a work at home job that pays in this range where you need no prior skills or experience to start.
And if you don't have the right skills or experience to do the jobs listed below, keep in mind that at least now you know where the money is! So if you're thinking of furthering your education in order to get higher-paying work, you know what industries to possibly focus on.
So with that said, let's get on to the opportunities! As always, I cannot guarantee these companies are hiring right now, but if they are on the list, they have hired home-based workers in the past and paid $20 an hour or more.
Work at Home Jobs Paying $20+ Hourly
1 – Bamboo HR
Sometimes hiring "executive assistants. Open to PA, NJ, NY, DE, FL, or VA. Requires 2 – 4 years of business experience and prior administrative experience, as well as experience using tools such as Google Slides/PowerPoint, DocuSign, etc.
According to Glassdoor, pay might be around $20 – $21 / hour.
Go here to apply at Bamboo HR.
2 – 10UP
This is a web development company that allows all employees to work remotely. They have occasional openings for web and design engineers, designers, developers, etc.
According to Glassdoor, the average salary at this company is anywhere from $53K to $85K, which should work out to over $20 an hour.
Go here to see what jobs are open now with 10UP.
3 – Profit Factory
Sometimes has virtual assistant positions listed for other companies. Part-time, 20-25 hours per week, paying $20 per hour according to the job listing.
Go here to apply if they are currently hiring.
4 – Shipt
Are you OK with a job outside the home as long as it's flexible? Then you might enjoy being a personal shopper for Shipt. According to Shipt, up to $22 hourly is possible with weekly paychecks delivering groceries and other items for people signed up for their service.
Go here to sign up with Shipt.
5 – A Pass Educational Group
Work remotely for A Pass Educational group as an educational subject matter expert. These positions appear to pay between $20 and $30 an hour.
Go here to check for this job opening with A Pass Educational Group.
6 – Art & Logic
This company, which specializes in web and app development, is often looking for developers with great coding skills to add to their team. Everyone works at home in the US or Canada.
Pay is over $20 an hour, with some positions paying $30+ an hour.
Go here to check for job openings with Art & Logic.
7 – Scribe Media
This company often has remote positions listed that usually pay over $20 an hour, some are listed at $50 an hour. The positions come and go, so you'll have to keep tabs on the site to see when they are open.
They are often looking for editors, proofreaders, book jacket designers, etc.
Go here to see if Scribe Media currently has openings.
8 – Buffer
Buffer provides web-based social media management solutions. They allow all their workers to work remotely, and they provide transparent salary information.
From this, you can see that the vast majority of their workers are likely making over $20 an hour. They hire for many different positions on occasion, from techy developer and engineering jobs to product/customer support.
Go here to apply at Buffer if they are hiring.
9 – Carenet
This company hires work at home registered nurses for telephone triage. Pay is around $25 an hour.
Go to Carenet's jobs page to see if they're hiring now.
10 – Magic Ears
Earn up to $24 an hour on your first contract teaching English online from home (or anywhere!). Now hiring independent contractors eligible to work in the US or Canada who hold a bachelor's degree or are currently enrolled. No minimum hours required.
Go here to apply with Magic Ears.
11 – Aquent
Sometimes hiring synopsis writers. Anywhere in the US. Prior experience with AP Style is a must, as well as experience writing/editing content relating to film or TV. Exact information on payrate is hard to find, but it sounds like it's often between $30 – $40 / hour.
Go here to apply if position is open.
12 – Scribendi
This company regularly hires freelance editors and proofreaders to work at home. According to Glassdoor, contractors working for this company average around $25 an hour.
To qualify, you must have a university degree and three years of relevant experience. They cannot accept workers living in the US States of California, New York, Massachusetts, Illinois, Colorado, New Jersey, Wyoming, South Dakota, West Virginia, Hawaii, New Mexico, or New Hampshire.
Go here to apply at Scribendi, or read our Scribendi review.
13 – Github
Github is a software company that allows many of its employees to work remotely. They have regular openings for techy positions like developers, engineers, etc. as well as some customer support positions.
Per Glassdoor, most Github positions provide a salary of over $60K per year.
See if Github currently has openings here.
14 – InDemand Interpreting
InDemand Interpreting, also known as Stratus, has openings for remote video medical interpreters on occasion.
This is flexible work paying $1 per minute. Although I could not find any salary averages for this company on Glassdoor, it seems that $20 an hour may be possible.
15 – Wordvice
This company is regularly hiring work at home editors. Per the job description, you will "Edit and proofread academic papers, admissions essays, and other documents for grammar and mechanics issues and ensure natural language and flow of communication."
English fluency, 2+ years professional editing experience, and MS Word proficiency all required. Must be enrolled in or have completed a graduate degree program. According to Glassdoor, pay should work out to around $29 – $31 / hour.
16 – Magoosh
They regularly hire remote test prep experts who help out students with questions regarding the GRE, GMAT, SAT, ACT, and TOEFL tests. They are not always hiring for this.
It's a contract position paying $20 hourly on weekdays and $25 hourly on weekends.
Must have a BA or BS, a high score on the SAT, GRE, or GMAT, and teaching or tutoring experience.
Go here to see if the job is open.
17 – Manhattan Prep
You may be able to work as an instructor for Manhattan Prep and earn $100 an hour. The company is highly selective and not all jobs are remote. Keep tabs on their jobs page for the remote positions.
Go here to check for openings.
18 – Avantor
Sometimes hiring customer service reps to work at home. Open to several US states. 1+ years applicable experience in a customer relationship type role (sales, military, call center, etc) required, as well as strong communication skills. According to Glassdoor, pay might be around $21 / hour.
Go here to apply if position is open.
19 – Revolution Prep
This is an education company that provides online tutoring/teaching services to students in grades 6-12. They pay their work at home professional tutors $20 an hour.
Prior teaching experience is required and a bachelor's degree is preferred.
Go here to check for current openings.
20 – SitePen
SitePen allows their workers to work remotely. They have occasional openings for software engineering, project management, javascript engineering, and web development. Per Glassdoor, these positions pay over $80K per year.
Go here to apply at SitePen if they're hiring and you meet their qualifications.
And there you have it! Good luck if you apply for any of the above!
300 More Flexible, Non-Phone Work at Home Jobs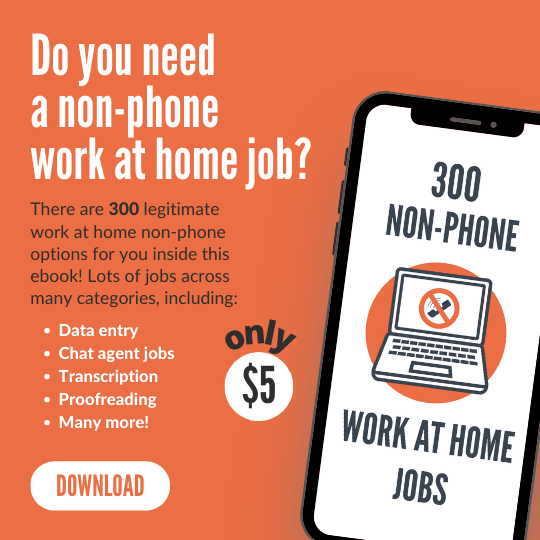 Do you want to work at home but you can't do so using a phone? If so, I have some great non-phone options for you in my latest e-book. It is only $5!
In this book, you'll find links to 300 companies offering different types of non-phone work at home jobs, including:
Data entry
Chat agent operators
Freelance writing
Transcription
Proofreading
Bookkeeping
Search evaluation
Many more!
Each job listing also has a short summary with any relevant information I can find (pay, what countries it may be open to, etc.).
Good luck to you, and I hope you find this ebook helpful if a non-phone job is what you are looking for.
After payment, you will receive the email containing your download.
This post originally published on June 30, 2016. Updated and republished on March 16, 2020.