Several years ago, I started writing reviews of smartphone apps that pay you. Back then, this was such a new thing because smartphones were a new thing.
But nowadays almost everyone has a smartphone. Because of this, apps that pay you are no longer a rare find.
I love making massive lists, so today I felt a little ambitious and decided to see if I could come up with a list of 75 smartphone apps that pay.
And what do you know, I was able to do it! Please note that almost all of these are available for both iOS and Android. For some of the listings, I may have linked the page for one or the other, but more than likely it's available for both types of devices.
It's also true that these apps are not created equally. While I believe them all to be legit, some may be duds while others are pretty awesome.
The reviews on each app will help you decide whether or not you should bother with them. But the one thing they all have in common is that they are all paying apps. So, have fun and good luck!
Task-Based/Mystery Shopping Apps
These apps will all pay you to visit stores and do things like take pics of displays, answer surveys about what you see, etc.
It's kind of like mystery shopping, but you do it with your phone. People who live in larger cities and towns will typically have more tasks available to do than people living in more rural areas.
Shopping Apps – Getting Paid to Buy Groceries
The following apps are best known for giving you actual cash back, via check or Paypal, for buying certain groceries. Some of them will also work at other retail locations apart from just grocery stores.
These apps offer you an excellent way to increase your savings at the grocery store because you can use these in addition to coupons.
More Shopping Apps
These apps also involve shopping and store products, but they aren't as easy to categorize as the task-based and grocery shopping apps above.
Rewards Apps
These apps are pretty much the same thing as Swagbucks and Inbox Dollars, but you do everything from your smartphone. You can earn money for watching videos, filling out offers, taking surveys, playing games, and a variety of different things.
Getting Paid to Try New Apps
The are popular apps that will pay you in cash or rewards to simply download and try out new apps.
This is a win-win because it allows you to earn for doing something that might already be fun, while also making it possible for app developers to get their apps in front of new users.
Taking Surveys
These apps pay you for using your smartphone to give your opinion on various products and services, just like any typical web-based survey panel. The only difference is that you're answering the questions from your smartphone.
Selling Your Stuff
These are apps you can use to quickly and easily list your stuff for sale.
Let People Rent Your Car
Fitness
These apps allow you to earn cash and rewards for keeping up with proper diet and fitness.
Watching Videos
Games
Taking Photos
Get Paid to Unlock Your Phone
Miscellaneous
The following apps are kind of unique in how you use them to earn cash and rewards and don't fit as well in any of the above categories, although several of these do track your location and activity (something not everyone will be comfortable with).
Good luck if you try any of these!
For 300 Flexible, Non-Phone Work at Home Jobs: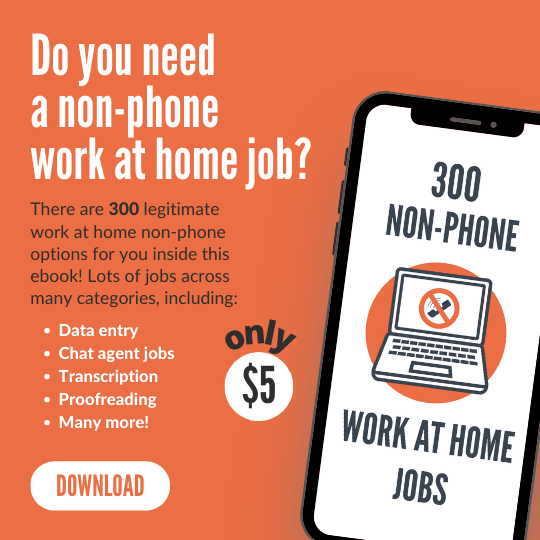 Do you want to work at home but you can't do so using a phone? If so, I have some great non-phone options for you in my latest e-book. It is only $5!
In this book, you'll find links to 300 companies offering different types of non-phone work at home jobs, including:
Data entry
Chat agent operators
Freelance writing
Transcription
Proofreading
Bookkeeping
Search evaluation
Many more!
Each job listing also has a short summary with any relevant information I can find (pay, what countries it may be open to, etc.).
Good luck to you, and I hope you find this ebook helpful if a non-phone job is what you are looking for.
After payment, you will receive the email containing your download.