A college degree is a great asset when looking for a work at home job, and statistics show that people with higher levels of education make more money over the course of their lifetimes.
But the cost of college is skyrocketing, and for some people, the pursuit of a better education simply isn't an option. As a result, you may find yourself in search of a work at home job that doesn't require a degree.
Even if you do have the money to go to school (and that's a pretty big "if"), you may also have a restrictive 40-hour a week day job that takes up most of your time along with a million other day-to-day responsibilities that are impossible to ignore.
It's not easy to take time off for higher education when you have children to raise or a hefty mortgage waiting to be paid month after month.
It's a tough situation to be in, but we're happy to tell you that it certainly isn't hopeless. One useful option that many people don't consider is to look for a decent-paying work from home job with less strenuous educational requirements and flexible scheduling options; a job that gives you plenty of free time to pursue an education while providing enough income to (at the very least) help keep a roof over your head.
There are quite a few employers out there looking to hire remote workers, and these employers don't necessarily expect them to have years of college under their belts.
Some companies would rather take on someone fresh and train them from scratch. Others are looking for dedicated people with practical experience, and they don't really care whether or not these workers spent a good portion of their lives attaining degrees.
Below, we'll go over a pretty large list of work from home and/or flexible jobs with no college requirements so you can get a taste of various options.
Many of these are interesting and rewarding employment opportunities, and quite a few also offer flexible scheduling options, which should make it possible to go to school (if that's what you want) while still bringing in some cash to help you maintain a decent quality of life.
Work at Home Jobs – No College Degree Required
ESL Tutoring
Cambly – Read Cambly Review – If you speak good English, there's a pretty good chance you can get a job with Cambly.
Their business model is pretty simple: the best way to teach languages is to let people have casual chats with native speakers of the language they're learning.
If hired, you'll do video-chats with people from all over the world, giving them a chance to use their newly acquired language skills in a real life situation.
You don't need any special certifications to get hired, and a lot of people seem to love this job because they get to spend the whole day involved in interesting conversations with new people.
Cambly pays a little over $10 an hour, but the work rate is inconsistent, so you might use this as more of a side-hustle.
Customer Service
Accolade Support – Read Accolade Support Review – This is a virtual call center job that pays up to $10 per hour and requires no previous education. The work is mostly basic customer care and support.
Working Solutions – Read Working Solutions Review – Here's another call center job with no educational requirements.
Working Solutions has a decent reputation among people who do phone work at home. There's more variety in the work than you'll find with many other call-center gigs because you get to sign up for different projects, and the pay is OK, too — between $10 and $30 per hour.
Sykes – Read Sykes Review – This is a fairly low-end telephone customer service job.
You don't have much flexibility in terms of your schedule, and most people only make around $9 per hour, which is obviously not great. But it appears to be fairly easy to get hired, and they add new people frequently all over the US and Canada.
Miscellaneous Phone Work From Home
Intelichek – Read Intelichek Review – A telephone based mystery shopping company. You'll be placing calls to businesses and pretending to be a customer while asking about things like product availability.
Unlike most phone jobs, you don't need to worry about a quiet environment; a little noise in the background makes you seem more like a real-life customer.
Perception Strategies – Read Perception Strategies Review – Another telephone mystery shopping opportunity. In this case you'll be calling hospitals, and they apparently also do traditional on-site mystery shopping, which could be an interesting change of pace on the rare occasions when it comes up.
The pay is about $17 per shopping session, but work isn't steady, at least not in the beginning, so you would probably want to treat it as more of a side-job.
Onpoint Advocacy – Read Onpoint Advocacy Review – This is a political advocacy job that involves making outbound phone calls as well as writing, so you need to be good at both. Pay is delivered weekly, but the rate is unspecified, and workers are bound by an NDA to keep the number confidential.
Writing
Textbroker – Read Textbroker Review – This is one of the oldest and most popular content mills. It's a great place to get started as a freelance writer, and pretty much anybody can get their foot in the door here, regardless of past experience or educational background.
You won't make a ton of money as a Textbroker writer, but if you're fast you can bring in enough cash to make a difference while gaining experience that will help you get better writing jobs in the future.
WordGigs – Read WordGigs Review – Another writing content mill, similar to Textbroker. They claim to have very steady work available and pay about $4.50 for a 350 word article.
That doesn't sound like much, but shorter articles are much easier to write overall. Sometimes it can take 90 minutes (or more) to research and write a 1000 word article, but you can often write a 350 word piece in 15 minutes or less. This is mostly due to greatly reduced research time, along with the fact that shorter articles are simpler to structure.
BKA – Read BKA Review – This content mill is focused specifically on keyword optimized articles, and they have a pretty good reputation in the work at home community.
Writers earn between $12 and $18 per hour on average, but you have to prove yourself over time to get into the higher paying brackets.
Food Delivery
While we realize the options in this category are not work from home, they ARE incredibly flexible, so we've included them because they can be worked around your schedule and also don't require any college degree.
DoorDash, Shipt, and Instacart are similar — you're delivering food and grocery orders. And you can earn good money while getting paid quickly (sometimes the same day you do the work).
Search Engine Evaluation
Appen – Read Appen Review – Appen has been in the search engine evaluation business for a long, long time. There are both good and bad things to say about the company, but the work is very flexible and no degree is needed to qualify.
You just have to pass a test. Evaluation work tends to change a lot from week to week, but in a general sense you'll be analyzing search engine and/or social media results to help major companies improve their artificial intelligence algorithms.
Lionbridge – Read Lionbridge Review – Another major player in the search engine evaluation industry. The job is very similar to what you do with Appen.
Pretty much all of these companies have confidentiality agreements, particularly regarding the pay rate, but the number tends to leak out on the internet anyway. Last I heard, Lionbridge paid around $13 per hour.
Other Work at Home Jobs
Wonder – Read Wonder Review – If you're good at scouring the internet for information, you might enjoy this research job. Clients post questions and workers go out and surf the web, looking for relevant sites.
Once the search is completed, you'll be expected to post a summary of what you learned, and link to all the sources. Wonder pays $6 to $8 per question, but the time to do a search and create your answer varies. As a result, your pay rate will depend on the difficulty of what you are researching and your speed.
Aira – Read Aira Review – If you're interested in a job where you can really make a difference in the world and you want to do something to help people improve their lives, this might be just the thing. Aira makes special computerized eyeglasses for blind and visually impaired people with built in cameras.
Their agents use computer software to see through the cameras and speak to the clients through a speaker attached to the earpiece, helping them navigate their day-to-day lives.
The pay rate is not publicly available, but the best information I can dig up suggests you'll make about $15 per hour. Some of the requirements for this job are tougher than most others on this list, especially in terms of past experience, but there's no college mandate.
Skillshare – Another site where you can get paid for being an expert, only here you set up courses and sell them to people.
You don't need any special qualifications to make a course – Skillshare lets customers decide who the real experts are by voting with their dollars.
Obviously there are certain niches where you'd need a degree to declare yourself an expert, but there are also quite a few where you wouldn't.
Home Business Ideas
One of the best things about striking out on your own and starting up your own thing is that you usually DON'T need a degree.
I am personally an example of this. I make a very good income working from home as a blogger, and I never got a college degree. In fact, I have nothing more than a few years of vocational school under my belt (and I dropped out of that before I ever finished).
So despite what any statistics say about earning more money with a degree, I still believe starting up your own thing is the way to go if you don't want to feel like your income is capped. When you create your own job, your earning potential is up to you!
That said, it can take a while to get something you've started up yourself off the ground. It isn't without risk.
It's a true investment of both time and money. In fact, I couldn't really say that my income as a blogger was more than side money until I'd already been at it for a couple of years!
Here at Real Ways to Earn, I've interviewed some pretty inspiring people who have managed to earn full-time incomes with businesses they've started from the ground up. Here are a few you may want to check out if you need inspiration:
I also have a huge list of over 50 home business ideas you could consider if you want more ideas.
Good luck!
For 300 Flexible, Non-Phone Work at Home Jobs: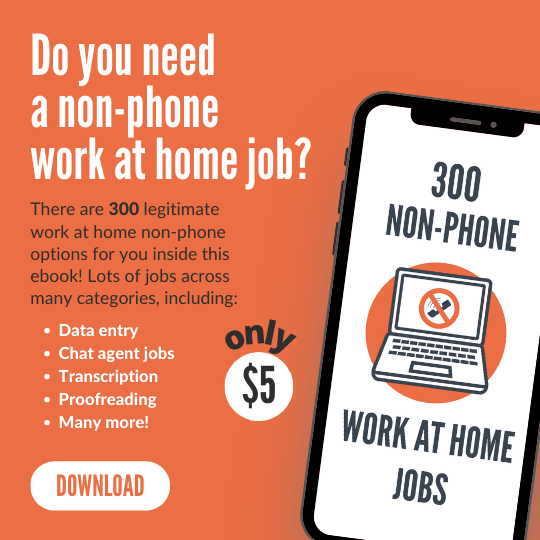 Do you want to work at home but you can't do so using a phone? If so, I have some great non-phone options for you in this ebook. It is only $5!
In this book, you'll find links to 300 companies offering different types of non-phone work at home jobs, including:
Data entry
Chat agent operators
Freelance writing
Transcription
Proofreading
Bookkeeping
Search evaluation
Many more!
Each job listing also has a short summary with any relevant information I can find (pay, what countries it may be open to, etc.).
Good luck to you, and I hope you find this ebook helpful if a non-phone job is what you are looking for.
After payment, you will receive the email containing your download.