Are you looking for sites like Etsy to sell your crafts? We have you covered.
Maybe you're here because you know that selling handmade products exclusively on Etsy isn't an ideal scenario for everyone. You may be looking for sites that don't charge listing fees, or ones that take a little less of your sales.
Or, maybe you need to branch out and offer your products to more people!
Whatever the case, don't get your hand knitted mittens in a bunch. We've compiled a list of favorite alternatives to Etsy that should be easy for you to sell your goods on! Read on.
Sites Like Etsy
Zazzle
Zazzle is also similar to Etsy in that it is a top site to have your work displayed on; however, it is markedly different from Etsy, in that it is centered towards designers, who create a design, upload it, and see what items "go with" your design – like t-shirts, mugs, pens, linens, etc. Then, if your design sells, you make a profit.
So really, folks are buying brand-new items from Zazzle that are print-based; handmade craft items, not so much. In this way, Zazzle is not a direct competitor to Etsy, and the money-making potential is really geared towards established designers.
Go here to check out Zazzle. We also have a detailed Zazzle review with more info on selling there.
ArtFire
Artists from all over the world can sell their homemade goods on ArtFire.
From wedding dresses, to children's toys, to jewelry (and everything in-between), this website has the smell of Etsy all over it – only there are different plans you can select, as opposed to Etsy's stringent "three fee" rule.
But keep in mind that the word on the street is that ArtFire is good for makers who can turn projects around – and fast, so it is a bit like Etsy in that respect.
Go here to check out ArtFire.
UncommonGoods
UncommonGoods appeal is that it's a "closed," platform, meaning that you have to pass a lengthy submission process for seller approval.
And – get this – you have to give the suggested retail and wholesale price. Yep, you don't need to adjust your screen – you can sell wholesale here.
Buyers vote for your products, and you are then contacted for the next steps in being approved. See? It's super tough to get in!
But as buyers, it's our new personal obsession – we love the geek-chic wares, and the website is lovely to look at.
Go here to learn more about selling on UncommonGoods.
Zibbet
Zibbet provides tools for its sellers, which is part of its appeal. You get things like SEO, order management – even Etsy importing,.
The website is similar to UncommonGoods (mentioned above), in layout and feel. It makes you want to buy all your holiday gifts on that website.
Pricing-wise, there are no listing fees or commissions that the site takes. It has three pricing plans that are attractive to sellers, and even web-based help with your website and analytics.
The best part is, it starts out at only $5 per month (or, $4 per month for an annual membership) for up to 50 items with four items per page. Not too shabby, if you ask us.
Go here to learn more about selling on Zibbet.
3DCart
3DCart offers built-in templates for your store, making it easy to customize and set-up shop. It also has high-level security, amazing SEO optimization, comprehensive 24/7 support, and mobile/social features.
Because of its great features, it is a bit pricey. The starting cost is around $35.99 per month.
Additionally, while it is "artisan-friendly," it has become more geared towards food, factory-made clothing, supply chains, etc.
In that respect, it is more much like Shopify than it may have originally set out to be. However, they've won many awards, so it's definitely worth looking into.
Go here to learn more about selling on 3DCart.
BigCartel
BigCartel's homepage opens with the phrase, "Easy online stores for artists and makers." That's a great way to sum them up.
The company's Gold pricing is free with a limit of five products, but it does lack the features of paid plans. The paid plans offer must-haves like item pictures, custom domains, and discount codes, to name a few.
BigCartel allows direct selling from your Facebook shop, which could help you earn more.
Go here to learn more about how BigCartel works for sellers.
Cargoh
Cargoh has strict application rules for sellers. They require that your items have to be "unique" enough. The company also makes 10% off of every sale.
The company has implemented new features over the past few years, and their community is completely devoted to the platform.
They also have great customer service and fairly decent prices.
Again, it's worth checking out to see if it's a good fit for you. If nothing else, you can test the waters and see if your goods are "unique enough" to get in!
Go here to learn more about selling on Cargoh.
Spoonflower
Spoonflower's website is adorable and clearly geared towards designers.
Their uniqueness lies in the fact that they allow designs to be on all fabric products, from curtains to pillows to Christmas stockings.
Think of it as the grown-up version of selling gift wrap door-to-door, only it doesn't annoy other adults, and it's all online.
Go here to learn more about selling on Spoonflower.
Shop Handmade
Shop Handmade says you can sell "anything you make yourself" on their site. So, in this sense, they are very similar to Etsy.
The stores are free to open, and you keep all the money from sales. The payments go directly from the customer to your Paypal account.
Go here to get started on Shop Handmade.
In Conclusion
What's interesting about all of these websites is that they are unique to the seller. This is the case whether you're a designer, artisan, or hobbyist. Choosing the best platform for you to sell on is entirely up to the individual.
Let us know if you find any seller-specific platforms you love for selling your crafts online, why they work best for you, and how they have helped you launch your online e-commerce store for your handmade designs and/or products!
In the meantime, we'll admire you crafty folks from afar.
For 300 Flexible, Non-Phone Work at Home Jobs: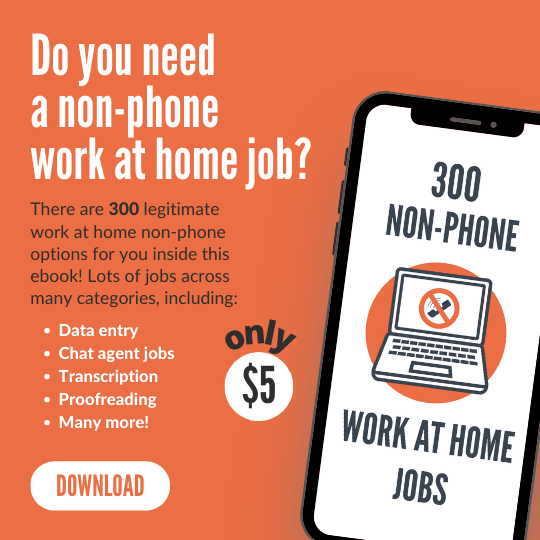 Do you want to work at home but you can't do so using a phone? If so, I have some great non-phone options for you in this ebook. It is only $5!
In this book, you'll find links to 300 companies offering different types of non-phone work at home jobs, including:
Data entry
Chat agent operators
Freelance writing
Transcription
Proofreading
Bookkeeping
Search evaluation
Many more!
Each job listing also has a short summary with any relevant information I can find (pay, what countries it may be open to, etc.).
Good luck to you, and I hope you find this ebook helpful if a non-phone job is what you are looking for.
After payment, you will receive the email containing your download.