Are your friends always telling you that you should sell your crafts? Are you looking for sites that will not charge a ridiculous amount of fees? Well, then keep reading. This article links you straight to ten sites where you can sell your crafts without a listing fee.
So, What Are These 10 Sites That Do Not Charge a Listing Fee?
Please understand that there are more than just ten, but this list will get you started.
1 – Shopify – This site will allow you to fill orders, perform analytics, and more all from your smartphone. It will supply you with a full e-commerce store which takes credit cards. Fully customizable with added bandwidth as your store and business grow.
There are no listing fees for any of the three plans: Shopify Plan, Advanced Shopify Plan, and Shopify Plus. The only fees are for credit card processing and the monthly fees are $29, $79, and $299 respectively.
2 – Handmade at Amazon – See Amazon Handmade Review – This site is owned by who else but Amazon. It was started as an alternative to Etsy and eBay for those who wanted to sell handmade goods.
Handmade at Amazon is free to list and no set up or monthly fees. Only 15% commission when something sells. However, in order to gain acceptance you must click on their "Request an Invitation" button on their homepage.
Once invited, you will send in your information along with pictures of your crafts. Your crafts cannot be from a kit. If accepted, you will create a profile. You can also use Fulfillment by Amazon to ship your products. It's also possible to get UPCs for your products, or participate in their affiliate program.
3 – Aftcra – This site has no listing fees, but does take a 7% on sales. All items must be made and sold in America. Up-cycled and repurposed items are also welcome as are printed and digital goods as long as they are the work of the seller. No vintage items are allowed.
Crafters will set up a shop and then after 6-months any items which have not sold will be considered expired, but may be relisted. Your online shop may add Google Analytics for tracking.
4 – Instagram – Instagram is a social media site I'm sure you've heard of. You can take beautiful pictures of your craft items, use the correct hashtags so potential customers will find them, and then link your contact info, or a link to purchase, in your bio.
5 – Handmade Artists' Shop – This site has been around since 2012 and doesn't take any commissions or listing fees just a strait forward $5 a month for your own online shop. You may also post multiple images in one listing. There is a forum to ask questions as well as a blog with helpful information. All payments are made to crafters via PayPal.
The really good thing about this site is that you can order two or three items each from a different seller and not have to pay separate shipping for each vendor. Sorry, there is no selling of vintage items (unless they were recrafted into something else) or mass produced items.
6 – Indie Cart – This site does not have listing fees and allows you to have your own store for $5 a month, and you are allowed to take time off from your store or close it down for a month or two with no monthly fee. You may have a shared store, your own store or Spot's Corner where you can list your unwanted manufactured items.
Many of the crafts are eco-friendly such as fancy cloth diapers and/or hats made with recycled materials. Most of the items here are custom-made to order.
7 – Bonanza – Bonanza has zero listing fees and zero setup costs. Bonanza has always prided itself on "anything but the usual." They also have an affiliate program too. In 2016, Bonanza beat out eBay and Amazon for the "Best Overall" site. You may sell both brand name items, handcrafted items, and good quality used items.
Bonanza will also take care of Google searches for you via their keyword experts. They even have photo cropping and many other technical tools.
8 – iCraft – Everything on this site must be handcrafted and no food items or vintage items. After the $25 registration fee, there is a $5 a month payment (for one of the cheaper plans) for unlimited product postings. Professional Plan is $10 and the Elite Plan is $15 a month with unlimited product listings. There is also a referral program for sellers.
9 –Square – This is an easy site with everything you need to set up shop. There are no fees other than a credit card processing fee for when something sells. There aren't any more fees listed than the one previously mentioned, but all advertising is up to you. You can also have gift cards made up and be listed in a directory.
You may sell handmade goods, tickets, accept donations or even offer services. If you have an off-site store, you may also offer in-store pickup as well.
10 – Big Cartel – Big Cartel is a pretty popular online shopping platform allowing you to set up your own store. While you do have to pay $9.99 per month to maintain your online space there, you will NOT be charged any listing or transaction fees for your items.
Why Do Crafting Websites Charge Fees?
Understandably, websites have to make money or at least cover their operational fees.
Depending upon the site and its popularity or its business model, the fees can actually come in many forms. Fees may be:
Listing fees
Membership fees
Credit card processing fees
Extra marketing tools
PayPal fees charged by PayPal
Add these fees to any percentage the site might take, plus the cost of materials and shipping supplies—this can get costly for the seller! And sometimes, it's not worth it.
In Conclusion
Selling crafts online is not any different than any other online business. You will always have operational costs. The important thing to remember is to try to objectively weigh all of your options with what you can afford.
Be sure to sign up for our weekly work at home newsletters for more ideas on selling crafts and other ways of making money from home. It's free to start getting this!
Good luck to all crafters and go make money.
For 300 Flexible, Non-Phone Work at Home Jobs: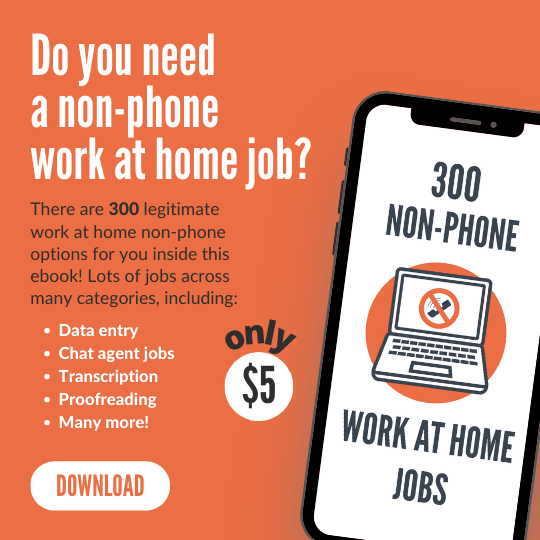 Do you want to work at home but you can't do so using a phone? If so, I have some great non-phone options for you in this ebook. It is only $5!
In this book, you'll find links to 300 companies offering different types of non-phone work at home jobs, including:
Data entry
Chat agent operators
Freelance writing
Transcription
Proofreading
Bookkeeping
Search evaluation
Many more!
Each job listing also has a short summary with any relevant information I can find (pay, what countries it may be open to, etc.).
Good luck to you, and I hope you find this ebook helpful if a non-phone job is what you are looking for.
After payment, you will receive the email containing your download.