If you're creative and you are pretty good at making or coming up with your own artwork and designs, you may be able to earn some money on the side selling on Zazzle.
This site reminds me a lot of Cafe Press actually, it is basically the same thing. If you aren't creative but you do have your own blog or website, you can still earn a little bit of money through Zazzle by referring others there to buy products you like.
Setting Up a Store
If you have some designs you'd like to start selling on Zazzle (something you drew either by hand that you can send to your computer or something you made with Photoshop or GIMP), you can set up your own online store for free with Zazzle. It does not cost you anything to do this! Just pick out a name for your store, and follow the steps to get your products listed.
Zazzle has over 350 retail quality products that you can choose from to have your designs/logos printed out on. Here are just a few examples:
T-shirts
Coffee mugs
Posters
Greeting cards
Business cards
Keychains
Hoodies
Jackets
Aprons
Calendars
Hoodies
Naming Your Price
Zazzle takes a cut of the sale price for actually manufacturing the product for you, but you earn royalties. The royalties are 10 percent of the sales price.
However, you're free to mark prices up 99 percent if you know how much you need to make. But obviously you don't want to mark things up too high or you might have trouble getting sales.
Promoting Your Stuff
Getting the word out about your products is up to you, but Zazzle has some guides and tips to aid you. One idea is to stay on top of current trends and newsworthy events and create relevant designs. These are more likely to sell fast.
Dealing With Customers
Zazzle pretty much handles everything for you. They take care of manufacturing the items and also order processing. So just upload your designs, set up your store, and spread the word.
Making Money as a Zazzle Affiliate
As I mentioned above, you can still make money selling on Zazzle even if you don't know a thing about designing or care that much about setting up your own store.
You can sign up to be an affiliate for Zazzle if you have your own blog or website and then direct people to whatever products on Zazzle that you like. If someone who visits your site sees the Zazzle products you are promoting and decides to buy something, you'll get a 15 percent referral payment from the sale plus a possible 17 percent in volume bonuses.
You can also create products from logos/images you already have on your website through the Zazzle API integration. So for example, if I wanted to, I could sign up with Zazzle and then set up a store with products that have my Real Ways to Earn Money Online logo on them 🙂
That's an idea for you if you already have a website with logos and images in place and you think you could sell products promoting your logo.
Is selling on Zazzle going to replace your income?
I certainly would be afraid to give up my main income sources and concentrate fully on Zazzle, however that's just me.
Also, I think that since there is no risk to you with signing up and it's all free, there is no harm whatsoever in setting up a store (or becoming an affiliate for Zazzle) and just seeing how it does.
For example, even if it doesn't become your full-time income, it could possibly turn into a separate income stream that might come in handy to have on occasion.
To learn about setting up a Zazzle store, click here.
To learn about becoming a Zazzle Associate (affiliate) and promoting existing products on your blog or website, click here.
To learn about Zazzle API integration (creating products off your existing website designs), click here.
For 300 Flexible, Non-Phone Work at Home Jobs: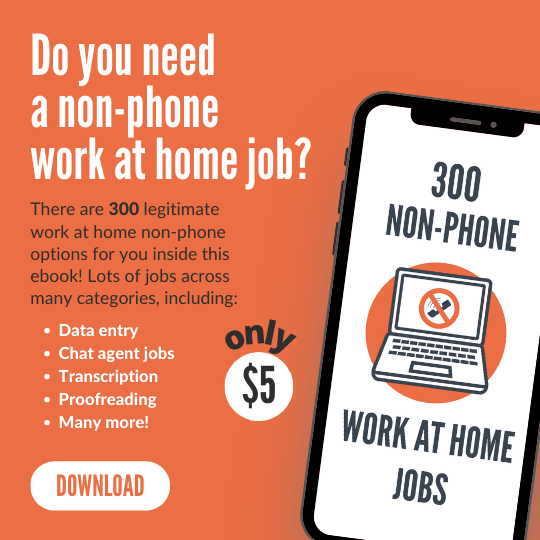 Do you want to work at home but you can't do so using a phone? If so, I have some great non-phone options for you in this ebook. It is only $5!
In this book, you'll find links to 300 companies offering different types of non-phone work at home jobs, including:
Data entry
Chat agent operators
Freelance writing
Transcription
Proofreading
Bookkeeping
Search evaluation
Many more!
Each job listing also has a short summary with any relevant information I can find (pay, what countries it may be open to, etc.).
Good luck to you, and I hope you find this ebook helpful if a non-phone job is what you are looking for.
After payment, you will receive the email containing your download.