I've had a lot of people ask me recently about phone jobs from home where it's possible to work night shift. This is a big deal to some of you because working in the middle of the night, or a later shift, might be the only work from home option (at least for phone jobs) due to kids being up and about during the day, a job you work during daytime hours, etc.
I'll be honest that what I've found offering overnight hours isn't much, but I thought it might be a good idea regardless to get a list together and start adding to it every time I come across something that fits the bill. I've also included a few that offer evening hours.
As of now, the list is fairly short. Some of these may be part time jobs from home while others are full time.
Overnight Work at Home Jobs
LiveOps
This is a company that offers very flexible scheduling, and a lot of people who are new to phone work from home get started here.
It's possible to schedule yourself in blocks of time as short as 30 minutes, and getting middle of the night hours may be possible since you are very much in control of your own schedule. However, a reader has let us know that they most often contract between the hours of 9am and 9pm.
However, people who have worked for Live Ops frequently complain about low call volume. With LiveOps, you're only getting paid if you're on a call, so low call volume can be a major problem. This is an independent contractor position, US only.
Read LiveOps review or go here to apply.
Asurion
Asurion hires people to work at home, primarily handling inbound calls from customers regarding wireless handset insurance claims, electronics repair facilitation or roadside assistance requests from wireless customers.
They do have some overnight shifts available, but from what I've read you can't really get in on these if you're a new agent. So you may have to work for them for a while before you can start working overnight hours.
Also, this is a company that requires a pretty hefty time commitment overall. They prefer you to work full-time hours. Currently Asurion only hires people based in the US for their work from home positions.
Read Asurion review or go here to apply.
Alorica
Like LiveOps, Alorica lets you set your own hours so it may be possible to work in the middle of the night for them. If you can't get overnight hours, you should still be able to frequently get evening shift.
The amount you earn with Alorica depends on which client you are handling calls for. Some are per minute, some are per call, and some are hourly rate.
You will always be guaranteed at least whatever minimum wage is in your state. This is an advantage since some clients are only pay per minute of talk time.
As I mentioned with LiveOps above, low call volume could really hurt your earnings in those cases, so it's nice that Alorica will guarantee you at least minimum wage no matter what. Also, this company hires you as an employee, not an independent contractor.
Alorica hires agents in the US only and may also be limited to certain states.
Read Alorica review or go here to apply.
NexRep
NexRep is a home call center you can work for that operates 24/7, so it's possible to work overnight here. You do have to commit to at least 15 hours per week and you can't work less than 2 hours at a time. While overnight hours may not always be an option, you should usually be able to get evening shift. A reader has let us know that they usually contract between the hours of 9am and 9pm
If you're doing inbound calls, the pay will most likely be either commission only or per minute of talk time. I've read that the outbound positions are also commission only, but there may be a base pay, too. You work for NexRep as an independent contractor, not an employee.
They only hire people who are in the US.
Read NexRep review or go here to apply.
U-Haul
Occasionally U-Haul will have a work from home emergency roadside assistance position posted, and this one does have middle of the night hours available. U-Haul offers emergency roadside service 24 hours a day, 7 days per week.
This one *may* require that you work at least part of the time in their contact center in Phoenix, AZ or possibly train there before working at home. I've found conflicting information on this, so if some of you happen to know, I'd appreciate some clarification.
Note that the job isn't always posted. U-Haul has other work from home openings regularly, but these do not offer overnight hours.
This is a US only employee position.
Read U-Haul review or go here to check for work from home openings at U-Haul.
Transcom
Someone left a comment below stating that Cloud 10/Transcom has had some projects in the past where overnight hours are a possibility. This is a company that hires you as an employee and pays you hourly.
Once your schedule is in place, it's pretty much set, so it would be best if you could start off with overnight hours. Of course that may not be possible.
Read Transcom review or go here to apply.
World Travel Holdings
World Travel Holdings offers a variety of different work at home positions in the travel and cruise industry.
Some positions are sales and some are customer service. This company often has night shift available for their workers. Once you are done with the initial training, pay is pretty good.
Read World Travel Holdings review or go here to apply.
HSN (Home Shopping Network)
The Home Shopping Network does offer overnight shifts to their home-based workers to handle the orders that come in during the night.
Note that this is a location-based company so even though you work at home, you will have to live close to one of their offices. I usually see them hiring in Tennessee, Florida, and occasionally Ohio.
Read Home Shopping Network review or go here to check for openings.
Ginger.io
This is a company that hires people with counseling/therapy experience to be "listeners" and talk to people who are calling needing to talk about their problems, etc. Note it is not a suicide or crisis hotline.
You are paid $15 an hour and you can set your own schedule. Listeners are needed to work between the hours of 12 AM and 6 AM Pacific time. Note that this position may not always be posted.
Read our Ginger.io review or go here to apply.
Apple
You can work at home as an Apple At Home Advisor and provide support for people with Apple products. Because this is a a major company with millions and millions of customers, they do need to provide round the clock support. And this means that working night shift may be an option for you if you're lucky enough to get hired.
Another bonus with Apple is that these positions are often chat-based (non-phone work from home), so it could be ideal if you're in a situation where talking on the phone isn't possible for you due to children at home or loud pets.
Read the Apple work at home jobs review or go here to check for openings.
Direct Interactions
This company has regular openings for work at home parking enforcement agents in the United States. The work involves handling high volume inbound calls from motorists with unpaid parking tickets.
Direct Interactions has shifts available from 4 AM to 7 PM Pacific time, so it is possible to work during overnight hours for this company.
Go here to read the Direct Interactions review or here to check for openings.
Hotel Tonight
Hotel Tonight is frequently hiring customer support reps to work from home in various locations across the US.
The job involves answering calls, emails, and live chats for people who are looking for hotel rooms. Because this is a 24/7 business and they need people available around the clock, it's possible for you to get an overnight shift here if that is what you are looking for.
Go here to read the Hotel Tonight review or here to check for work at home openings.
Other Overnight Work at Home Job Options
As you may have noticed, the majority of the companies listed above offer phone work. However, you can almost always work during the night if you are doing independent contractor work, or any type of work at home job without a set schedule.
Below are some links you can check out for jobs in other industries where working at night is almost always going to be an option:
Good luck!
300 More Flexible, Non-Phone Work at Home Jobs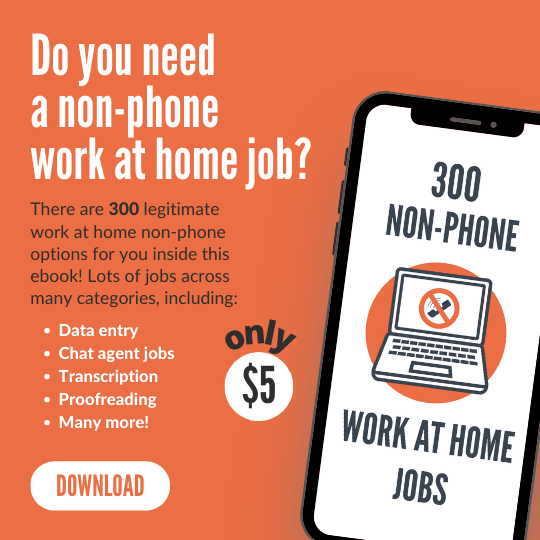 Do you want to work at home but you can't do so using a phone? If so, I have some great non-phone options for you in my latest e-book. It is only $5!
In this book, you'll find links to 300 companies offering different types of non-phone work at home jobs, including:
Data entry
Chat agent operators
Freelance writing
Transcription
Proofreading
Bookkeeping
Search evaluation
Many more!
Each job listing also has a short summary with any relevant information I can find (pay, what countries it may be open to, etc.).
Good luck to you, and I hope you find this ebook helpful if a non-phone job is what you are looking for.
After payment, you will receive the email containing your download.