Many readers over the years have asked me about ways to make money online doing research.
There's no question that being good at online research is a profitable skill, so if you're someone who is a master of Google, or the person everyone else goes to when they are looking for specific info and they know you can find it faster than they can, then you'll want to read this post.
Below you'll see some companies that pay you just for doing research, and a list of work at home industries where online research skills are important to have.
Good luck! And as always, please comment below if you know of other options I could add here.
And if you like this kind of info, please consider becoming a newsletter subscriber. I send out new work at home job leads and work at home updates weekly.
Companies That Are Regularly Looking For Online Researchers
1 – AskWonder – Read AskWonder Review – Open to US residents except those located in New York, Massachusetts, and California. This is a company I just learned about over the past few weeks.
Their clients submit questions that they need answers to, and as a Wonder researcher, you do the searching online to find the best possible resources for answering their questions, and then use those resources to provide detailed answers. Work whenever you want, and get paid via Paypal twice monthly.
Wonder claims that active researchers earn over $2,000 per month.
2 – 10EQS – This company occasionally has openings for online researchers. They do prefer to hire people who have business degrees or business experience. There are also other remote jobs available regularly.
3 – RWS – With RWS, "Experienced Researchers who demonstrate consistent, quality performance in their research can earn the "Study Expert" designation and may qualify for other projects with fixed fee, fixed fee + reward and hourly fee arrangements."
4 – Hobby Jam – I've seen this posted frequently in the groups. May be good for extra cash here and there doing research. Work on your own schedule, part-time. Payments are made via Paypal.
5 – First Quarter Finance – There is sometimes a "research analyst" position open with this company that is 100 percent remote. It is ideal for people who like to use Excel software and are good at academic level research. You can work as many hours a week as you want (with a minimum of 10).
How to Find More Companies Looking For Online Researchers
There are many companies that don't have an ongoing need for online researchers, but do occasionally have these types of openings. If you want to search for these jobs on your own so you don't miss them when they go live, I recommend doing so via Indeed and also FlexJobs.
Another option is Upwork, a popular platform for freelancers where companies post many types of jobs/projects.
On Indeed, just make sure you put "research" or "researchers" in the search form, using the word remote for your location to find the home-based jobs.
FlexJobs has an entire section for research jobs, all guaranteed legit companies. There is a $14.95 a month fee to access FlexJobs listings, but I have found that to be worth it considering there are guaranteed no scams posted and also many reputable companies choose to list their leads exclusively with FlexJobs.
You can use promo code AFFILPROMO to get 30 percent off the one-month membership at FlexJobs.
It's also possible to set your account up on FlexJobs so it doesn't auto-bill you under "account settings" after you've logged in if you just want to try it for one month.
Work at Home Industries Where Online Research is a Big Part of What You Do
1 – Freelance Writing – For most freelance writers, research is half the job! If you're a good researcher and you are also a good writer, then this is for sure an industry you might want to look into.
Some popular companies that are always looking for freelance writers are:
2 – Transcription – Because transcription is technically listening to audio files and typing out what you hear, it doesn't seem as though online research would factor in, but it does.
Transcribers often have to listen to audio where people are discussing subjects they know nothing about, and online research is key in order to ensure transcriptions are typed out correctly.
If you're good at online research and you're also a fast typist with a good ear, then transcription might be something to consider.
Some popular companies that are always looking for transcribers are:
3 – Search Engine Evaluators – People who do search engine evaluation need to be very comfortable using Google and also very internet savvy in general. Being a good online researcher lends itself very well to this type of work.
Some popular companies frequently hiring search engine evaluators are:
4 – Online "Experts" – There are a number of sites that pay people who are experts in specific industries to answer questions for people who need answers. And even though you might be an expert about something, you still may need to do research to answer the questions.
Keep in mind that even though many of these sites let you work when you want, they are also often just good for a little extra money here and there.
Some popular companies frequently hiring online experts are:
#5 – Court Research – There are several legitimate companies that pay researchers to go out and visit courthouses in or near their local areas and hunt down documents for research purposes.
Even though this work is technically not all done from your home and much of the research might not be conducted online, it can be a very flexible way to work independently and earn money.
Some popular companies frequently looking for court researchers are:
300 More Flexible, Non-Phone Work at Home Jobs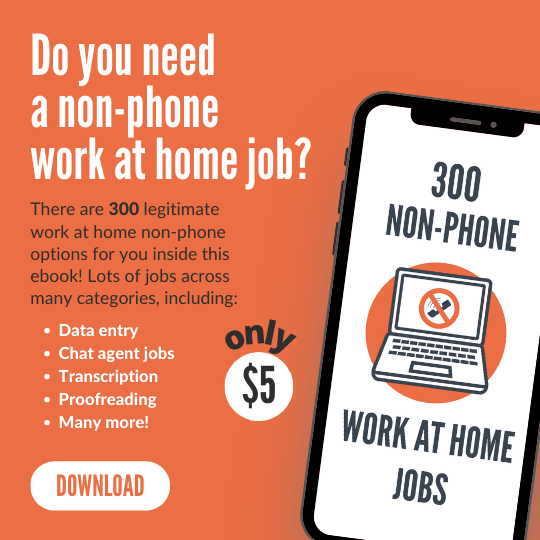 Do you want to work at home but you can't do so using a phone? If so, I have some great non-phone options for you in my latest e-book. It is only $5!
In this book, you'll find links to 300 companies offering different types of non-phone work at home jobs, including:
Data entry
Chat agent operators
Freelance writing
Transcription
Proofreading
Bookkeeping
Search evaluation
Many more!
Each job listing also has a short summary with any relevant information I can find (pay, what countries it may be open to, etc.).
Good luck to you, and I hope you find this ebook helpful if a non-phone job is what you are looking for.
After payment, you will receive the email containing your download.