Deed Collector is an old, reputable company that has ongoing openings for courthouse researchers to work for them as independent contractors. This might be ideal for you if you're looking for a way to earn on your own time, but you don't mind leaving the house.
Before I get into the review, you should know that their website looks VERY outdated. However, this company is not a scam and have been around for a long time.
Who Can Work as a Court Research For Deed Collector?
You can apply to work as a court researcher for Deed Collector as long as you live in the United States and are 18 years of age or older.
You do NOT need past experience as a court researcher to qualify. They will provide free training for you via the web.
What Exactly Do You Do as a Court Researcher For Deed Collector?
You will visit courthouses in your area to pull documents Deed Collector needs for the data they provide marketing companies in the US for various direct mail campaigns.
Typically these are mortgage documents you'll be collecting, but sometimes you'll be pulling marriage documents as well.
How Much Does Deed Collector Pay?
According to the Deed Collector website (which has a ton of information on how this job works), you can expect to earn between $12 and $18 hourly. You are paid per accurate record pulled.
The website says that your earnings will increase the longer you've done the job because you'll get faster.
How Does Deed Collector Pay You?
Deed Collector pays via direct deposit to your bank account. However, they did not state on their FAQ how often you get paid. I assume weekly or monthly. If someone knows the answer to this, feel free to comment!
Does Deed Collector Require Set Hours?
Deed Collector does not require you to work any set hours, but you will of course need to go to the courthouse when they are open. Most courthouses operate between 8 AM and 5 PM.
In addition to that, Deed Collector will put a deadline on the documents they want you to retrieve. So you'll need to get it done before the deadline.
We have a big list of 45 other jobs that are mostly work at home and don't require set hours, either, if you want to check those out.
Do You Need Special Equipment to Work For Deed Collector?
As long as you have a computer or laptop and some sort of means of transportation to get yourself to and from the courthouse, you are good to go.
What Courthouses Do You Go To?
Deed Collector will assign a specific territory to you based on where you live. However, you can agree to cover a larger territory in order to obtain more work.
In What Areas Does Deed Collector Need Researchers?
Deed Collector keeps an updated list on their website of the areas in the US where court researchers are needed. You can view that here.
Even though their application process looks fairly simple and straightforward, I'd recommend holding off on applying until you see they have a need in or near your area.
What is the Feedback on Deed Collector From Workers?
They have a lot of positive testimonials on their website, but I went to other sites to get the big picture on the feedback.
Unfortunately, Deed Collector doesn't appear to have a profile on Indeed or Glassdoor (my two favorite go-to sites for finding feedback on companies). However, they are legit and have been around for years.
If you've ever done work for them, I'd love it if you would comment below and let us know how it was for you.
How Do You Apply With Deed Collector?
Go here to fill out your application on their website.
We have a few other legitimate courthouse research jobs listed if you're interested in working with more than one company.
300 More Flexible, Non-Phone Work at Home Jobs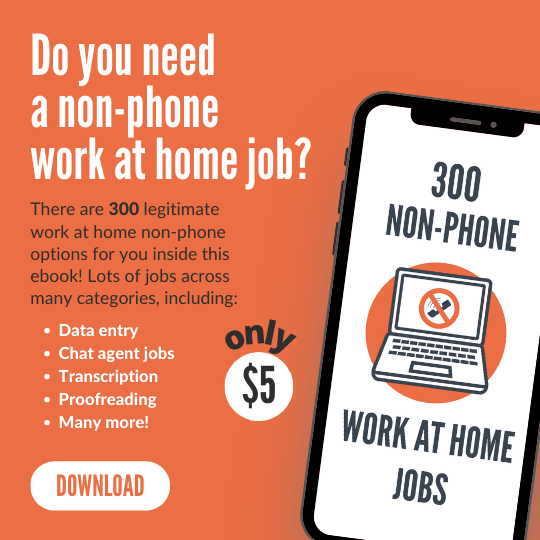 Do you want to work at home but you can't do so using a phone? If so, I have some great non-phone options for you in my latest e-book. It is only $5!
In this book, you'll find links to 300 companies offering different types of non-phone work at home jobs, including:
Data entry
Chat agent operators
Freelance writing
Transcription
Proofreading
Bookkeeping
Search evaluation
Many more!
Each job listing also has a short summary with any relevant information I can find (pay, what countries it may be open to, etc.).
Good luck to you, and I hope you find this ebook helpful if a non-phone job is what you are looking for.
After payment, you will receive the email containing your download.