One of the most common questions I get via email are from people who have slow internet connections and need to work at home. There are many people without hard-wired connections relying on satellite internet, or people who are relying on ISP's that are generally not all that fast. And unfortunately, this does disqualify you from certain work from home jobs (mostly phone jobs).
However, you do have some options even though you may think all hope is lost. Thankfully, not all work at home jobs are 100 percent dependent on good internet speed. There are more things you can do than you probably realize!
For today's post, I've listed some work at home ideas for people who are dealing with slow internet speeds.
1 – Freelance Writing
Many people make fantastic money freelance writing online. You do not need professional experience to get started, either, although it's true not everyone is cut out for it.
If you have a good grasp of spelling, grammar, and research skills, you might do well as a freelance writer. It also helps if you find it simple to put your thoughts into words.
Freelance writing is also an idea if you struggle with slow internet speed because you don't have to be online 24/7 as you write. Most of your writing can be done offline, anytime and anywhere.
You will of course need to be able to submit your content to the person or company you're writing for via your internet connection and you'll need access to the internet to do your research. But freelance writing is not an industry where continuously stable internet is a must.
Check out the content below for more tips on freelance writing:
2 – Phone Mystery Shopping
Most companies offering remote phone work require that you take an internet speed test as part of the application process. This is because you have to be continuously connected to the internet so they can route their calls through to you one after the other.
For this reason, most phone-based work at home is not an option for people with slow internet speed.
However, there are a few exceptions. Some companies, particularly phone mystery shopping jobs, give you the freedom to use your personal cell phone for making calls.
Keep in mind that the companies I'm going to list below tend to be best for extra money only. There may be some exceptions, but that's what most readers have told me after trying these.
InteliChek – Read InteliChek Review – Phone mystery shopping. You can use your own personal cell phone to make the calls if you need to. The job listing does say you need internet access, but does not specify high speed.
Yardi-Matrix – Read Yardi-Matrix Review – This is where you call apartment complexes pretending to be a renter to gather information for Yardi-Matrix. It's flexible work and you use your own phone.
ARC – Yet another well-known phone mystery shopping company. They are not always open to new applicants.
3 – Proofreading & Editing
Most companies hiring online proofreaders and editors, like companies hiring freelance writers, don't have any specific requirements regarding your internet speed.
If you are able to download the documents to edit/proofread, then you can do most of your work offline. You will of course need an internet connection stable enough to download and upload documents.
If this interests you, you can see a list of 25 companies hiring online proofreaders and editors here.
Some companies that are often looking for workers include:
Wordvice – Read Wordvice Review – Work at home editing articles. Must have at least two years of experience as well as a Master's or PhD. If you don't have a Masters or PhD, they may accept you if you are enrolled in a program to get one or the other.
Scribbr – Read Scribbr Review – Open to UK, US, Canada, South Africa, and Australia. Must be a native English speaker to qualify. Scribbr editors may earn between $25 and $27 hourly.
Polished Paper – Polished Paper is regularly on the lookout for academic editors. You have to upload your resume and pass a 35-question editor test to be considered.
Another idea is to go into business for yourself as an online proofreader, which means you call your own shots in regard to every aspect of your work.
4 – Selling Your Stuff
Many people do very well selling online. And while it's not exactly a guaranteed paycheck, it can certainly become that if you put enough time and effort into it.
My mother has made her living this way for over 18 years now! And a stable internet connection is not a must because you don't have to be online all the time. You just need to be able to get your items listed.
What you choose to sell is up to you, but many people do some of the following:
You can go here to see a large list of sites to use for selling your stuff.
5 – Virtual Assisting
Virtual assistants complete various tasks for their clients. This could be anything from scheduling meetings to graphic design. Most virtual assistants have different skillsets and specialize in different areas to support their clients. You can read more about what a virtual assistant does if you need to know more.
Luckily, most virtual assistant work isn't going to require a very fast connection. As long as you can get online and complete the tasks you need to complete for your clients in the time they expect, this is something you can do from home without worrying too much about internet speed.
Some companies that are almost always looking for new workers include:
Fancy Hands – Read Fancy Hands Review – Tasks range from $1 to $5 each to start and go up from there.
Time Etc. – Read Time, Etc. Review – US and UK only. Pays virtual assistants hourly for their work. The exact rate of pay will vary depending on your prior experience, but the range is $11 to $16 hourly.
NS Virtual Services – This is a Canadian company regularly looking for work at home VA's.
For 50 more companies that hire work at home virtual assistants plus information on starting your own VA business, check out my e-book, Your Quick Guide to Working From Home as a Virtual Assistant.
6 – Consider Side Gigs
While these opportunities are not "work from home," they are flexible and generally only require a smartphone with the company's app installed. You may be giving people rides, delivering restaurant orders, or delivering groceries to people who request it in your local area. You get paid (usually weekly or daily) and get to keep your tips.
Here are a few companies to consider if this interests you:
Shipt – Read Shipt Review – Earn up to $22 hourly visiting stores and shopping/delivering for people who request it.
Instacart – Read Instacart Review – Work flexible hours and be your own boss delivering for Instacart. You can work with them as a full service or in-store shopper.
DoorDash – Read DoorDash Review – Get paid to deliver restaurant and fast food orders to people who request them. Choose your own hours and see how much you'll make for every order before you accept it.
You can see more side gigs if you want other options!
In Conclusion
While there is still no question that having slow internet speed does hold you back from earning money online, it isn't a complete deal breaker.
And the good news is that I expect to see more and more opportunities for people with slow connections thanks to money-making apps and jobs you can do directly from your mobile devices.
Good luck!
For 300 Flexible, Non-Phone Work at Home Jobs: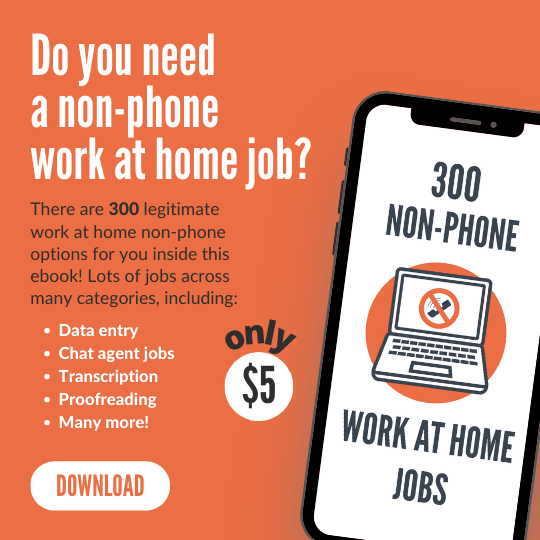 Do you want to work at home but you can't do so using a phone? If so, I have some great non-phone options for you in this ebook. It is only $5!
In this book, you'll find links to 300 companies offering different types of non-phone work at home jobs, including:
Data entry
Chat agent operators
Freelance writing
Transcription
Proofreading
Bookkeeping
Search evaluation
Many more!
Each job listing also has a short summary with any relevant information I can find (pay, what countries it may be open to, etc.).
Good luck to you, and I hope you find this ebook helpful if a non-phone job is what you are looking for.
After payment, you will receive the email containing your download.
Originally published October 21, 2016. Updated and re-published on September 22, 2021.