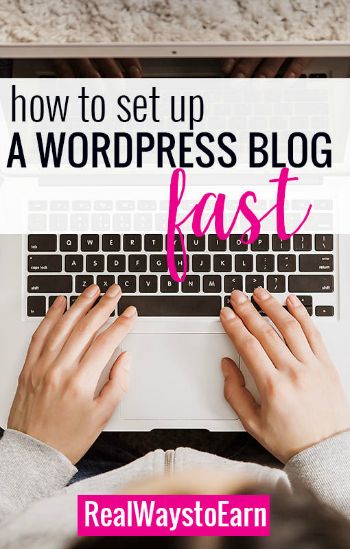 I get a lot of emails from people who want to start blogging for profit but don't know exactly where or how to start. A lot of people just quickly set up free blogs on Blogger or WordPress.com and go from there.
Honestly, this is fine if you are just wanting to be a hobby blogger who doesn't intend to earn an income with your blog.
But if you want to blog professionally and earn an income, you need to be self-hosting.
With some exceptions, most professional bloggers are self-hosting with WordPress.org (not the same as WordPress.com).
Self-hosting means that you have bought your own domain name and have connected it to a hosting account so it can be "live" online. You essentially are the master of your own internet property, and you call the shots.
If you're on Blogger or WordPress.com, you can still get your own domain name, but you're completely at the mercy of those companies. They can take your blog down for any reason and never give it back (I know someone this happened to who has no idea what she did wrong).
You can imagine how disastrous this would be if your blog was your income!
Also, some of these sites have rules on how you monetize your blog. WordPress.com, for example, doesn't even allow advertisements. So by using those sites, your blog's earning potential is more limited.
I've gone into more detail here on why I don't recommend blogging professionally on a free platform, but to sum up, if you want to truly be in control of your blog, you need to be self-hosting.
How to Set Up a WordPress Blog Quickly
You don't have to be extremely technical to get your WordPress blog up and running in record time. For people who are in a hurry to get going, I recommend going through SiteGround.
They're inexpensive, reputable, and you can buy your domain name and hosting all at the same time through them and have it up and running in just a few clicks. Many, many new bloggers start with SiteGround.
Here's what to do:
#1 – Visit SiteGround and you will see a selection of web hosting packages to choose from. Select the "Startup" one on the left for $6.99 a month.
#2 – After you've clicked on the startup plan, the next page asks you to choose your domain name. If you don't already have one, just type the name you want to use into the box, and then I recommend choosing the .com extension.
Note that your domain name may not be available, so you might have to get creative thinking up variations of it until you find something you can use. Click the "Proceed" button when you're done.
#3 – Once you've got a domain name that is available, you'll be prompted to enter your basic details (name, address, etc.), how you plan to pay, etc. Then you will choose the duration of your hosting plan. Twelve months is the most popular.
If you decide within 30 days of starting that blogging is just not for you after all, SiteGround will refund the money you paid on your hosting plan.
You'll also see a few "extras" you can check off. The main one here I'd recommend is the Domain Privacy. It's an inexpensive addition, and ensures that your name, address, and phone number are not visible to anyone who wants to find it online through your domain.
Once everything is in, just process your order!
#4 – Once you've paid, you can attempt to install WordPress on your domain yourself, or you can go to Live Chat via SiteGround and ask them to set up WordPress on your blog for you.
The second option will be much less stressful for you if you've never had a blog before and don't know how to do it on your own.
So Now You Have WordPress, What's Next?
Going to http://yourdomainname.com/wp-admin should take you to where you login, using the login credentials for WordPress that you set up when you installed it.
After logging in, you'll be inside your WordPress dashboard, where you will do all your writing and blog setup. I would recommend taking some time to explore your dashboard first and get comfortable with it.
You will want to adjust all your settings, install some important plugins, and get a nice theme so you can begin tweaking your site's design. And, last but not least, you'll want to begin creating your content!
Quick Tip: You'll notice there are tons of various settings inside WordPress, and you likely don't have a clue what to mess with there. WP Beginner has a great list here of 10 things you need to do within your WordPress dashboard right after you install it.
I also have a "Start a Blog" page here on this website that should help you out, and I definitely recommend The Elite Blog Academy, a blogging course that usually opens a few times a year (in the spring and fall).
The course doesn't explain how to set your blog up, but it will help you with creating great content, monetizing your blog, marketing, and more. You can read more about my experiences with that course here.
Good luck!