As a parent, selling my family's used clothes is a smart way to earn extra cash and get rid of the clutter, so I wanted to share with our readers my favorite places to sell used clothing online. Here's a list of five reputable sites you can use:
Everyone knows you can sell your used clothing on eBay.
I added it to this list because I felt like it could be a nice reminder to those who are looking to refresh their memory. There's a small fee for listing on eBay, but many have found this a viable way to make money off of used clothing.
Back in the day I used to use this website for swapping kid's clothing and it was a very interesting concept.
Now you can sell your kid's clothing there to make some extra cash. ThredUp claims to pay you real money for the clothes you send them. With this company, I'd recommend taking pictures and making several notes about the condition your clothing was in prior to sending it.
3 – LikeTwice.com
Like Twice looks like a fairly easy way to earn extra cash for your clothing. You need to request a free selling kit, print a free shipping label, and you'll be on your way.
Please note that Like Twice has a reputation for being incredibly picky and only accepting the best brands. In fact, they don't accept clothing from Walmart.
Selling your clothing is also possible thanks to a website known as Tradesy. With this website they claim to make selling "painless" for the consumer.
They do take nine percent of your earnings, but you get to keep the rest. Cashing out is done via Paypal. I'd love to know if anyone has used this site for selling used clothing before.
First of all, you have to love the name of this website, it's very catchy. If you have art, home goods, and luxury clothing, you can sell it all to The Real Real.
Note that this is a consignment shop, so the way things work are a little different than normal. You earn 70 percent of the selling price there, and they claim that most items do sell within three days of being listed.
I do not have experience in selling with all of these sites. However, they all have great reputations. Just like any business out there, you should do the research for yourself to make sure you would want to do business with any of the above companies.
I'd love to personally hear your experiences with any of these companies if you have it. I think being able to sell your used clothing, when you're ready, is an excellent way to earn extra money from home.
Post written by Jess Weaver at Jess Lee Writes
---
For 300 Flexible, Non-Phone Work at Home Jobs: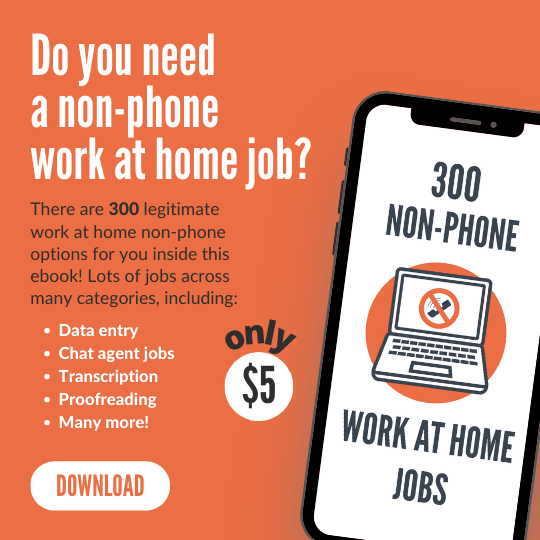 Do you want to work at home but you can't do so using a phone? If so, I have some great non-phone options for you in this ebook. It is only $5!
In this book, you'll find links to 300 companies offering different types of non-phone work at home jobs, including:
Data entry
Chat agent operators
Freelance writing
Transcription
Proofreading
Bookkeeping
Search evaluation
Many more!
Each job listing also has a short summary with any relevant information I can find (pay, what countries it may be open to, etc.).
Good luck to you, and I hope you find this ebook helpful if a non-phone job is what you are looking for.
After payment, you will receive the email containing your download.