One reason many people are not so interested in doing work from home customer service is scheduling. A large majority of companies hiring for work from home phone jobs don't bend very much when it comes to the hours you work each week.
If you're like me, more flexibility is one of the main reasons you want to work from home, so you might tend to overlook the phone jobs when you come across them.
There is actually a handful of companies hiring people for home-based phone jobs that are a lot more flexible than others.
I decided to do some research today and make a list of those companies along with some details on how scheduling works.
Here is what I have so far. Some are primarily outbound while others are inbound.
Most of the outbound you'll find is more flexible, and it doesn't all involve telemarketing/sales. The following companies may or may not be currently hiring.
Flexible Phone Jobs From Home
LiveOps – Read LiveOps Review – From their website, "As an Independent Contractor, you can provide services as many or as few hours as your schedule permits.
You can schedule your time on the platform in blocks as small as 30 minutes, and choose times 24/7 that work best for your business. You are always able to log in to provide services uncommitted."
Arise – Read Arise Review – You can create your own schedule, but there is a per week minimum of hours you'll have to meet.
Also, unless you work underneath someone else already incorporated through Arise, you will have to incorporate yourself which does cost money. More on how Arise works here.
Westat – Read Westat Review – This company hires people to do telephone data collection from home, collecting information from questionnaires.
You are supposed to let Westat know what hours you are available each week and they will schedule you based on that. However, there is a per week minimum of 15 hours you have to meet. Westat is not always hiring for these positions.
Alorica at Home – Read Alorica Review – From their website, "Agents are able to set their own hours to work around their individual schedules. We offer you flexibility with your time, and, in turn, expect the highest degree of professionalism on the job."
Pleio-Goodstart – Read Pleio-Goodstart Review – As an independent contractor for Goodstart, you do have the freedom to make your own schedule provided you are making the calls within their calling hours (somewhere between 7 a.m. and 8:30 p.m. your time zone).
Direct Interactions – Read Direct Interactions Review – This company requires a lot of hours per week, but there is some freedom regarding when you work.
From their website, "Program hours are currently 4am-12am Pacific Time 7 days per week, with further expansion likely. Agents must be able to show 30+ hours of availability each week within those hours and with at least 6 of those hours on the weekend.More availability is welcome and additional hours may be scheduled at the discretion of the director of operations. Actual hours scheduled will depend on client needs, agent performance and adherence to schedule."
NextWave@Home – Read NextWave@Home Review – From their website, "NextWave offers flexible hours to match your schedule. In general, we prefer for GO Team Members to be available 20 or more hours per week during active campaigns. Since you'll choose which projects to work, as well as when you'd like to be off, you can fit NextWave around your other commitments."
teleNetwork – Read teleNetwork Review – This is home-based tech support where you can list your available hours, either day or evening, as long as do commit to at least 20 hours a week as well as some weekend work.
OnPoint@Home – Read OnPoint@Home Review – From the website, "Every Independent Contractor has the flexibility to set his or her own schedule between the hours of 9 a.m. to 9 p.m. local time, Monday through Friday. A minimum of 25 hours per week is requested."
VoiceLog – Read VoiceLog Review – From the website, "You get to choose what hours you would like to work and if VoiceLog has the customer need, you'll get scheduled. Being a Live Operator for VoiceLog allows you to work around your schedule. The flexibility in a position that you've been looking for!"
Telephone Mystery Shopping – The link lists four reputable companies that hire for this, one that only hires seasonally. This is very flexible because you pretty much set your own hours.
ACD Direct – Read ACD Direct Review – This company has long been known for their flexible scheduling.
You are free to set your own schedule for whenever you are available. They offer evening, night, and weekend hours, and with this company there is no max on the amount of hours you can work.
Similar to Arise, this is a company that requires you become an IBO (independent business operator) prior to working, so there are some fees you will incur due to that.
VOIQ – Read VOIQ Review – If you have at least a year or two of sales experience, you may be able to work at home making calls for VOIQ. Work whenever you want, doing the work from your smartphone or tablet.
For 300 Flexible, Non-Phone Work at Home Jobs: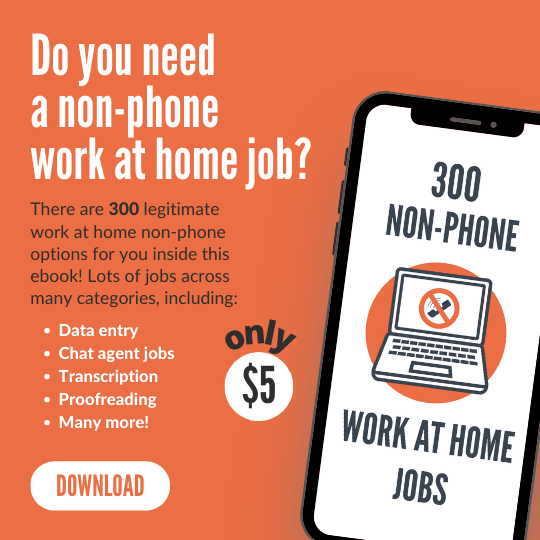 Do you want to work at home but you can't do so using a phone? If so, I have some great non-phone options for you in this ebook. It is only $5!
In this book, you'll find links to 300 companies offering different types of non-phone work at home jobs, including:
Data entry
Chat agent operators
Freelance writing
Transcription
Proofreading
Bookkeeping
Search evaluation
Many more!
Each job listing also has a short summary with any relevant information I can find (pay, what countries it may be open to, etc.).
Good luck to you, and I hope you find this ebook helpful if a non-phone job is what you are looking for.
After payment, you will receive the email containing your download.