If you've ever been interested in forum moderation or social media management, then becoming a moderator at LiveWorld may be ideal.
Note that this position on their site is listed as a"customer service agent." However, it's technically a moderation job.
Note that this company is open to hiring people both inside and outside the United States.
What LiveWorld Does
LiveWorld contracts out moderation services to their clients.
They hire the moderators and then various businesses pay them to use these moderators for their own purposes. Therefore, what you actually do varies depending on the client.
From the website, content moderation for this company typically involves the following:
Sweeping of client content, which can include Facebook Wall posts and comments, message boards, chat boards, user groups, blog entries, videos, pictures, or audio files on either LiveWorld or client platforms.
Payment at LiveWorld
Once hired, you'll start out somewhere around $8 to $10 hourly, and the job seems to top out (for some people) at around $15 per hour. I've read the exact rate is dependent on your location. This info didn't come from the LiveWorld site because they don't have it listed, so those are just quotes I read around the web.
You can get paid with either a paper check in the mail or direct deposit every two weeks (thanks to a reader for clarifying this in the comments below).
Required Skills For LiveWorld
You stand a better chance of getting hired if you do have some moderation experience in your background (forums, Facebook pages, etc.) but if you don't have those skills, they do want to know that you at least have a good familiarity with social media in general even if you have never done any type of moderation.
You also must be 18 or older, a competent typist and computer user, and also have access to high speed internet.
If you are bilingual, this is a definite plus because this company seems to always have a need for bilingual moderators.
Training & Scheduling at LiveWorld
After you are hired, they want you to go through some training, which is done via live sessions. Once you're trained, I'm semi-confused about how scheduling works. I can see that things are done in shifts.
You are either put on a schedule or it's first come, first serve and I did read on Work Place Like Home where one person reported having trouble grabbing shifts after getting hired.
Overall Feedback On Working at Home For LiveWorld
There's not a lot out there. Here are a few pages you might want to read through:
Some people don't like that the company doesn't give raises. What you are hired in making is what you will always make. I have heard that getting hired at LiveWorld isn't easy, so you may  not hear back.
It seems that they always have their application page up on their site though.
Want to apply? Go here.
300 More Flexible, Non-Phone Work at Home Jobs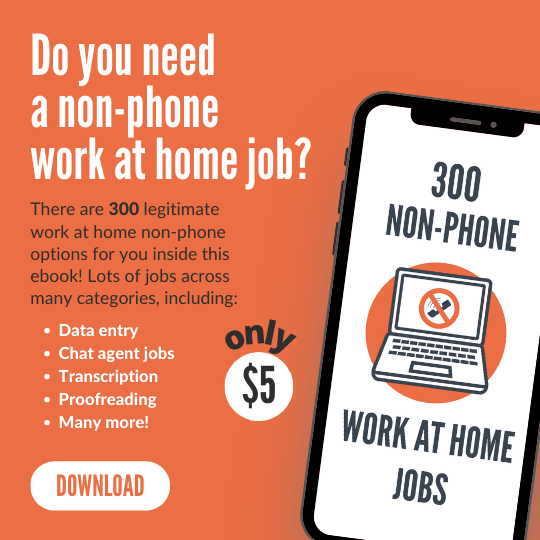 Do you want to work at home but you can't do so using a phone? If so, I have some great non-phone options for you in my latest e-book. It is only $5!
In this book, you'll find links to 300 companies offering different types of non-phone work at home jobs, including:
Data entry
Chat agent operators
Freelance writing
Transcription
Proofreading
Bookkeeping
Search evaluation
Many more!
Each job listing also has a short summary with any relevant information I can find (pay, what countries it may be open to, etc.).
Good luck to you, and I hope you find this ebook helpful if a non-phone job is what you are looking for.
After payment, you will receive the email containing your download.