Today we are going to talk about the work at home social media jobs offered on occasion by Lithium. Not familiar with Lithium?
Lithium is a software development firm with a well known set of tools to help companies handle the complicated task of social media management.
The software delivers precise analytics for all aspects of social engagement, making it easy to handle things like customer service and product messaging.
Instead of having to work with different social channels individually, a whole team can use the software collaboratively to create multi-channel campaigns that go out on a precise schedule.
And then, once the campaign is underway, the software allows teams to track of the user response on all the platforms in real time.
Lithium's tools are highly regarded and used by numerous Fortune 500 companies.
Working for Lithium
Lithium offers many different jobs on their careers page at any given time, but the social media positions are the ones most likely to be remote.
That said, some of the jobs that aren't specifically offered as work-at-home positions are actually flexible enough that you can choose to telecommute if you want, at least part of the time.
In a general sense, the company is focused on social media management software, so you'll be helping clients use Lithium's special tools to broadcast their brand identity on Twitter, Facebook, and all the various social platforms.
If you are hired on as a social media moderator for the company, your responsibilities are as follows (this is quoted from an actual job posting):
Monitor and manage customers' brands across all major social networks and actively mine social conversations for relevant information and opportunities to engage

Answer social inquiries competently and efficiently to educate, inform, and engage our audience

Ability to empathize with the community you are managing and balance customer realities, coordinating with internal teams as needed to resolve sensitive issues and provide great brand experiences in short amounts of time

At times, manage high levels of inbound conversations, constantly identifying workflow best practices and efficiencies that scale
Lithium Pay Rate
Lithium's salaries run the gamut from about $12 per hour at the low end all the way up to 6-figures per year. It just depends on what you get hired to do.
If you're hired as a social media moderator, you can expect to earn around the $12 hourly mark (according to Glassdoor).
These are unfortunately some of the lowest paying jobs the company has. But on the flip side, you do get benefits — health, dental, vision, disability, and 401K.
Scheduling with Lithium
Lithium does mention "flexible hours" their hiring pages, but that can mean different things depending on the context.
Based on what I was able to find on various job review sites, it sounds like you have a lot of freedom to manage your own schedule at Lithium, but the exact limitations and rules are impossible to determine.
Requirements to Apply
If you're interested in being a social media moderator, you're going to need to have at least one year of past experience in moderation, transcreation, customer service and/or social media management experience as well as familiarity with most of the major social media platforms.
Also, sometimes Lithium is hiring moderators who speak languages other than English. So you may need to be fluent in Spanish or another language just depending on what they're looking for at any given time.
Tech Requirements
There are no specific tech guidelines mentioned on the hiring site, but remote office work is fairly commonplace, so we can make a few assumptions.
Most likely you will need, at a minimum, a pretty good computer and a solid internet connection. Some jobs may also necessitate a quiet location in your house, where you can interact with people via video-conferencing, or talk on the phone without being disturbed.
Lithium Application Process
Lithium doesn't reveal anything about their hiring process publicly. The only thing we know for sure is that you can submit an application through their website.
With the tough requirements on some of these jobs, I think it's safe to assume you'll have to go through a few interviews, especially for the higher paying positions.
Feedback
Based on the reviews I found on Glassdoor, most people seem to love working for Lithium.
Some of the positives that get mentioned most often are a great work culture, plenty of freedom to set your own hours, great educational opportunities, and amazing benefits packages.
Among the few who were less happy with the company, many complained about an overall lack of discipline and direction. Basically, the work culture at Lithium might actually be a little too easy-going.
Some workers allegedly take too much advantage of the flexible atmosphere, and upper management might not always have a tight enough reign on day-to-day operations. This results in certain workers being able to skate along without doing much, while others shoulder all the heavy responsibility.
How to Get Started
If you're interested in working as a social media moderator for Lithium, you'll need to keep a close eye out for job listings on this page.
I would also advise checking Indeed and Glassdoor to see if they have any jobs that aren't listed on the main site.
Looking For Other Companies Like Lithium?
We have a list of several other work at home social media and community moderation companies here. If Lithium doesn't sound like it will work out for you, maybe one of these other ones will.
For 300 Flexible, Non-Phone Work at Home Jobs: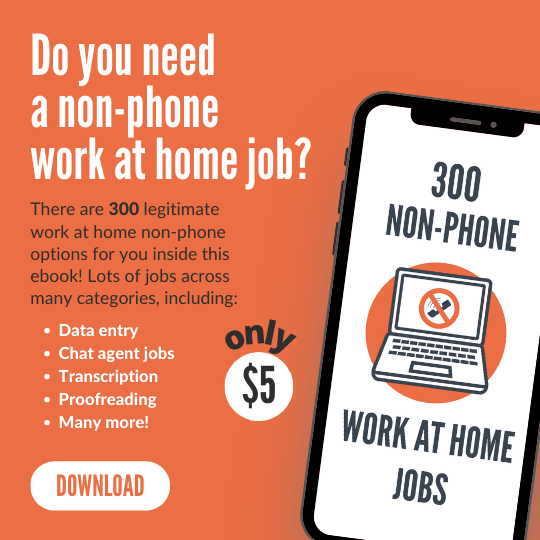 Do you want to work at home but you can't do so using a phone? If so, I have some great non-phone options for you in this ebook. It is only $5!
In this book, you'll find links to 300 companies offering different types of non-phone work at home jobs, including:
Data entry
Chat agent operators
Freelance writing
Transcription
Proofreading
Bookkeeping
Search evaluation
Many more!
Each job listing also has a short summary with any relevant information I can find (pay, what countries it may be open to, etc.).
Good luck to you, and I hope you find this ebook helpful if a non-phone job is what you are looking for.
After payment, you will receive the email containing your download.