Do you relish the English language and really enjoy teaching it? Do you dream about making a difference in the lives of kids around the world? Do you like the idea of working from home on your own schedule? Then, there is a company called EF which may help you do all three.
What Exactly Is EF?
First of all, EF stands for Education First, but many just refer to it as simply EF or EF.com. It is a company similar to VIPKid, Cambly, and Magic Ears (all reviewed previously) to name a few other sites you can use to teach English online.
However, EF is not just limited to China and other parts of Asia—there are many other countries globally who want and need English teachers.
Another difference with EF is that rather than teaching just children, there are opportunities to work with all age groups. You also have the option of teaching one-on-one or in a group setting.
EF allows teachers to use their online platform and teaching materials as well as blend in any of their own materials as they focus on each student or group's specific needs. This makes for more customized learning.
Founded in 1965 in Lund, Sweden, the concept of Education First has been around long before the Internet. Education First has long been the sponsor of cultural exchanges as well as travel abroad programs for students of all ages. Host families from 117 countries actively welcome students from every continent.
However, with the introduction/onslaught of the Internet and other technology, student engagement and learning have transformed many of the oversees cultural exchanges and for the most part, traveling abroad to study has been replaced by virtual classrooms.
The US Headquarters is in Cambridge, Massachusetts, and they have offices around the world. The mission of EF is to open up the world through education, and they believe that language is the first step. They are 120 nationalities strong and growing.
What Is The Schedule Like Working For EF?
At EF, online teachers are considered independent contractors and have the flexibility of setting their own hours. Many of their contractors are educators work in a real world classroom during the day and then do EF in the evenings and on the weekends.
Stories abound of women and men who have left the traditional classroom to raise families and used EF for many years to stay home with their children.
You can schedule around the clock, seven days per week, so there is plenty of flexibility that leaves you with plenty of opportunities to spend time with family or pursue other goals.
Does EF Contract With Teachers In Other Countries?
Absolutely, they do. As previously mentioned, one of the really great things about EF is that you can live abroad in another country while you teach English.
As long as you are a native English speaker, you can live anywhere on the globe where you have a reliable internet connection.
What Are The Necessary Qualifications To Apply With EF?
The basic educational and equipment requirements to work at EF are that applicants must have:
Ability to connect with kids!

Native English speaker with a Bachelor's degree in any field.

40 Hour TEFL (Teaching English as a Foreign Language) certification (or higher): submit now or provide when obtained at start of contract term.

Experience in early childhood development, teaching, coaching or mentoring is preferred, but not required. Life experiences count.

Excellent cultural awareness, communication and motivational skills.

Commitment to delivering a high level of student engagement satisfaction.

Access to a headset, personal computer, and wired Ethernet connection.

Willing to submit an online background check, at no cost to you.
What Is The Application Process Like At EF?
The application process at EF appears to be very simple. Just:
Fill out the application online, preferably with a resume uploaded.
Wait a few days to receive an email to schedule a phone interview.
Wait a few more days to be accepted with an offer of placement.
What Is Training Like At EF?
Once you submit all of your qualifications, you will be notified upon acceptance with the information on training. It does not appear that they have a lot of training for the work-at-home teaching positions, rather it is more of an acclimation period – setting up your computer and troubleshooting, etc.
What Is The Pay Like At EF?
In the past the pay was between $12 to $20 USD per hour, but they no longer list the pay rate on the website, so it may have changed.
The pay is paid out via PayPal once a month.
What Do Others Say About EF?
Glassdoor has given them a 3.4 out of 5 star rating in their reviews. For a deeper dive on what others have to say, it is a good idea to read through several reviews, then you'll have a clearer idea of both the good and the bad.
How Can Interested Individuals Apply To EF?
Go to their website and find the "apply" area. There is a field where you type your email address and then click on the apply button. This begins the process. Good luck to all.
We tend to share other ESL teaching opportunities in our weekly work at home newsletters, so be sure to subscribe to that if you haven't. It's free.
For 300 Flexible, Non-Phone Work at Home Jobs: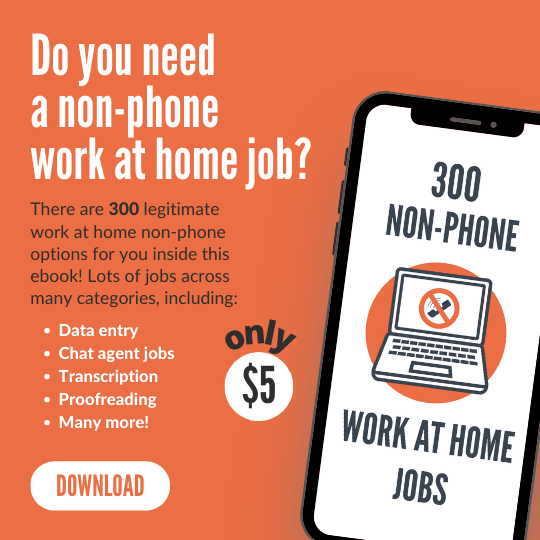 Do you want to work at home but you can't do so using a phone? If so, I have some great non-phone options for you in this ebook. It is only $5!
In this book, you'll find links to 300 companies offering different types of non-phone work at home jobs, including:
Data entry
Chat agent operators
Freelance writing
Transcription
Proofreading
Bookkeeping
Search evaluation
Many more!
Each job listing also has a short summary with any relevant information I can find (pay, what countries it may be open to, etc.).
Good luck to you, and I hope you find this ebook helpful if a non-phone job is what you are looking for.
After payment, you will receive the email containing your download.